Enchanted—Walt Disney Pictures (Blu-ray)
Video: 5/5
Audio: 4/5
Extras: 3/5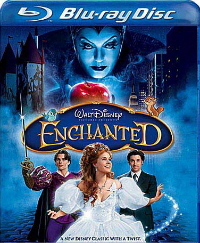 Ever wonder what it would be like to recreate a Disney Princess animated film into live action? Now if you really thought about it you'd probably realize it would be a bit cheesy. Well that is what Enchanted is. But instead of trying to do it seriously Disney has done a pretty good job of poking fun at itself with this one. I will admit some of the ideas here work pretty well and there is no doubt that this is a Disney production. But I also thought it felt more like a Disney channel type of film rather than a feature production. The story was a bit too whimsical and even the animation seemed a bit short of Disney's signature film style. The story does have a nice heart to it, but overall I thought it was a bit much at times.
Disney continues to impress in HD. The opening sequence for the film is in animation (framed rather strangely I might add) and looks generally good. The animation looks a bit like the fare we saw back in the Don Bluth days and not nearly as richly detailed as most of Disney's modern fare. It works with the material though. The film moves on into the real world and it's here that the image gets really impressive. This is a very sharp transfer and fine object detail is superb. The characters and environments have an amazing dimensional quality and the film's rich contrast adds to the pop and depth. Colors are slightly exaggerated at times, but it works well with the themes. Overall this is a stellar HD presentation and of reference quality.
Enchanted marks the first ever Blu-ray release from Buena Vista with a Dolby TrueHD soundtrack. Disney has heavily favored uncompressed PCM soundtracks, despite being less efficient in space. This TrueHD mix is delivered in full 48/24 resolution and is a lively mix. Dynamic range does seem a tad limited at times but the bottom end is pronounced when it needs to be. The mix has a very open quality in terms of spatial resolution with nice cues from the surround channels. The mix is a tad bit front heavy at times but the imaging across the main channels is good. Dialogue sounds very natural and tonal balance is dead on. I can't really say that the TrueHD encoding added anything new to the mix since it is literally a packed PCM track, but it will be interesting to see if this will become common practice going forward for Buena Vista.
Quite a few extras on this Blu-ray release and most of them are geared more to the younger audience. One feature allows you to play a game during the film. You have to try and spot the tie-ins to previous Disney classics. There is also a fun pop-up adventure with Pip (the chipmunk from the film) as he has an adventure in New York. A collection of bloopers and deleted scenes are included and there is a cut and dry production feature with a behind the scenes look at the film and interviews. Last up is a music video for the theme song by Carrie Underwood.
This film is everything it is advertised to be. Disney did a commendable job bringing an animated film to life and I appreciate the fact that they poked fun at themselves in the process. It is corny in traditional Disney style, but it does strike a good chord in family value and fun. The A/V presentation is exceptional and fans of the film will be pleased.
<!- ----------------------- Tech Center Ads ----------------------------->

SPONSORED TECH CENTER
<!- ---------------------336x280 ADS------------------------------->
<!- ---------------------FIXED AD------------------------------->
<!- ---------------------336x80 ADS------------------------------->
<!- --------------------Sponsored Link Ads-------------------------------->
<!- ------------------------Bottom Ads---------------------------->