Drillbit Taylor—Paramount Pictures (Blu-ray)
Video: 4.5/5
Audio: 4/5
Extras: 2.5/5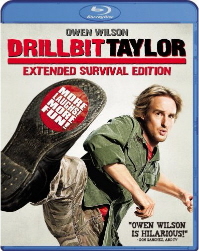 Ryan, Wade and Emmit attend their first day at high school and they're pumped... until they meet up with Filkins, a school bully who comes off like a little Hannibal Lecter. Before they become completely engulfed in Filkins' reign of terror, they seek out some protection by placing an ad in "Soldier Of Fortune" magazine. Their best response - and the cheapest - comes from Drillbit Taylor, a down-on-his luck soldier of fortune who lives a homeless - he likes to say "home-free" - existence on the beach. He enrolls them in some physical and mental training.
Drillbit is a bit of an ode to the 80's school nerd comedies. The film is passable as a whole but definitely has some funny moments. Wilson plays a scheming Army deserter that manipulates three kids into paying him for protection, but the only thing he is really doing is taking their money and possessions. The film does find some heart eventually and I love the throwbacks to similar films from yesteryear including a great little ode to My Bodyguard that was hilarious. While replay value is pretty low on this one, I didn't find it the complete waste of time so many have labeled it.
Paramount delivers another stellar transfer on this one with only a few little issues keeping it from a perfect score. The image is very bright with vivid colors and excellent dimension. The SoCal landscape provides some rich hues and plenty of eye candy and the Blu-ray transfer takes full advantage of the detail. Fine object detail is impeccable but there were some bizarre instances where obvious digital airbrushing was done to the actor's faces. This happened a few times to the two main teens and I have no idea why since it wasn't consistent and varied from scene to scene. It almost looked like they were testing out the affect and forgot to take it out. Aside from that this is a great looking transfer.
The Dolby TrueHD 5.1 mix is pretty much what you'd expect from a comedy like this. Dynamics are average and get most of their highlights from the various tunes in the soundtrack. Dialogue sounds natural throughout and I didn't notice any signs of strain. Imaging is great across the main speakers and the surrounds do their part in opening up the soundstage without calling too much attention to themselves.
This "survival edition" contains the extended version of the film but since I didn't see the original it is hard to say what they added. There are a ton of deleted and extended scenes and some of them are pretty fun. You also get a feature commentary and some interviews with the writers.
While Drillbit doesn't bring anything new to the table it does have some pretty funny moments. Paramount delivers a great A/V presentation and continues to shine with their new Blu-ray releases. While I don't think I can recommend a purchase for this one, the laughs are worth a rental for fans of the genre.
<!- ----------------------- Tech Center Ads ----------------------------->

SPONSORED TECH CENTER
<!- ---------------------336x280 ADS------------------------------->
<!- ---------------------FIXED AD------------------------------->
<!- ---------------------336x80 ADS------------------------------->
<!- --------------------Sponsored Link Ads-------------------------------->
<!- ------------------------Bottom Ads---------------------------->