Digital Video Essentials: HD Basics—DVD International (Blu-ray)
Video: 5/5
Audio: 4/5
Extras: N/A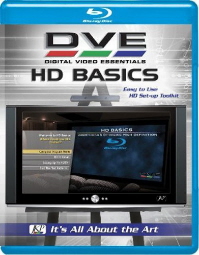 Last year video guru Joe Kane released the first High Definition test disc to the market with Digital Video Essentials. We'd seen this release before on the short lived D-Theater format but this time around the disc offered a more intuitive menu structure and offered two resolutions for test material. Problem was; it was limited to HD DVD only. This new version is available in both HD DVD and Blu-ray and is slightly scaled down. Some of the more advanced test patterns that are good for display evaluation are missing but most of the patterns for display setup are all there. The disc has both 1080p and 720p content making it very adaptable for the two most popular screen resolutions on the market today. This new disc also features more in-depth instructions on the materials and their benefit on display playback. The menu is still a bit cumbersome at times and I wish they would have allowed for storage of some favorites similar to what we see with some HD DVD and Blu-ray releases that have a bookmark function. All of the familiar demonstration material is here from the previous editions as well.
All of the test patterns were flawless in terms of presentation, though I still see a bit of banding with some of Joe's ramps for some reason (some displays exaggerate this). The demonstration material is excellent though and most can be used to really show the strengths and weaknesses of your playback chain. The edge enhancement that was so prevalent in the DVD and D-Theater edition is also completely gone.
The audio is presented in Dolby TrueHD for most of the disc. There is even a setup section which provides test tones to ensure the entire playback chain is in balance. The demonstration material has some nice range thanks to the score and even ambience is effective in some of the demos.
It is nice to see that the Blu-ray fans will finally have a calibration disc available on the market. While not quite as extensive as the previous HD DVD release, most of the patterns needed to make the most out of your display are here. The menus could still use some work, but I did think the explanations and commentary make this a lot more user friendly. An easy recommendation for anyone wanting to make the most of their playback experience.
<!- ----------------------- Tech Center Ads ----------------------------->

SPONSORED TECH CENTER
<!- ---------------------336x280 ADS------------------------------->
<!- ---------------------FIXED AD------------------------------->
<!- ---------------------336x80 ADS------------------------------->
<!- --------------------Sponsored Link Ads-------------------------------->
<!- ------------------------Bottom Ads---------------------------->