Death At A Funeral—MGM/Concorde (HD DVD Import)
Video: 4/5
Audio: 3/5
Extras: 3.5/5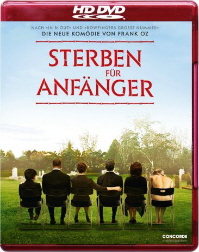 This is one of those films that completely took me by surprise. I remember seeing one trailer for it in theaters and not thinking much of it but when I saw it available for import on HD DVD, I took the plunge. It had a good cast and I generally enjoy British comedies so I thought why not. Turns out this one is great. The comedy in this had my wife and me laughing nearly the entire film with some scenes bringing us to near tears. The whole film centers around a funeral and everything that can happen will. The cast is great here and every character brings something more to the already hilarious happenings. If you love a great comedy, this is not to be missed.
In what has become a bit of a disappointing trend, this film is not seeing an HD release here in the states. This is being released by MGM here in the states on standard DVD. You can import it on both HD DVD and Blu-ray and I know the HD DVD is region free (didn't get the Blu-ray). The video quality is excellent all around on this release. The 1.85:1 aspect ratio uses more of a displays resolution capabilities and it shows here. Fine detail is superb, especially with actor's faces, and depth of image is excellent. The English countryside provides a nice backdrop for most of the film and the lush green's and gardens look spectacular throughout the film. I really hope we see more of these great new releases pop up in HD here stateside soon. Why this one didn't get the treatment is beyond me.
For this German HD DVD release there is a DTS-HD Master Audio German soundtrack and a standard DTS track in English (the original dub). The case says the English track is in DTS-HD but it isn't. Not to worry though, the track is more than effective given the subject. The score is playful and fun but never distracting. Dialogue sounds a bit forward at times, but tonal balance is good. Surrounds are used sparingly for ambience so most of the soundstage is a bit front heavy.
Extras include both the German and US trailers, some interviews with the cast and crew, some onset footage, and a photo gallery.
This is one of the best imports I've purchased yet. As I mentioned before it is available on both formats but I am not positive on whether the Blu-ray release is region free or not. As far as comedies go, this is one of the best I've seen in awhile and loads of fun. If you're not afraid of importing, this is one to seek out.
<!- ----------------------- Tech Center Ads ----------------------------->

SPONSORED TECH CENTER
<!- ---------------------336x280 ADS------------------------------->
<!- ---------------------FIXED AD------------------------------->
<!- ---------------------336x80 ADS------------------------------->
<!- --------------------Sponsored Link Ads-------------------------------->
<!- ------------------------Bottom Ads---------------------------->