D.A.R.Y.L
Barret Oliver, Michael McKean, Mary Beth Hurt, Colleen Camp, Josef Sommer, Kathryn Walker, Danny Corkill. Directed by Simon Wincer. Aspect ratio: 1.85:1 (anamorphic). Dolby Digital Surround, Dolby Digital Mono. 100 minutes. 1985. Paramount 01810. PG. $14.99.
Picture **
Sound ** 1/2
Film ***
Daryl Richardson isn't your typical 10-year-old boy. He irons his own clothes, makes his own breakfast, consistently hits home-runs, flies jet planes, and calculates velocities and rates of descent in his head. But don't be too quick to dismiss him as yet another Ken Jennings. Take a closer look, and you'll find that this boy-wonder is actually D.A.R.Y.L., an acronym for Data Analyzing Robot Youth Lifeform, a robotic simulation of humankind created by the government to be an indestructible military killing machine.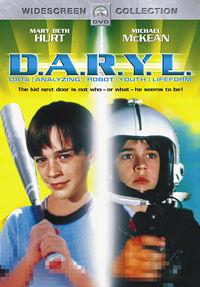 Conceived in a test tube and brought up within the confines of a secret lab, Daryl was never meant to explore the outside world and assimilate into modern society. That is until the rebellious Dr. Mulligan, a scientist-turned-activist, decides to kidnap him and set him free to ultimately find out who or what he really is, which is where this Pinocchio-esque tale begins. When Daryl eventually makes it out into the world, he is taken in by a young couple, Joyce and Andy Richardson, who hope to later adopt Daryl permanently. While scientific theories and mathematical logistics might come easily to him, it is human interaction that is something of a challenge for Daryl, and it is with this eventual understanding of personal relationships, and a heroic escape from the military, that he becomes a "real boy."
The video quality on this release is variable. On one hand, there are very few, if any, visual artifacts and little graininess. However, the color is dull and a reflection of the lackluster quality from the 1980s, when the film was originally released. Most unfortunate is how noticeably soft the picture is, a discouraging letdown for what is otherwise an exciting digital release. Sound is mediocre, also reflective of its mid-80s origin, and a slight improvement over the picture. The surround sound comes through only occasionally, but is enough to recreate the sonic boom of the Lockheed SR-71 Blackbird.
D.A.R.Y.L. is admittedly one of my all-time favorite childhood movies, and one that I have enjoyed on many Sunday afternoons on cable TV. It is yet another story about the triumph of the human spirit over science and technology, but one that, despite its low-key approach, renews its appeal with every viewing. Barret Oliver, who gained Hollywood's attention as the reluctant hero Bastian in The Neverending Story, gives a brilliant performance as Daryl. He makes a credible child genius, who insists that, "all knowledge is learning and therefore good." He's got me convinced. –ACG
<!- ----------------------- Tech Center Ads ----------------------------->
<!- ---------------------336x280 ADS------------------------------->
<!- ---------------------FIXED AD------------------------------->
<!- ---------------------336x80 ADS------------------------------->
<!- --------------------Sponsored Link Ads-------------------------------->
<!- ------------------------Bottom Ads---------------------------->