Caligula—Image Entertainment (Blu-ray)
Video: 3.5/5
Audio: 2.5/5
Extras: 5/5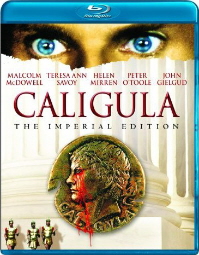 Before "Rome"... Before "Gladiator"... The most controversial film of all time as you've never experienced it before! Combining lavish spectacle and award-winning stars, this landmark production was shrouded in secrecy since its first day of filming. Now, this unprecedented edition presents a more revealing "Caligula" than ever before, with high-definition transfers of the uncensored theatrical cut and revealing, alternate pre-release version from negative elements.
This has always been a controversial film and this new Blu-ray delivers the uncut version of the Penthouse production along with a never before released alternate version. This is the closest you'll probably ever see to pornography with true Hollywood stars in it and I'm still surprised they managed to get the people involved that they did. The story isn't bad and by today's standards I wouldn't call this an outright shocking film but it is definitely racy and full of intense sexual imagery. The story is laughable at times and honestly I just wasn't the biggest fan. Still, the film definitely has its place.
It has been a long time since I've seen this film and I don't remember it looking really good the time I saw it before. This new Blu-ray release looks quite good given the age and production value but it still falls short of the bigger Hollywood productions of the time. The image has a noisy look to it and fine detail is definitely on the softer side. Depth of image is good though and overall dimension was far better than I was expecting.
The soundtrack is presented in DTS-HD Master Audio and is a bit on the bright side when it comes to fidelity. This wasn't a big production in terms of budget and the overall soundtrack effort gets the job done. Dialogue sounds a bit thin and unnatural but its balance within the mix is good. The score opens up the mix some but the track is a bit front heavy overall.
Image has gone all out on the extras for this one and have put together a terrific special edition given the controversial nature of the film. Collectors will definitely be pleased with the breadth of supplements including two cuts of the film and audio commentaries with the writer and Mirren and McDowell. The second disc includes production footage and two interesting documentaries on the film, its creation and its controversy. Photo galleries, deleted scenes and the original screenplay are also included. There is also a great booklet included inside with linear notes and insight on the film.
While this may not be a film for everyone Image has really gone all out with this Blu-ray release. The presentation is by far the best the film has looked to date and there are some great extras for fans. Highly recommended.

<!- ----------------------- Tech Center Ads ----------------------------->

SPONSORED TECH CENTER
<!- ---------------------336x280 ADS------------------------------->
<!- ---------------------FIXED AD------------------------------->
<!- ---------------------336x80 ADS------------------------------->
<!- --------------------Sponsored Link Ads-------------------------------->
<!- ------------------------Bottom Ads---------------------------->