Bolt—Walt Disney Pictures (Blu-ray)
Video: 5/5
Audio: 4.75/5
Extras: 3.5/5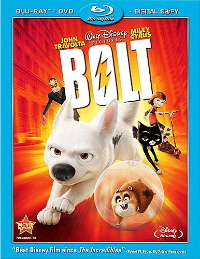 More than just man's best friend, "Bolt" is a modern-day action hero. Raised on the set of a hit television show, Bolt believes he has amazing powers - like a devastating Superbark! But when he's accidentally shipped to New York City, Bolt's daredevil stunts no longer go according to plan. As reality begins to challenge his delusions, Bolt learns his whole life has been a lie. Or has it? Amidst the adversity and hard-knocks, Bolt will discover that a dog's true superpower lies in his loyalty to the owner he loves.
The first full length Disney animated film to come out since Lassetter took the reigns over at Disney is a solid start for the new direction the animated studio is taking. While I wouldn't say this is quite to the level that Pixar has been delivering at, it is closer than I would have expected. The story is chocked full of great laughs and memorable characters and one of the better films from Disney in quite some time. I just hope this is a sign of things to come from Disney's feature length productions going forward!
Disney delivers a jaw dropping transfer for this one that is up there with the best animated presentations I've seen on the format. The animation style is a neat blend of CG and what almost looks like chalk drawings for the background. This gives the image a different look than what we typically see from CG animation and it works quite well with the material. The contrast levels are pushed a bit giving this feature the look that has been getting so popular with action films. This adds a nice level of dimension to the image and a stunning level of depth. Fine detail is breathtaking at times and the stylized color palette is rich in detail and pop. An unbelievable transfer!
The DTS-HD Master Audio mix is full of fun and quite dynamic. Low bass extension is impressive in the action sequences and even borders on the slightly hot side. Directional effects really add to the surround environment and the rich spatial design really puts you in the soundstage. The voice work sounds great and imaging across the main soundstage doesn't sound nearly as gimmicky as some other Disney releases I've heard.
This three disc set includes not only a digital copy for your portable device but also the full DVD release as well giving you a lot of flexibility on where you can enjoy this film. On the main disc you'll find a nice compliment of features with the highlight being the new short film with Rhino that is nearly as good as the film itself. I was disappointed that Disney didn't include Tokyo Mater though, which was released in theaters during Bolt's theatrical run. Other extras include a look behind the scenes with the voice talent and director along with some deleted scenes and a music video. My favorite bit was about the animation style and the different styles the animation team used to bring this one to life.
Disney hit a home run with this new animated gem and I hope we'll see more like it in the near future. The Blu-ray delivers a stunning presentation and the DVD copy making it an easy recommendation for any Blu-ray library.

<!- ----------------------- Tech Center Ads ----------------------------->

SPONSORED TECH CENTER
<!- ---------------------336x280 ADS------------------------------->
<!- ---------------------FIXED AD------------------------------->
<!- ---------------------336x80 ADS------------------------------->
<!- --------------------Sponsored Link Ads-------------------------------->
<!- ------------------------Bottom Ads---------------------------->