Bangkok Dangerous—Lionsgate (Blu-ray)
Video: 4/5
Audio: 4.5/5
Extras: 3.5/5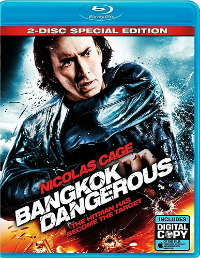 The life of an anonymous assassin takes an unexpected turn when travels to Thailand to complete a series of contract killings. Joe, a remorseless hitman, is in Bangkok to execute four enemies of a ruthless crime boss named Surat. He hires Kong, street punk and pick pocket, to run errands for him with the intention of covering his tracks by killing him at the end of the assignment. Strangely, Joe, the ultimate lone wolf, instead finds himself mentoring the young man while simultaneously being drawn into a tentative romance with a local shop girl. As he falls further under the sway of Bangkok's intoxicating beauty, Joe begins to question his isolated existence and let down his guard just as Sarat decides it's time to clean house.
I didn't pay much attention to this during its theatrical run but found it far better than I was expecting. I typically associate the Pang Brothers with horror films and as far as I know this is their first attempt at action. The attempt paid off pretty well. Cage plays a hitman who is looking for his last set of jobs before he bows out of the game but knowing how these films always turn out the "easy" score ends up being anything but. The film doesn't really deliver anything new to the genre but it does a good job with what it is. Plenty of style and the action isn't too over the top.
The HD presentation is quite solid for this one. Those of you lucky enough to own a high contrast display will probably reap the biggest reward because this one has plenty of contrast and deep, deep blacks. The image has a noticeable grain structure that looks exaggerated for stylistic reasons. I didn't find this annoying at all but I can see some complaining. Fine detail is excellent in close ups and depth of image is strong throughout. The color palette is a tad under saturated but this only adds to the look and feel of the film.
Lionsgate includes a 7.1 DTS-HD Master Audio soundtrack for this one. Plenty of great dynamic range and presence in this one. The club sequences do a fantastic job of filling the soundstage and the action sequences really make the most of the surround paradigm. There are lots of panning effects and deep bass extension and the balance of the mix is great. I didn't notice a lot of action from the rear soundstage after the opening sequence but the surround soundstage was quite enveloping.
Extras include a look at the making of the film and the culture of Hong Kong cinema as a whole. You also get some alternate scenes and the trailer. Lionsgate also includes their "MoLog" feature, which allows you to add elements and text or audio to the film and share it with friends on BD-Live. The second disc contains a digital copy for portable devices.
For a film that I would have counted out after the previews and box office response I really ended up enjoying this one. While not a complete home run it was a solid action film that is good popcorn fun. Easily worth a rental.

<!- ----------------------- Tech Center Ads ----------------------------->

SPONSORED TECH CENTER
<!- ---------------------336x280 ADS------------------------------->
<!- ---------------------FIXED AD------------------------------->
<!- ---------------------336x80 ADS------------------------------->
<!- --------------------Sponsored Link Ads-------------------------------->
<!- ------------------------Bottom Ads---------------------------->