A Serious Man—Universal Pictures (Blu-ray)
Movie: 3.5
Picture/Sound: 5/4.5
Extras: 3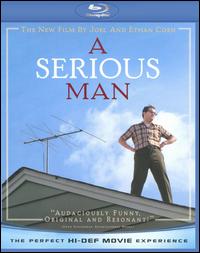 "A Serious Man" is the story of an ordinary man's search for clarity in a universe where Jefferson Airplane is on the radio and F-Troop is on TV. It is 1967, and Larry Gopnik, a physics professor at a quiet Midwestern university, has just been informed by his wife Judith that she is leaving him. She has fallen in love with one of his more pompous acquaintances, Sy Ableman, who seems to her a more substantial person than the feckless Larry. Larry's unemployable brother Arthur is sleeping on the couch, his son Danny is a discipline problem and a shirker at Hebrew school, and his daughter Sarah is filching money from his wallet in order to save up for a nose job. While his wife and Sy Ableman blithely make new domestic arrangements, and his brother becomes more and more of a burden, an anonymous hostile letter-writer is trying to sabotage Larry's chances for tenure at the university. Also, a graduate student seems to be trying to bribe him for a passing grade while at the same time threatening to sue him for defamation. Plus, the beautiful woman next door torments him by sunbathing nude. Struggling for equilibrium, Larry seeks advice from three different rabbis. Can anyone help him cope with his afflictions and become a righteous person - a mensch - a serious man.
To say I had a seriously hard time following this one would be an understatement. The Coen's deliver what has to be their oddest film to date with this one, a tale of a Jewish man who seems to have bad luck coming from all sides. The film deals with many Jewish themes that I just don't have the background for, but I did enjoy the dark humor the film has to offer. This is a pretty strange follow up to their Academy Award winning film No Country for Old Men, but I never expect the Coens to take the normal route. I expect this one to be pretty hit or miss, even with devoted fans of the directors.
While I wasn't totally captivated with this strange tale, I was stunned with the photography. To say this is a beautiful Blu-ray presentation would be a complete understatement. Fine object detail is jaw dropping and the sense of dimension is truly reference quality. Color is a bit drab and fits the mood of the film but I was captivated by the rich contrast and detail throughout. The soundtrack is also impressive with surprisingly solid dynamics given the dramatic nature of the film. The spatial design offers a convincing sound stage and the low end presence actually adds a lot to the sound design. One of the best Blu-ray presentations of the year so far.
Extras include interviews with the film's creators on the story and production. You also get a look at creating the look of the production and re-creation of the late 60's Minneapolis area.
While this is an absolutely stunning Blu-ray presentation, I have a hard time recommending the film. While I enjoyed the dark circumstances of the film, it was difficult to digest at times. Even for fans of the Coen Brothers, I would recommend a rental before a buy.

<!- ----------------------- Tech Center Ads ----------------------------->

SPONSORED TECH CENTER
<!- ---------------------336x280 ADS------------------------------->
<!- ---------------------FIXED AD------------------------------->
<!- ---------------------336x80 ADS------------------------------->
<!- --------------------Sponsored Link Ads-------------------------------->
<!- ------------------------Bottom Ads---------------------------->