HP md5880n 1080p HDTV Tests and Calibration
Tests and Calibration
As with many video displays, the HP will not lock onto the proper aspect ratio from a 4:3 or letterbox (non-anamorphic) DVD with a 720p or 1080i HDMI connection. You can get around this by switching the DVD player to output 480i or 480p.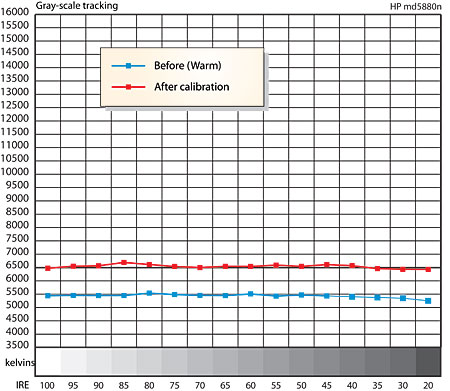 The set's geometry was also off a bit, with a trace of pincushion distortion at the far left and right, and a vertical image stretch of about 2.5% vertically in 4:3, letterbox, and full modes (the other aspect ratios are distorted by design). Neither distortion was obvious with normal program material. (After years of watching carefully calibrated CRTs, I'm probably a bit more sensitive than most viewers to anything that makes performers look even slightly thinner or fatter than they should).
The deinterlacing and scaling in the HP, while not flawless, is good. It did fail the difficult pan across the bleachers test on the HQV Benchmark DVD, and did only fair on the two jaggies tests on this same disc. On the Faroudja test disc, it never fully captured unflagged 3:2 pulldown, though it did fine on flagged tests on other discs that use Snell and Wilcox test patterns. It also turned in a good (though not excellent) performance on the waving flag, mixed film/video, and bad edit tests. And in a test that has given other scalers jagged-edge fits, it smoothly reproduced the computer animated, vibrating strings on Animusic.
At 720p, the HP's luminance (black and white) response with an HDMI source held up strongly to 37.1MHz, the highest frequency luminance burst available from my Accupel HDG-3000 test-pattern generator. At 1080i, however, while there was still visible luminance response to 37.1MHz, it showed signs of unevenness. The color response was clearly rolled off by 37.1MHz. In both cases, the response at 18.5MHz was still good.
With a component input, the 720p response, both color and luminance, held up well to 37.1MHz. At 1080i there was some visible rolloff and unevenness in the 37.1MHz multibursts, but color and luminance response were still present at this frequency. While the bandwidth of both 720p and 1080i high definition should extend to 37.1MHz, it is unlikely that most consumer sources will reach much beyond 18.5MHz.
With a 480p or 480i input over HDMI, the HP's overscan was 4-5% on all sides, decreasing to 3-4% with HDMI at 1080i and 720p. In component 480i/p, it was 3-4.5% on all sides, and in component 720p or 1080i, 2.5-3.5%
Neither the Warm color temperature setting (shown as the Before curve in the accompanying chart) nor the "Neutral (just under 9000 degrees Kelvin across the board) were very accurate. (HP actually admits in the provided literature that the target for "Neutral" is 9000K. How they determined this to be a neutral setting is a mystery, but the set did meet its stated goal!) This set needs a good calibration to be truly accurate. Fortunately, it calibrated extremely well, even using the simple R, G, and B controls in the User menu. Once calibrated using the HDMI input, the color temperature remained within +/-300K of the ideal D6500 using other inputs and resolutions without adjusting the settings. Though a separate custom grayscale setup for all the inputs is possible, I didn't find it necessary.
The set's primary R, G, and B color points were all rewardingly close to the HD standard—closer than most of the displays I have tested. Even green, often a prime offender was within 4% of the ideal.
I obtained a peak contrast reading of 3118 (93.54 foot-Lamberts peak white, 0.030fL video black) with the Contrast set at 40, and Brightness at 52, in Movie mode. It was actually possible to push this a bit further (the whites on my sample started to clip with the contrast at 49), but the 40 setting was about as bright as I could stand for serious viewing in a dim or darkened room. I do wish the iris could be dialed down a bit more; some manual control over it would be number one on my wish list for this set. In a darkened room, a contrast of less than 50 would be better (a smaller iris setting would also decrease the blacks, keeping the contrast ratio high).
<!- ----------------------- Tech Center Ads ----------------------------->

SPONSORED TECH CENTER
<!- ---------------------336x280 ADS------------------------------->
<!- ---------------------FIXED AD------------------------------->
<!- ---------------------336x80 ADS------------------------------->
<!- --------------------Sponsored Link Ads-------------------------------->
<!- ------------------------Bottom Ads---------------------------->