HE2005 - Day III
Sunday is the day of the week when I like to sit back, relax, and ponder the unanswered questions in life. On the third and final day of the Home Entertainment show, I was startled to discover that both April Music and May Audio were here in the hotel. Was it by sheer coincidence, or was something more sinister going on? Then, of course, there's the follow up question of why April and May were the only months involved? What devious mastermind could be behind this - and does it have anything to do with fluoride in the water supply?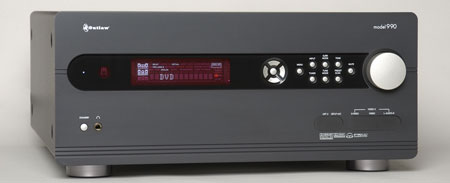 The masterminds at Outlaw Audio try to make everyone believe they're a devious, black-hat-wearing bunch, but in reality they're a gang of white hats making great, down-right-affordable audio gear. The Outlaw label, however, may be accurate when it comes to volume levels. I pity anyone in the hotel who decided it would be a great time to catch some sleep between 10 AM and 6 PM. The dual LFM-1 subwoofers in the Outlaw demo room kept the walls and floor shaking - especially during the Flight of the Phoenix cuts. But, as good as it is, the LFM-1 had its thunder stolen by the introduction of Outlaw Audio's newest 7.1-channel pre/pro, the Model 990. It has a plain Jane front, but don't let simple appearances fool you into thinking it's pedestrian beneath the hood. The Model 990 includes balanced audio outputs, DVI switching, automatic speaker setup and calibration (with an included microphone), along with upgradeable firmware and software. In addition to 100 Mhz switching for three component video inputs, there is complete transcoding between all composite, S-video, and component video signals including on-screen display capability. Other features of note are a Room 2 A/V output, Pure Analog and Pure Digital modes, and a high-quality phono input (for those aging baby boomers and Generation Y analog junkies). The back panel, if you're not intimidated by an RCA jack or two, is a thing of beauty. By the way, did I mention the $1,099 price?
Once you decide you're going to spring for some of the gear you found here at the show, you're faced with the prospect of finding something you can put it in. In the old days, it was expected that you'd find some cheap, particle-board, ready-to-assemble cabinet that would barely hold your stuff on shelves that could be expected to start sagging in six months or less. Now, the real sophisticates among us look to own furniture that looks like real furniture. (Really.)
Two of the nicest assortments of A/V furniture I've seen in years were here at the show. The first was made by MIZZICO Furniture. In addition to a couple of cool models with center channel openings that perfectly fit the new Yamaha YSP-1 Digital Sound Projector, the unit that totally caught my eye was a corner cabinet with room for all three front speakers and components. Since the cabinet doesn't extend all the way into the corner, there's room behind it for a hidden subwoofer. The fit and finish were superb.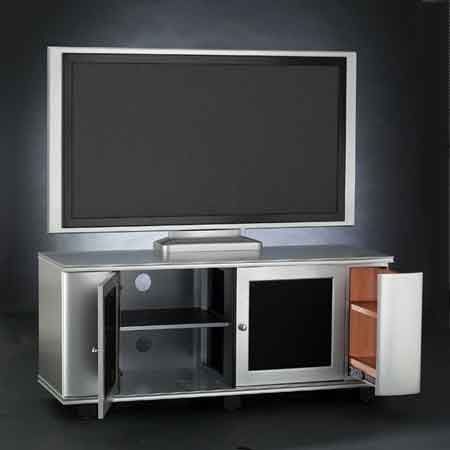 The other furniture of note was from Adrian Lifestyles Furnishings. Unlike most "fine" furniture from traditional (read: "stodgy") furniture companies, the models from Adrian combined great looks with plenty of equipment and media storage. One reason may be because Humberto Adrian (the guy liked the company so much, he named it after himself) has been building cabinets for a who's who list of high-end speaker manufacturers for over 30 years. It's pretty obvious he knows a thing or two about audio and furniture.

One last cool item to mention was the DMP3000 Digital MediaBridge from Acoustic Research. I find most computer-centric media-extender-type devices to be tedious, if not downright impossible, to use. Most are designed to give you access to the music, photo, and video files stored on your computer network. While I'm not particularly enamored of using these gadgets to listen to music or watch movies (AR touts the fact that the DMP3000 supports HDTV), the killer app for me is the ability to view, with my wife and family sitting comfortably on the couch, the thousands of digital photos dying a lonely digital death on my hard drive. The photo-viewing capability of the DMP3000 isn't what makes it exciting; the user interface is. Unlike similar devices, AR's interface is extremely easy to navigate and use - perhaps because the software that's used to catalog and keep track of all the media you'll want access to resides on one of the computers connected to your home network.
Now I can't wait until CEDIA...
<!- ----------------------- Tech Center Ads ----------------------------->

SPONSORED TECH CENTER
<!- ---------------------336x280 ADS------------------------------->
<!- ---------------------FIXED AD------------------------------->
<!- ---------------------336x80 ADS------------------------------->
<!- --------------------Sponsored Link Ads-------------------------------->
<!- ------------------------Bottom Ads---------------------------->