HDTV Gets Racy (Again)
After a short pit stop, HDNet and NASCAR are once again putting the pedal to the metal. Both organizations jointly revealed the schedule for the second season of NASCAR's HDTV package to be telecast by
HDNet
. The pioneering HD network will feature a total of 20 live HD telecasts from NASCAR Grand National Division races. The
NASCAR
Grand National Division (for those living in blue states who have no earthly idea what we're talking about) includes two independent NASCAR series, the Busch North Series and the West Series (the West Coast's oldest stock car racing circuit), which feature drivers competing using identical race cars. (Well, they're not
exactly
identical or we wouldn't be able to tell them apart.) HDNet will provide additional coverage of some races from NASCAR's AutoZone Division. With each car in the race powered by a 350 to 358 cubic-inch V-8 engine and weighing a minimum of 3,300 pounds, the series of telecasts will be a high-definition orgy of minimum miles per gallon and maximum emissions. (Oh, what the heck. We all need something to keep our minds off the ever escalating price of gasoline.)

The first season's original "NASCAR Grand National Division on HDNet" hosts - Pat Patterson, Mike Hogewood, and Kandance Krueger - will bravely return to their anchor seats under the high-definition magnifying glass of these highly revealing telecasts, each of which will be produced and broadcast in 1080i.
If you hate the idea of watching heavy metal machines traveling at speeds bordering on the insane in High Definition - or if you're a NASCAR fan who hasn't yet decided to buy an HDTV - you can see a rebroadcast of each race in plain old standard definition on SPEED Channel. (Now, if they can call it that, why can't the GOLF Channel change its name to the SLOW Channel?)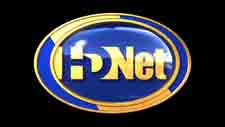 HDNet provides up to 20 hours of original programming each week (that's more free time than I have to watch TV each week - even if it is in HD), and it's all produced and broadcast in 1080i. In addition to NASCAR auto racing, HDNet's sports programming includes games from the National Hockey League (whenever they decide to take the ice again) and Major League Soccer. The list below details the scheduled races for the remainder of the season which are to be telecast by HDNet. Look below for dates and check HDNet's latest NASCAR telecast schedule for air times here.
April 9

Mesa Marin Raceway, NASCAR Grand National Division, West Series

April 9

Mesa Marin Raceway, NASCAR AutoZone Elite Division

April 21

Phoenix International Raceway, NASCAR Grand National Division, West Series

April 30

Stockton 99 Speedway, NASCAR Grand National Division, West Series

April 30

Stockton 99 Speedway, NASCAR AutoZone Elite Division

May 15

Lee USA Speedway, NASCAR Grand National Division, Busch North Series

June 12

Thompson International Speedway, NASCAR Grand National Division, Busch North Series

June 17

Stafford Motor Speedway, NASCAR Grand National Division, Busch North Series

June 25

Holland International Speedway, NASCAR Grand National Division, Busch North Series

July 9

Lake Erie Speedway, NASCAR Grand National Division, Busch North Series

July 15

New Hampshire Int'l Speedway, NASCAR Grand National Division, Busch North Series

July 23

Irwindale Speedway, NASCAR Grand National Division, West Series

July 30

Adirondack International Speedway, NASCAR Grand National Division, Busch North Series

August 13

Stockton 99 Speedway, NASCAR Grand National Division, West Series

August 21

Pikes Peak International Raceway, NASCAR Grand National Division, West Series

August 27

Oxford Plains Speedway, NASCAR Grand National Division, Busch North Series

September 2

California Speedway, NASCAR Grand National Division, West Series

September 16

New Hampshire Int'l Speedway, NASCAR Grand National Division, Busch North Series

September 23

Dover International Speedway, NASCAR Grand National Division, Busch North Series

October 1

Lime Rock Park, NASCAR Grand National Division, Busch North Series

October 15

Mesa Marin Raceway, NASCAR Grand National Division, West Series
<!- ----------------------- Tech Center Ads ----------------------------->

SPONSORED TECH CENTER
<!- ---------------------336x280 ADS------------------------------->
<!- ---------------------FIXED AD------------------------------->
<!- ---------------------336x80 ADS------------------------------->
<!- --------------------Sponsored Link Ads-------------------------------->
<!- ------------------------Bottom Ads---------------------------->