Focal Profile 918 Speaker System Page 2
One sign that a subwoofer is performing well in a home theater is the lack of consequence when one intentionally or even haphazardly sets the bass too high. Even 10db above flat didn't sound lumpy, slow, or too heavy from the listening positions. The truth is, I usually like the bass a few db above flat for movies, so I set the sub to create a 3db bump in the Cinema mode (based on the subwoofer test signal built into the Integra Research processor) but resisted the urge to crank it any higher. Along with nearly all subwoofers, the SW908 does have a tendency to lie restless, trembling audibly from close range. Placing my hand against the cone and noting the vibrations seemingly confirmed what I was hearing Whether this is from the surround processor not sufficiently attenuating upper frequency content over its subwoofer output, or the over zealousness of subwoofers to make the most of what they're given, it's an ugly fact. Keeping the sub at flat, or close to flat is more than simply a purist's pursuit; it helps mitigate such circumstances.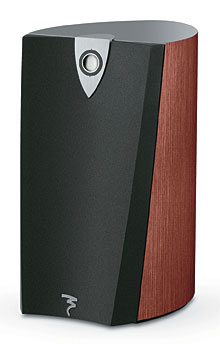 In the old days, musicians used to get into the studio and play an entire song together while it was being recorded. How quaint. Listening to one such recording, John Coltrane's Olé Coltrane (LP, Atlantic, 1961, SD 1373, with the original pressing's blue and green label!), the sound of musicians interacting was wonderful. Recorded just a year after the Miles Davis release Sketches of Spain, the evocative Moorish influenced title track establishes Davis' contemporaneous influence in the world of jazz. In spite of the fact that Olé Coltrane on vinyl is probably just a veiled image of what the master tape sounded like (and that itself just a mirage compared to what we might have heard at the recording session), the Focal Profile 918 speakers did a fantastic job of recreating the energy in the grooves. The 918s had little trouble keeping up as I cranked the volume to satisfy my increasing lust for a tactile event. Elvin Jones' drum work was especially therapeutic. And when Art Davis started bowing his double bass (or was it Reggie Workman, who is also on this track and known to bow?), the 918s put out real, feel-it-in-your-gut vibes.
The Profile speakers like to be driven. In that regard, they're not excellent late night speakers, failing to come to life at very low levels. Normally, this is a putdown, but in the case of the Profiles it was a compromise to which I was willing to submit. If you're a casual listener, well, you're probably not in the market for $4,000/pr. speakers anyway. For critical listening, at more appropriate levels, the Profiles simply come alive.
Focal's tweeter is no shrinking violet that masks what's in the recording. Hot, treble heavy fare sounds like the bad recordings they are. Don't blame the speaker for telling the truth. One otherwise exceptionally well recorded performance is Jacques Loussier's jazzy impressions of Chopin's nocturnes (Telarc, SACD 63602), which subjects us to a high degree of multichannel hiss at the hands of the five Focal tweeters. In the car, with road noise as a mask, I hadn't noticed this. Was it the recording or the tweeter or the combination? Even an orchestral multichannel SACD of Stravinsky's Petrouchka with Paavo Järvi conducting the Cincinnati Symphony Orchestra (Telarc, SACD 60587) exhibited a higher degree of hiss from all five channels than I expected. The Focal's tweeter exposes what many have clearly seen as a flaw with the SACD format.
Turning to another high-resolution recording, this time from tried-and-true PCM technology, I put on an a cappella recording of twelve west coast cantors from AIX recordings. This 24-bit/96kHz 5.1-channel recording on DVD-Audio (AIX-80012) was effectively devoid of any noticeable hiss. My only conclusion is that the Focal Profile's tweeter is a tool no recording engineer should be without.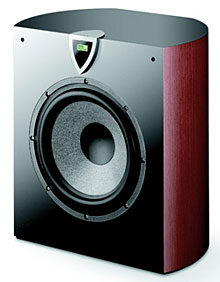 Dolby Digital soundtracks were always quite enjoyable with the Focals, drawing me into a movie at once. The opening drum sequence in "Yours, Mine and Ours" (MGM) was as powerful and effective at setting the mood as it was at pushing the speakers to their infrequently heard limits. With enough volume, I could hear the onset of some compression but once the drumming stopped, the dialogue continued unstressed.
With music, vocals always had a solid and proper foundation, and I never found them wanting. The Focal Profiles are quite adept at getting the human voice correct. In the case of the CC908, I'd have to say this is one of the finest center channel speakers I've had the pleasure of having in my home. Although I've no doubt it won't measure identical to the 918, the CC908 is very near to my ideal in the critical aspects of dialog clarity and believability. I also credit Focal for going with a true three-way speaker design that vertically orients the tweeter and woofer and eliminates comb filtering for those sitting off-center.
With both movies and high-definition broadcasts, the Profile system always set up a beautifully detailed soundstage. The freaky Dark Water," starring Jennifer Connelly (DVD, Touchstone), is a ghost story of the finest kind, with an almost clinically eerie soundtrack. The soundstage was vast and the dripping, raining and flooding water was used compellingly to draw me deeper into this wet, depressive world. Details were very electrostatic-like, and although the Profile may have lacked the last degree of depth that my reference electrostatics reveal without a second thought, they were nonetheless captivating.
How They'd Woo Ya'
You won't find Focal at your local A/V chain retailer - which is good thing - because brands like Focal can only be adequately displayed and demonstrated at specialty, high-end stores. There, with a minimal amount of fuss, the Profiles can be set up to deliver sound fully commensurate with their price.
Even in my large room, the somewhat diminutive Profiles still did a credible job at any reasonable (or even slightly unreasonable) volume. Their clarity is startling and they are very musical. They will catch your attention and force you to sit down and listen. Best of all, they had such longevity that I never tired of them in the two months I used them. In two-channel mode, they imparted near perfect timbre to human voices and for that alone you should seek them out.
I would unhesitatingly recommend anyone looking to spend around $8,000 for their five main speakers check out the Focal Profiles. The subwoofer, at $3,000, is a harder sell. But Focal has also just announced a smaller subwoofer in the Profile line with an 11" driver, 450W BASH amp and no digital in/out, at $1995 (not tested).
But if you don't mind speakers that don't cosmetically match, you might want to investigate the Velodyne DD-12 Bob Deutsch reviewed in December 2004, or the Martin Logan Descent I fell in love with over three years ago.
<!- ----------------------- Tech Center Ads ----------------------------->

SPONSORED TECH CENTER
<!- ---------------------336x280 ADS------------------------------->
<!- ---------------------FIXED AD------------------------------->
<!- ---------------------336x80 ADS------------------------------->
<!- --------------------Sponsored Link Ads-------------------------------->
<!- ------------------------Bottom Ads---------------------------->