Escient FireBall SE-80 Digital Music Manager Page 2
The Short Form
www.escient.com / 800-372-4368 / $999 / 17 3/8 x 4 5/8 x 11 7/8 IN
Plus
•Extremely easy installation. •Simple to use, glitch-free interface. •Controllable from networked computer or wireless PDA. •Streams audio to any networked computer or to any computer in the world via broadband.
Minus
•Can't record analog audio sources. •No front-panel display. •Not compatible with some online music services
Key Features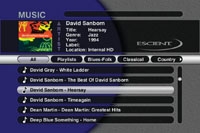 •Plays CDs or rips them to 80-GB hard drive •Access music via IR remote or menus on TV screen, networked computer, or Wi-Fi-capable PDA •Downloads album and track information from Gracenote and cover art from AMG •Streams MP3 or WMA radio stations •Imports MP3 or WMA music from networked computer •Serves up to five different music streams to computers in other rooms •Can create mix discs on CD-R/RWs
PERFORMANCE After I inserted Grammy Nominees 2005, the SE-80 took 10 seconds to identify the CD and download its cover art via my DSL connection and 51/2 minutes to rip the 21 tracks. The cover became a flighty screen saver on a black background when I left the music playing. The sound was almost as good as the original CD at the 192-kbps default setting, about what I've come to expect from this level of compression. Because the artist was different for each song, the SE-80 simply listed "Various Artists." Pressing buttons on the remote multiple times, I was able to edit the title "Vertigo" to include the suffix "U2."
Hoping to leverage the keyboard on a networked computer, I tried to append the other songs with their artist names by renaming the files but was thwarted by a "network error" message. An Escient spokesman said this was a known bug that should be fixed by the time you read this. From the computer, I successfully imported a Santana album into the SE-80 that had been previously ripped on the PC. The SE-80 automatically downloaded the cover art for its database. You can also import Podcasts downloaded to your computer as long as they're in MP3 or WMA format.
Most of the streaming radio stations installed automatically on the SE-80 either weren't available or were transmitting at a scratchy bit rate of 20 kbps. I did find a jazz station coming in at 130 kbps that sounded better than FM. Adding stations required a lot of button pushing.
As for recording over-the-air radio from a receiver, using a microphone, or converting LPs and cassettes, forget it. The SE-80 doesn't have any audio inputs. If the music isn't already on CD or a networked computer, the SE-80's drawbridge is up.
BOTTOM LINE In the new landscape of giant, inexpensive hard drives, low-cost home computers, and unpretentious media receivers that can stream music to your TV and stereo system, it was inevitable that companies like Escient would lower prices on this type of dedicated audio component. Though $999 may still seem pricey for what amounts to a modest hard drive and the software to control it, the SE-80 is an elegant all-in-one music player, manager, and storage device that's easy to install and operate - especially for less technical users - and it integrates seamlessly with your home network. With its glitch-free operation, friendly TV screen interface, and automatic software upgrades, music lovers and computer geeks alike should give it a listen.
<!- ----------------------- Tech Center Ads ----------------------------->

SPONSORED TECH CENTER
<!- ---------------------336x280 ADS------------------------------->
<!- ---------------------FIXED AD------------------------------->
<!- ---------------------336x80 ADS------------------------------->
<!- --------------------Sponsored Link Ads-------------------------------->
<!- ------------------------Bottom Ads---------------------------->