Epson PowerLite Pro Cinema 9500 UB LCD Projector Page 2
You can also select inputs, blank the screen, or call up the projector's built-in test patterns from the backlit remote. The test patterns include a centering image and the ability to isolate the red, green, or blue images. This provides a more accurate way to set the Color and Tint controls than color filters.

Refresh, Rinse, Repeat
With its 4:4 pulldown control engaged, the 9500 UB will play back native 1080p/24 film-originated material at a frame refresh rate of 96 hertz by adding three repeated frames between each pair of real frames. Optionally, you can select Epson's new motion-smoothing feature— FineFrame—which adds three interpolated frames, instead of simply repeating them.
With a 60-Hz video-based source, the Epson adds only one repeated or interpolated frame, for a refresh rate of 120 Hz.
If both frame interpolation and 4:4 pulldown are left off, then the 60-Hz film-originated source retains its 3:2 pulldown and is displayed with a single repeated frame at a refresh rate of 120 Hz. If 4:4 is turned on for such a source, the 60-Hz signal is reconstructed to 24 Hz and displayed at a 96-Hz refresh rate using 4:4 pulldown.
If you select interpolation for material with 3:2 pulldown, the Epson first converts the material to 24 fps by eliminating the 3:2 pulldown. Then it adds four interpolated frames to each real frame and displays the source at 120 Hz. These sources generally include all film-originated broadcast sources, both standard and high definition, and all movies on DVD.
I'm not a fan of frame interpolation for film-based sources, as it gives them a video-like look. Apart from checking out this feature (it did what it was designed to do), I didn't use it on most of the program material I watched.
Performance
We tested two samples of the 9500 UB. The first worked well, but it had slightly misaligned imaging panels. The red was off by roughly a full pixel, and the green was off by about half as much—in opposite directions and at the center of the screen. This was mainly visible on a near-screen inspection. The second sample was virtually perfect in the center and off by just a hair at the edges (the latter is very common in consumer projectors). I used the second sample for all calibrations and subsequent viewing. It appears to have been a test sample used in the THX-certification process. Apart from panel alignment, both samples appeared to have identical performance.
The Epson incorporates the highly regarded HQV Reon-VX video processing technology, supplemented by additional video processors from Pixelworks. With two exceptions, it sailed through all of my usual deinterlacing and scaling tests (see the Video Test Bench chart).
It failed a 2:2 SD cadence test in Auto, but passed it with the Progressive control set to Film. We require proper performance in Auto mode for a passing grade.
With the HDMI Video Range control set to Auto or Normal, the projector goes above white, but it cuts off just slightly above black. In Expanded mode, it extends well below black, but I felt that the subjective dark-scene contrast was very slightly better in Auto mode, so that's where I left it for the testing and viewing. The projector went near enough to black in Auto mode that I could set the correct black level without difficulty.
The Epson didn't seem to like Pioneer Blu-ray players. I tried it with two of them, the BDP-09FD and the BDP-23FD. On both of them, the images often had a curious intermittent seam from left to right, about one-third of the way down from the top. It was primarily visible when there was vertical motion in the picture. An OPPO and a Marantz player didn't have this problem, and the Pioneers worked fine with the Mitsubishi and Sony projectors reviewed here. It's a puzzle, and it may be related to our test sample of the Epson (the first sample went back before I discovered the problem). If you plan to use the projector with a Pioneer player, I'd recommend that you check them together before you write the check.
With no audio on, I often heard a mechanical chuffing noise from the auto iris, but it was very low in level and totally inaudible with the sound running. But I never saw the auto iris operating; the image didn't pump in any visible way.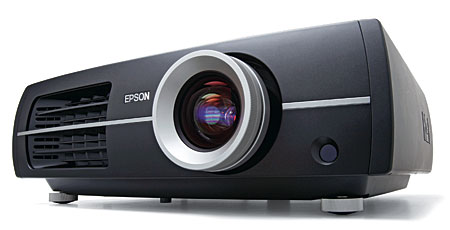 While the black bars on 2.35:1 and 4:3 material are clearly visible on the Epson—true of any projector we've tested—the Epson's black level, shadow detail, and overall contrast were excellent. My favorite test scenes for these qualities are in Spider-Man. The establishing shot of OsCorp at the beginning of chapter 3, the night rooftop and street scenes early in chapter 13, and the bridge and cable car sequences in chapter 27 looked velvety rich and dark. Only the warehouse scene at the end of chapter 13 came across as a little grayed out. The relentless darkness of Harry Potter and the Half-Blood Prince was astonishingly well handled. Despite the gloom, I never missed any detail.
Overall detailing is another strength. Seven Years in Tibet may be an early Blu-ray release, but it remains reference quality. Everything in this spectacular transfer is naturally sharp, without a hint of softness. Facial details that you might not want to see (bad makeup in one or two scenes and Brad Pitt's acne scars) pop out clearly—even with the Super-Resolution feature turned off. But the detail always looks real, never artificial. The Epson wasn't the crispest looking of the three projectors, but in no way did it have any obvious softness.
The color is also beyond criticism. Yes, some discs have a bit of a brownish, sepia look, but this always appeared to be in the source or transfer. With naturally shot material, the colors looked right, including fleshtones and bright green foliage—two sure giveaways of poor color.
Conclusions
It's hard to imagine anyone being disappointed with this projector. It handles everything beautifully, whether the material is dark and foreboding (Harry Potter and the Half-Blood Prince) or mostly bright (Seven Years in Tibet, Baraka, Up). The Sony did give it a run for the money (more on this in the Sony report), but the Epson didn't miss a step in any respect. Definitely a Top Pick.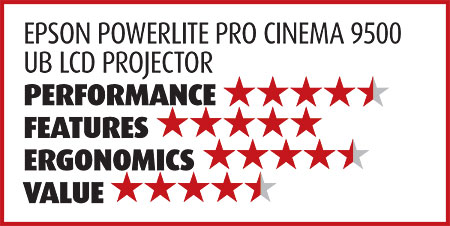 <!- ----------------------- Tech Center Ads ----------------------------->

SPONSORED TECH CENTER
<!- ---------------------336x280 ADS------------------------------->
<!- ---------------------FIXED AD------------------------------->
<!- ---------------------336x80 ADS------------------------------->
<!- --------------------Sponsored Link Ads-------------------------------->
<!- ------------------------Bottom Ads---------------------------->