The Ed Sullivan Theater Gets a Really Wide Shoe Part 2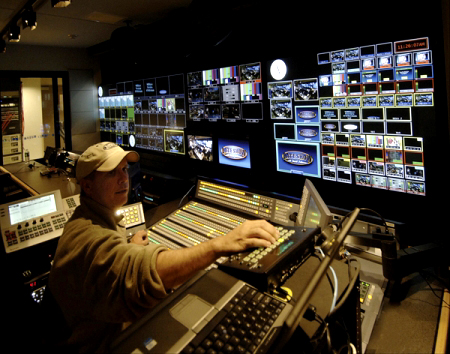 MF: Now, when you plan a project like this, do you contact all the various companies that could supply a given piece of equipment and try them all out? Or do salespeople come in and do a demo for you and show you what they can do? there must be multiple companies competing for the same place on the rack.
HM: All of the above. I mean, there are major players that you go to. We go to trade shows and look at the new technologies that are out there.
MF: NAB [National Association of Broadcasters]?
HM: Exactly. We get those that are of potential application into our lab over at the broadcast center and test them, so, when we have a new project that comes along, we don't have to choose between every possible vendor. We've narrowed it down to two or three.
MF: And you've done that by reading the trade publications and trying the stuff out?
HM: We would never install anything without it first coming through our labs or coming for an actual demonstration. We would never just rely on reading the literature. We stay up to date all year long, as well as at NAB, as to what manufacturers are up to and if and how their new technologies may be applicable to us.
MF: As far as reliability goes, do you rely on peer groups-do you go to an NAB show and talk to other engineers in the field about whether they have experience with a certain piece?
HM: Sure.
MF: so, It's similar to what happens on the consumer side in that sense.
HM: In addition, Viacom is a large organization, and we have colleagues in facilities in Los Angeles and at all of the 38 or something television stations that we own who have experience with the equipment.
MF: And is there a regular networking relationship with your peers at other stations where you share notes? Or do you just do that informally?
HM: It's informal through trade organizations like SMPTE [The Society of Motion Picture and Television Engineers] and at NAB, and, as people move around, we know people at other networks. If we need to know something, we can make a phone call.
MF: I'm trying to let consumers understand that what goes on in their world goes on in this world too, in terms of finding out about products, and reading reviews, and familiarizing yourselves with manufacturers. I've read some of the pro magazines, and they're very similar to the consumer magazines. It's a different perspective, of course, but you have the advertising, the reviews, product pitching…
HM: The vetting of the products for us is critical, of course, because it's much more expensive for us, and the consequences of failure are much more significant.
MF: Which brings up a good question: how much redundancy is built into this whole system? Are there doubles of everything in case something goes down?
HM: There aren't doubles of everything, but there are backup strategies for all the critical areas of the operation.
MF: if the power goes out, do you have generators or something?
HM: Not here, because there's simply no place to put a generator. If the city loses power, we do have generators at the broadcast centers. We can operate completely off the grid and, in fact, during the hot months, Con Edison asks us to go off the grid and onto the generators.
MF: So, do you have the kinds of ground-loop problems that we at home sometimes do?
HM: We have strategies for mitigating these. One of the problems we used to have that we no longer have is when we were using CRT monitors. There's a subway that runs right next to this building, and, every time a train would go by, the monitors would go crazy.
MF: Was it Because of the magnetic interference?
HM: Yes, from the magnetic fields.
MF: Ah, so That's not a problem anymore. So how is the reliability of all of this new gear?
HM: We've had pretty much no problems since we got on the air. Of course, we've only been on the air for around eight weeks. As far as the [HD] cameras are concerned, with the fiberoptic camera cable, we've had that installed since about August, 2002, and we've had zero problems. MF: So, doing it in stages was a good idea.
HM: Well, again, we were at a point with the cameras where we had to replace them, so obviously we looked ahead to high definition.
MF: What brand of cameras do you use?
HM: We use a mixture of different Ikegami cameras. We have HDK-790 studio cameras and 79 portable cameras. As part of this project, we installed point-of-view cameras, HDL-40s, which are small, three-chip box cameras, and HDL-20s, which are little one-chip cameras that we use, for instance, behind Anton Fig, the drummer.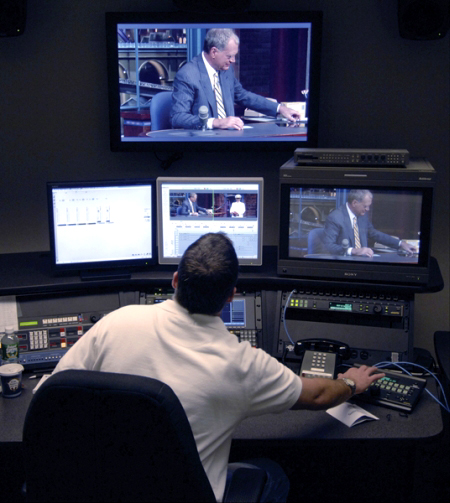 MF: So you guys did this project, but are you busy with other things? Things you can talk about?
HM: Well, sure. We're actually starting a project now to install high definition-cameras in the studio used by CBS Sports for The NFL Today at the broadcast center. We're installing some new nonlinear editors in a networked configuration for sports so that they can start editing on a server-based system as opposed to editing on video tape. We're working on a similar project, but on a more massive scale, for CBS News, converting them from tape-based editing to server-based editing. I don't know if you read Broadcasting & Cable, a trade magazine, but there was an article about it there.
MF: With the expansion of HD football coverage, will there be an expansion of the number of HD-equipped trucks.
HM: Yes, that's going to become an issue as we expand HD football, which we will do, and eventually they're going to have to do all of the games in high definition. The truck industry has been forced to upgrade their fleet.
MF: Are those trucks leased by the network, or does the network own them?
HM: We don't own them. They travel around the country from stadium to stadium, game to game.
MF: Do all the networks operate that way?
HM: I think so. I don't think any of the networks own their own trucks. They used to years and years ago. We've been out of the truck business for 15 years maybe.
MF: Is that because it's easier for a specialized company to handle it?
HM: There are times of the year….for instance, we don't cover baseball. So, if you're a truck company, you can transition from one customer during football and basketball season to a different one for baseball season.
MF: Getting back to this project, did you have to submit a budget for a comptroller type to look over, who then came back to you and tried to price it down?
HM: Well, we never get an open checkbook.
MF: You mean it's not like the Pentagon?
HM: No! (laughs) There's a budget-approval process, and the financial folks obviously want to know that we are being prudent with our use of the company's money.
MF: Do they know what any of this stuff is? I mean they look at the procurement of, you know, 12 Grass Valley whatevers. They don't think it's soup mix, do they?
HM: If the CFO [Chief Financial Officer] walks in here, does he know what this stuff is? No, of course not. That's not his job. What he wants to know is that we are using a competitive procurement procedure.
MF: So you try to stay away from the bureaucracy because you're a technical guy, but you have to interface with it, right?
HM: Yes, exactly. I have to straddle…I try to protect my engineering staff from the bureaucracy.
MF: How big is the engineering staff?
HM: I have roughly 20 professional engineers on staff and a construction shop of craftsman who can do all the wiring that you see.
MF: And what about maintenance, if something breaks?
HM: The technical maintenance people in this building do not report to me, but there's a full-time technical maintenance staff, and that is precisely their job. You had asked earlier about training, and that's another massive training effort.
MF: Can you tell me what it costs to completely reconfigure this studio for HD?
HM: No.
MF: So you won't say?
HM: It's a state-of-the-art high-definition production facility, and it's not cheap.
MF: And the signal has to go from here, and it's taped. So, after the show is taped, edited, and ready for air, how does it get from here to the top of the Empire State Building, for instance, for broadcast?
HM: Well we have diverse dark fiber paths between here and the broadcast center, meaning that one travels one path across town, the other travels another path. That way, if a backhoe or a jackhammer takes out one of them, the other one survives, and that's our connection to the broadcast center.
MF: So this show doesn't get fed physically—it's fed by fiberoptic cables?
HM: We can do it either way; it depends on the editing process, how close to air it is. We'll take you up to the editing facility on the seventh floor of this building. One way or another it gets to the broadcast center, and commercials are integrated. From there, the network distribution facility feeds it to Stamford, Connecticut, where the satellite uplink facility is, and that gets it up to the satellite to all the affiliates around the country. For channel 2 [WCBS-TV, New York] it's a wire within the broadcast center, because channel 2 is in the broadcast center with us on 57th Street and 10th Avenue.
MF: Have you ever monitored this show in HD on an over-the-air broadcast and compared it to with a cable or satellite broadcast?
HM: I haven't, but other people have. I have yet to hear any complaints about how it looks on either cable or satellite.
MF: They don't think the bandwidth is being limited or signal is being bit-compressed?
HM: Well, we know that some people are doing that, but it has not been raised as a serious issue.
MF: I guess you'd see it more on fast-motion sports programming.
Michael Fremer interviews Late Show Producer/Director Jerry Foley
MF: In this switchover to HD, from your perspective, has there been anything that you've had to rework in your thinking?
Jerry Foley: Well, it was a pretty intense cultural transformation that had to happen, because a show like this is completely dependent upon a hidden army of associate directors, editors, technical directors, camera people, audio mixers, and that was the biggest challenge of all, because every single piece of equipment these people were comfortable with was being taken away from them. And I'm happy to say that everyone across the board embraced [the transition]. I'm very fortunate, because I'm working with the crme de la crme at CBS. I just have the best of everybody, and I guess it drives other directors crazy that I stole everybody…
MF: How'd you do that?
JF: Dave did it. And I got them to stay. I think everybody that's in this business would want an opportunity to work on a show like this with a guy like Dave. Once he gets here, it's my responsibility to keep him happy and keep him fulfilled, so, in terms of this conversion, that was the biggest challenge—keeping everybody not only stress free about it, but enthusiastic about it.
MF: I imagine they were excited about it. I mean this is the biggest sea change in broadcasting.
JF: The good ones are. The people you want here embrace this stuff; they go after it. They become almost annoying because of how many different directions they can now go off in. To make that cohesive was a challenge.
MF: Were there team training sessions where everybody was involved?
JF: The training was targeted. I'm not a big proponent of putting 500 people in a room and trying to come up with something effective for 500 people. You need a lot of sidebars and individual training sessions and conferences. One of the big concessions we got was from Avid, for high-definition editing, they brought their operation to us. We were applying Avid technology in a way they hadn't really considered yet. They had to come up with a design for the needs we were presenting.
MF: And that's that big LCD screen divided into those little panels that I saw downstairs?
JF: That's one of two Avid bays, and that panel represents about eight different, individual Avid systems for which they then wrote software so that the bays can work in concert with each other. For them, this was a new experience—cutting a day-of-air show. They had a tremendous amount of experience with the NFL, and they had a lot of experience with soap operas and episodic stuff and feature films. But we were one of the first people they had to deal with who [tape a show] and have to turn it around several hours later, so, in designing that system, in bending their hardware, they had to rethink their training mode. We pushed them a little bit and said our editors aren't just training. They're doing research and development for you, and [the Avid people] got it.
MF: So this will be applied more often in the future? There will be more shows like this that will be recorded and then turned over pretty quickly?
JF: Oh, yea.
MF: How much did you have to readjust and learn from what you do? Do you mostly you direct, telling other people what to do and having them fulfill your wishes…
JF: On a good day. (laughs)
MF: So, from your perspective you didn't have to do that much hardware learning.
JF: I was a technical director for a long time. So, fortunately for me, I have an appreciation for how some of this stuff comes together, and I actually have an interest in it. I don't think in the present day you can be effective at this without a better-than-rudimentary understanding of how all of this stuff is integrated. So, though I'm not pressured to come up with the ability to edit, I do have to speak the language. I do have to understand how things are getting in and coming out, and that was a learning curve I had to deal with personally.
MF: So looking at your job, for what your basic job description is, did this switchover affect decisions you had to make on a moment-to-moment basis?
JF: Absolutely. What we found early on is that some stuff actually became more difficult. You're dealing with upconversions and downconversions now. It's essential that we can turn on a dime, because a good idea doesn't pre-announce its arrival. They happen in the moment and this is all before Dave even gets involved. You have writers who are going back and forth with different ideas. And then there's a "eureka" moment, and we have segment producers who are anticipating doing something special for a particular guest. You have musical performers that are coming in, and that may change. The song may change. Paul Shaffer may add another musician. This is happening in real time, all day long. So, we have to be able to turn these ideas around quickly. In the first couple of weeks—forget the lack of familiarity with the equipment—what used to take two steps was now taking six.
MF: Wow.
JF: And it was a little sobering for us that all of this money, all of this new, shiny stuff, was actually making our day-to-day jobs more difficult. But I knew, and I was confident, that it was just a question of applying the new technology to the old requirements, and it's been very gratifying to see those six steps start to shrink to four. And now, in some cases, what used to take two steps, we can now do instantly. But when you talk about a learning curve, when you talk about having to think differently, it's kind of a reinventing of the wheel.
MF: Now, with close-ups on people's faces, do publicists come in and say you cannot get as close as you used to get when you were broadcasting NTSC? Is there any of that kind of stuff?
JF: We haven't had that.
MF: Not at all? That's interesting.
JF: That exists all the time. If you have any front-row talent, if you have anybody that you're going to present on a television show, and you care about what you are doing, and you care about the people who are gracious enough to appear here, then you are going to do everything you can instinctively to make sure that they look the best. I've found it kind of amusing that, in the past couple of years, there have been cover stories in some of these technical magazines saying [HD is] going to be end of people's careers.
MF: Like when sound came into the movies…
JF: Yea, it was kind of the old silent movie stars' careers. They really played it up in a way that I'm sure sold magazines and kept people's interest in this whole thing, but the reality is, if you're doing a good job, then you're going to make sure that the lighting is correct and that people are presented in the most flattering way possible. And, it's not unusual for a publicist, a make-up person, or an artist to call ahead, voice individual concerns, or share with you what they've learned from multiple appearances with their client, and we embrace that.
MF: So, these processes has remained the same, essentially.
JF: Absolutely!
MF: All that's changed is that there's one more level of clarity.
JF: Absolutely. If you are putting the impression out there to some of these celebrities, actors, and musicians that they now have something else to worry about because they are now in high definition, you are doing them a disservice. They have enough to concern themselves with in terms of their performance. I go the exact opposite way: "This is nothing; don't worry about it. It's complimentary. It's something that's going to show people more than they've been allowed to see of your particular client or your particular performance." And I found this two or three years ago when we started doing tests on Dave. He's such an impressive person to see in the flesh. He has tremendously expressive eyes that can work in all sorts of ways when he's mischievous, when he's angry, when he's happy. To be in front of him is impressive.
The beautiful thing about Dave is that he's never played a vanity card in the whole time that I've been involved with him. He certainly wants to be presented in the most complimentary way possible, but he's never played any games with the cameras, and he's always been very clear that "this is what I look like, and this is what you should present to everyone." And you try come up with the best lighting possible. You surround him with an impressive set. We get him the best wardrobe possible, but, beyond that, he's never played any games. So when this transition happened, we were ready.
MF: Does HD allow people to wear clothes that are busier?
JF: Yes, there's a lot less moir-ing. Guests can come in with a lot of more intricately patterned ties and suits. As a matter of fact, we had David Arquette, who's kind of a quirky performer—he's a very good guest, we love having him on—he had a pinstripe suite made out of…it said "David" in the pinstripes. It was so cleverly constructed that you weren't aware that there was actually a word in there, but, when you got in close, you were made aware that it was type that made up the pinstripe.
MF: Did you have to dress the sets differently? Was there anything that had to be done in that regard?
JF: No. This is what amused me, and I'm kind of working my way to the other side of it now. I'm personally kind of gratified now that I didn't get hysterical from reading all of the stuff. I had a sense that it was going to be fine, and one of the reasons I was confident is that the set we have and the sets that we've had over the years are very expensive and they are all three dimensional. It's the legacy of a woman named Kathleen Ankers, who was our original set designer—she's passed away. Her pedigree was in legitimate theater, and she always built the set for people sitting in the audience. And the fact that we were putting a TV camera on it was fine, but, in her mind, it was all about the theater-going experience. Her disciples who have carried on for her feel the same way.
When we went high definition, we were now allowing the TV audience to see what the people in the theater see, so we didn't have to take out a fake wall, or all of a sudden take a door trans or a painting and make it a real set piece. That's the way we always were. And that's directly a result of Kathleen's designs, and it's also a credit to the production company, that, well in advance of HD, they put the money up to build the set. They could have done it a lot cheaper, and that's not what Dave's about. The guy's not cheap. He puts money on the screen and, in the case of this high-definition conversion, really, all we had to do is something we do pretty much every year anyway. That is, over the course of two or three days, the lighting director and the art director sit up here, and we spend an hour or two going over different shots. We take notes, and we're going to put a coat of paint here, we're going to replace some of the brick work here, we're going to lower a light, we're going to put a little more color here. We do it every year anyway, and that's what we did in advance of August 29 [2005, The Late Show's HD debut]. When we started, we'd already been running tests.
MF: The opening montage looks like it's really in HD when you see the band in Grand Central Station.
JF: That was shot in HD in advance of the switchover.
MF: That looks great.
JF: Yea, you know we actually shot a lot of HD over the years, because it was just around the corner, so we were on top of that. When we went HD on August 29, all we had to do was re-edit. We had to put the HD masters in where we had downconverted footage.
MF: On a day-to-day basis, when you're sitting in the chair directing, has anything changed?
JF: It's a little bit tricky. The camera people have to shoot 4:3 to protect 16:9, and the first day was odd, because they honestly didn't know where to look, and it was a very personal choice. Some of them chose to put graticules in their viewfinders because Omni gave them different options. Some of them shaded 16:9 edges, so they could see what was in 16:9. But they had a clearer 4:3 sweet spot, and it was a period of discovery. I think we had a little awkwardness that was about as significant as me checking their shots on a 16:9 monitor and a downconverting monitor that I had in the corner; maybe we adjusted a skosh.
MF: So it wasn't really much.
JF: Well this idea that all of a sudden I was going to take a shot of you that I hadn't taken for the past 12 years and then to the right was going to be a stagehand with a banana in his hand, I mean, that just didn't happen. You do have to keep the camera people honest, because I have emphasized that it's still a 4:3 show. Everything has to fall in 4:3, the graphics have to fall in 4:3 and be framed for 4:3, but, in doing that, on what used to be a very clean close-up, you might see Dave lean in, you may see him adjust his cuff, so we have to shoot a little tighter.
MF: You don't want to see that is what you're telling me.
JF: Well no, because you do have to have a healthy respect for the HD audience. You can't ignore them, and I know that, if you were sitting at home and you saw the tip of somebody's nose in a close up, you'd think less of what we do. So you try to keep them honest that way, but again let's reference that against what popular panic was telling us, which was we're all going to die.
MF: If there are two guests sitting out there, do you try to keep the other guest who's Letterman's not interviewing out of the camera?
JF: Yes, we like to get clean signals when you can. We're able to do it, and this takes me right back to the luxury of the set that we have. This set was ready for high definition years ahead of time, so our set is big enough and wide enough where we can do that.
MF: Now the switch to 5.1 channels is going to come soon. Is that going to have any effect on you?
JF: That's going to be exciting. It's one of the things I was enthusiastically telling producers as we were moving toward high definition: "Don't worry about this high definition; it's nothing but good. It's really going to punch up not only our standard-definition picture, but high definition is going to do justice to Dave, to the set, and to the comedy that we do. But the real thrill is going to be 5.1 surround. Have you been to the show?
MF: Yes, a couple of years ago.
JF: I think, and unfortunately I don't get to experience it because I'm living it, but I did see it once or twice, but I think the theater-going experience for this show is one of the best shows on Broadway. Dave has always had a very, very healthy respect for someone who is going to give up an hour of their day to come and watch the show. It's not a television taping—it's a television show.
MF: Well, look at the theater that it's in. The history!
JF: Yes, it's a fantastic theater. You're putting 450 to 460 people in there every night. They have a lot of options up and down the street. Even though the price is right for us, the experience of seeing this show in the theater is pretty unique and pretty special, and, when we get to 5.1 combined with these high definition pictures, then we're going to be able to put you in the seat. We're going to be able to put you in the center of this theater, and you're going to be able to hear the subtler nuances of the comedy, whether it's sound effects of things happening behind you….
MF: Are they really going to do that?
JF: This is going to be the next cultural hurdle. I was talking to you before about how pressed we are in the course of a day to turn around a good idea, and one of the drawbacks of that is our lack of opportunity to put the nuance in there. But that doesn't mean you don't try. I'm very happy that we split up our projects so that we can get the pictures up there and the editing done. And now we can concentrate on taking the culture another step so that a writer who wants to pull the tape out and run it upstairs for approval—no, stop a minute because now we can put some truck sounds behind you here….
MF: Postproduction.
JF: Right. So, we really want to polish the product, and we're going to have an opportunity to do it. As I said, if I can create or re-create what happens to somebody sitting in the theater for a home environment, then we've really made an advance here. It's not just shiny new toys.
MF: Will there sometimes be a reaction shot inserted that you didn't choose originally?
JF: I would be lying if I told you that we didn't do that, but my obligation is that Dave not be distracted by the machinery? This stuff is supposed to be happening all around him, almost transparent to him. So, if I miss that reaction shot, it affects his performance. He's expecting that reaction shot.
MF: How does he know about it?
JF: Oh, he's watching that monitor constantly. He's doing a television show.
MF: He's seeing it but his eyes don't show it.
JF: Yes, he's pretty good like that, isn't he? He sees everything.
MF: There was a comedian on stage at the show I went to. Letterman was not watching it live. It seemed like he wanted to see the guy's face because the guy was in front of Letterman, but I could tell Letterman wanted to see how it played on the television screen.
JF: If I go down there thinking, "Well I'll just drop that shot in later," it doesn't illustrate what he's doing live in front of the audience as effectively as it's supposed to, and that's a distraction that he doesn't need. So, if he says something and [show announcer] Alan Kalter smirks, or someone in the audience is being referenced subtly, or Paul Shaffer reacts—if he doesn't see it, it's almost as if it didn't happen.
MF: Are there widescreen monitors in the studio now?
JF: Yes, the whole studio. Everybody is 16:9. We had one decision moment there were we asked, "What do you want to look at," and Dave said, "I'll take all the HD you've got" '
MF: So he's enthusiastic.
JF: Absolutely.
MF: When the first show aired in HD, did you watch it at home?
JF: Oh, yes (laughs).
MF: What type of TV do you have at home?
JF: I have a [Sharp] AQUOS. I have that (pointing toward an AQUOS monitor). I became quite a convert immediately. I waited until August before I actually bought one, because I was just waiting for the prices to come down.
MF: You don't get a deal? Sharp didn't set you up with a deal?
JF: I didn't solicit it, and I wasn't offered it. I got it off a Website, and I'm thrilled with it. But I do find that I'm now looking for high-definition programming. I didn't anticipate that.
MF: The same thing is true in the high-end audio world. People look for good sounding recordings. Fortunately there's a lot of good music that's also well recorded.
JF: I learned a little bit about marketing here, because I was a little bit ambivalent about the hoopla surrounding high definition, until I got the set. And then it was like I signed up for ESPN's Sunday Night Football immediately. I don't want to watch a football game without filling up the screen. Where's the rest of it? The three best things to happen to televised football over the past couple of years are the first-down markers.
MF: I sat next to the guy who invented that once on an airplane. He worked at Sarnoff Labs.
JF: There used to be several trucks. Now they have it down to a couple of rack units—with the cable cam over the quarter back and footage in high definition. That's really turned around televised football for me. Now you can really get a sense of what's going on. Basketball's tremendous in high definition.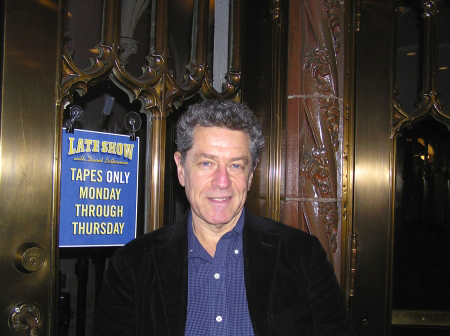 Personal Note
Forgive me for interjecting a personal note here, but, in 1994, after I returned home from a Janis Ian concert at the now-defunct Bottom Line in New York City, I turned on my television in the middle of Late Night and found David Letterman goofing on me! How's that? I had narrated one of those "I am now speaking to you from the right channel" audiophile test CDs, and somehow the disc made its way to one of the show's writers. Parts of my narration became a running gag throughout the show as part of the ongoing "Dave's Record Collection" segment. The next day, I got calls from friends across the country who actually recognized my voice! And there was a 3,000-copy sales spike over the next few days, simply because Dave had held up the disc for a few seconds! —MF
<!- ----------------------- Tech Center Ads ----------------------------->

SPONSORED TECH CENTER
<!- ---------------------336x280 ADS------------------------------->
<!- ---------------------FIXED AD------------------------------->
<!- ---------------------336x80 ADS------------------------------->
<!- --------------------Sponsored Link Ads-------------------------------->
<!- ------------------------Bottom Ads---------------------------->