The In-Ear Headphone Face-Off Page 6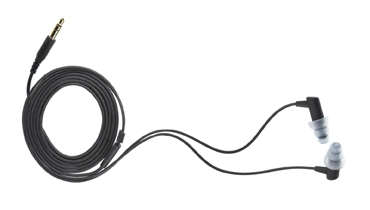 Etymotic hf5
Overall Rank : 2nd
John Sciacca Ranking: 1
I was expecting a lot from Etymotic, the company that pioneered in-ear headphones. Usually big expectations come with big disappointments (Phantom Menace anyone?), but thankfully that was not to be the case here.
The phones created an unbelievably tight seal and raised (or lowered) noise isolation to a new level. Once the phones were in place, all outside sounds disappeared and it felt like I'd locked myself inside a vault. These would be great for commuters who don't even listen to music-they are that good. I didn't score them a 5 for comfort just because there is some pressure in the ears that makes me wonder how long I could leave them in.
Any contact with the cabling leading to your ears really transmits noise, which was incredibly distracting. I couldn't change positions in my chair - let alone walk or jog - without tons of shuffling noise. Then I discovered the included cable clip and secured the cable to my shirt, greatly eliminating this distraction.
Sound quality was just terrific, regardless of genre. Because the background noise was wiped out, you could really hear every detail and nuance of the music. Highs were detailed and precise without crossing the line into being shrill. While they didn't plumb the bass depths of the Denon's, there was enough depth and punch to easily stand up to the cacophony of Blue Man Group or anything else I threw at them. And this was a lot since these phones had me whizzing through my iPod's contents eager to listen to all of my favorites.
Brent Butterworth Ranking: 1
I think of Etymotic the same way I think of most audiophile brands-as a purveyor of gear that thrills enthusiasts but presents too many peculiarities for practical use. The hf5 would seem to follow that pattern. Its long, tube-shaped driver housings couldn't even hide inside Barack Obama's ears. In fact, they're so long that the hf5s didn't fit easily under the straps of my bike helmet-and there's no way they could fit comfortably under a ski hat. Plus, they have a filter that you have to clean with a special tool, a process that seems overly fussy for a set of earphones.
However, I loved the compressible foam earpieces Etymotic offers. They look like the disposable ones you get for mowing the lawn, and they're just as effective at blocking external sound. For me, they held the hf5 securely and comfortably.
Which is good because you may never want to take these things out. They deliver incredible detail and snap, yet they never sound etched or bright or annoying. Acoustic stringed instruments sound like they're right in the room with you. The bass doesn't rock you as it does with many earphones, but it sounds accurate and it doesn't distort when you push up the volume. These are some of the best audio transducers I've ever heard. Wow. My listening notes included the word "frigging" five times, always followed by a positive adjective like "awesome."
Leslie Shapiro Ranking: 6
The Etymotic hf5 offered the most fit options, yet for me the compressed foam gave me the most comfortable fit and best sound isolation. Even so, they still never felt seated properly. They stick out uncomfortably, and no positioning of the cables got them settled in.
Slight discomfort can be forgiven if the sound was incredible. Unfortunately, this was not the case with the hf5. Any complex sources were distorted, even at moderate listening levels. The hf5 were also very bright, and had a tendency to bring out the worst in an MP3 file, accentuating digital artifacts in Gomez's "See The World". The thin bass didn't help this situation.
Mike Gaughn Ranking: 3
The Eytmotics and the Denons were the only two sets of buds that felt at all uncomfortable to me. The Etymotics protrude so far from your ears that it's hard to keep them well-seated, which meant that more ambient noise leaked in than it did with most of the others. The sound on "It Makes No Difference Now" was trebly and just a touch hard. There was nothing egregiously wrong with this, but, for instance, I know that the saxes on this track just don't sound that thin. Overall, I found the Eytmotics clear, cold, and analytical. I could hear all of the details in the Charles mix, but everything was a bit harsh-and a bit bass shy. I had a similar impression of "Insensatez," which sounded cold, with sizzly highs, a strong midrange, and slightly thin bass. I was again struck by how analytical the Etymotics sounded, lacking presence and warmth. Not surprisingly, the opening drum hits on "Frank Sinatra" were papery, without the necessary depth. Everything came across super-clean but trebly, too. While I had some minor qualms about the Etymotics' sound, they're obviously a good pair of earbuds, and I can see where what seemed analytical to me could come across as natural or accurate for somebody else.
<!- ----------------------- Tech Center Ads ----------------------------->

SPONSORED TECH CENTER
<!- ---------------------336x280 ADS------------------------------->
<!- ---------------------FIXED AD------------------------------->
<!- ---------------------336x80 ADS------------------------------->
<!- --------------------Sponsored Link Ads-------------------------------->
<!- ------------------------Bottom Ads---------------------------->