Dynaudio DM 2/6 Speaker System Page 2
Associated equipment included a Rotel RSX-1550 A/V receiver and OPPO BD-83SE universal disc player. All movie selections were Blu-ray Discs with lossless DTS-HD Master Audio soundtracks. Incidentally, when this happens, I mean no disrespect to Dolby and its lossless TrueHD technology. Sometimes that's just the way the dice tumble.
Prawns with Gangster Sauce
District 9 was slow to reveal the DM 2/6's splendors. Much of its first half is shot and recorded in a cinéma vérité style, as it introduces a hapless human protagonist into a refugee camp for extraterrestrials. The first impression that presented itself was a lack of listening fatigue coupled with a welcome but not exaggerated warmth. Circling helicopters demonstrated the benefits of using five identical speakers—the soundfield was reliably seamless. As the more aggressive effects kicked in, the midrange component of the barrage was still palatable. The sealed sub delivered a respectable amount of low-frequency impact. In a shootout scored with strings, the speakers delivered mayhem and delicacy simultaneously. The most attractive material was the orchestral and vocal music that accompanies the end credits. It cuts back to solo voice and strings for the final seconds, and the rambunctious movie ends on an unexpectedly elegiac note. Altogether, the Dynaudios were impressive.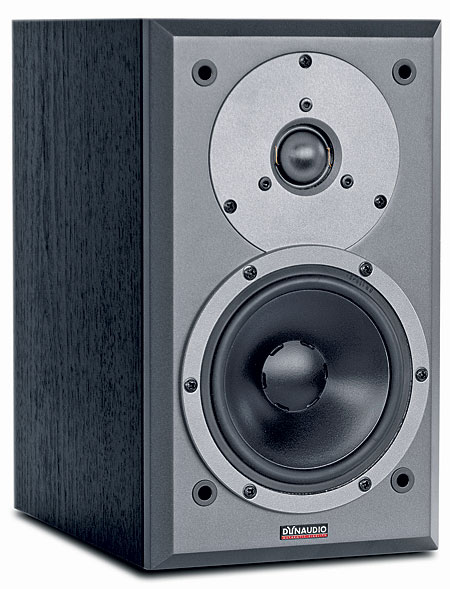 Staten Island offers an unorthodox gangster narrative and fewer brash effects, with the notable exception of some shocking shootings. The soundtrack's most striking moments are its meditative ones: crickets, birds, rain on leaves, and what my notes describe as "serious thunder"—meaning not violent but evocative. Again, the matched speakers really came through. They invested these pastoral passages with natural beauty. As I moved across the sofa, there was an inevitable spatial shift in off-axis positions but only minimal off-axis tonal shift.
Ping Pong Playa is a showcase for the effervescent Jimmy Tsai, who co-produced, co-wrote, and stars in this tale of an unlikely champion who mixes Asian pride and hip-hop energy with a bravado that's unmistakably all American. There wasn't as much left-to-right panning as I'd expected in the table-tennis action. This was probably a wise choice. The camera alternates between side shots and each player's viewpoint. It would have been distracting to shift the ball panning for each shot. The movie's most indelible 5.1 moments came in the .1 part. The hip-hip thuds were notably well formed despite their synthetic origin.
Friends and Beauties
Paavo Järvi's recording of Beethoven's Symphony No. 9 with the Deutsche Kammerphilharmonie Bremen is a freshly recorded multichannel SACD from RCA Red Seal/Sony Music. This is a hybrid disc with a CD layer, something I rarely bother to mention. The perspective seems to be the middle of the concert hall. Combined with the softdome tweeter's polite top end,
this approach tended to favor blending over layering, with the reeds and woodwinds often merging into the strings. Some listeners might find it bland; I found it addicting. What it sacrificed in detail it made up for in listening comfort. During the first movement, I kept pushing the master volume up and up and up. By the time the scherzo got underway, the Dynaudios were really rocking. The sealed sub did a fine job with the movement's joyfully busy tympani, which sneaked a little forward from the front right speaker toward surround right. But it was in the choral movement that this combination of content and hardware escalated into jawdropping territory. The entrance of the first voice—"O Freunde"—was somewhat distantly miked to add a greater-than-average amount of hall ambience. The effect wasn't distancing, but electrifying. I could just about visualize it: the singer, the hall, and myself in the middle of the audience. The disc divides the movement into eight tracks, so if you're using it as demo material, you can cut to the choral chase.

It's hard to believe that the DVD-Audio release of the Grateful Dead's American Beauty is nine years old. Like the original album, Mickey Hart's surround remix is a landmark, yet it retains its aura of experimental excitement. This release gives the album's intense concentration on disciplined songwriting and massed vocals an epic wraparound treatment. It's especially suitable for vivid Americana-tinged songs like "Friend of the Devil" and "Candyman." The Dynaudios infused the soundfield with a warmth that suited the material. For the first time, I did a walkaround to examine the treatment of Phil Lesh's bass (specifically on "Attics of My Life"). From the prime seating position, it seemed to image 2 or 3 feet in front of the center speaker. My first guess was that it must have been suspended between the center and surrounds. I was wrong; it was coming out of all four corners of the soundfield (plus the sub, of course), but it was absent from the center speaker.
Eva Cassidy was prematurely silenced when she died at age 33, although her handful of CDs went on to become bestsellers. The Songbird compilation shows off both the virtuosity and the eclecticism of her pure soprano. If you hear it through the Dynaudios, you might be convinced that these speakers were custom-designed to suit this voice. Instead of an edgy wraith, you get a fully fleshed-out midrange with a well-integrated top end. If you'd like a sample, download Cassidy's cover of Sting's "Fields of Gold" from Amazon.
The Dynaudio DM 2/6 may be conceptually old-fashioned, but it shows just how far you can go with tried-and-true speaker design and high-quality parts. These speakers work equally well for movies and music. They have a personality—one that favors restraint and balance over whiz-bang effects and magnifying glass detail. For that reason, as I mused toward the end of the review process, I probably couldn't adopt them as reference speakers. They'd make too many AVRs sound good! But the fact that I was even thinking along those lines should indicate how much I enjoyed listening to these considerately engineered speakers and sub.

<!- ----------------------- Tech Center Ads ----------------------------->

SPONSORED TECH CENTER
<!- ---------------------336x280 ADS------------------------------->
<!- ---------------------FIXED AD------------------------------->
<!- ---------------------336x80 ADS------------------------------->
<!- --------------------Sponsored Link Ads-------------------------------->
<!- ------------------------Bottom Ads---------------------------->