DVD of the Month: Troy
Brad Pitt, Eric Bana, Orlando Bloom, Diane Kruger, Brian Cox, Sean Bean, Brendan Gleeson, Peter O'Toole. Directed by Wolfgang Petersen. Aspect ratio: 2.40:1 (anamorphic). 162 minutes. 2004. Dolby Digital 5.1 (English, French). Warner Brothers Home Entertainment 28411. R. $29.95.
Picture ***1/2
Sound ***1/2
Film **1/2
I'm usually easy prey for any film with swords, but I initially found director Wolfgang Petersen's Troy tough going. It has a good cast, superb production values, knockout special effects, and eye-popping battle scenes. But even with its furious action, I found it curiously uninvolving when I first saw it during its theatrical run.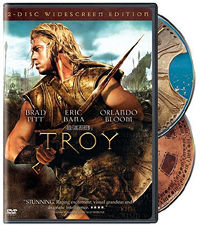 Perhaps I was put off by the emphasis on Achilles, the Greek's star warrior. Or perhaps it was the lack of chemistry between the key characters of Paris (Orlando Bloom) and Helen (Diane Kruger). Perhaps it was the tinkering with the classic story—though it's no more butchered than in other filmed versions. Or possibly it was simply the fact that I formed no emotional attachment to any of the characters. In the end, I didn't much care what happened to any of them.
Still, there's no denying the scope of this production, and as I watched the film on DVD, I enjoyed the spectacle more than I had in the theater. The clash of immense armies feels real (though it comes up a little short with the battle scenes from in The Lord of the Rings still fresh in mind). For the most part, the CGI is seamless, including a stunning money shot of the camera pulling back to reveal more ships than likely existed in the entire ancient world. And the proverbial wooden horse also plays its usual key role.
The extras on this 2-disc set include short features on the creation of the battle sequences, the historical background of the production design, and a visit to Mount Olympus and its ancient Greek gods. There's also theatrical trailer, but no commentary tracks.
The video transfer is excellent—just a hair short of reference quality. Colors are vivid, and there's a minimum of visible edge enhancement. Shadow detail is first-rate. The sound is everything you might expect from an epic. The sounds of clashing armies are everywhere, though deep bass is largely restricted to composer James Horner's score. And while that score isn't exceptional overall (it was reportedly written in two weeks after Gabriel Yared's year-long composing effort was rejected following a single test screening), the savage drums that open the film made me jump out of my chair with their startlingly tight, crisp, and powerfully explosive sound.
Troy isn't a great film, but it's great to look at and, for history buffs, worth the time (if you don't mind the usual dose of Hollywood with your history). If nothing else, you can at least hum the scenery and special effects.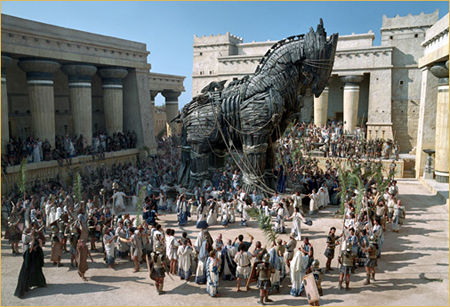 Of course, this isn't Hollywood's first take on the Trojan War. Helen of Troy, from 1956, directed by none other than Robert Wise, was hardly the most memorable sword and sandal production from Hollywood's epic-drenched decade. Still, it's now available on a budget DVD with decent picture quality and OK, if dated, sound (picture ***, sound **, film **). If you get bored watching this movie, you can always play "Where's Brigitte?" A young and then unknown Brigitte Bardot has a very small part.
Then there's the 2003 USA cable network mini-series, Helen of Troy. Available as a nicely produced, 2-disc box set from Universal, it makes a more varied and interesting use of its near-three hours than Petersen does of his 162 minutes, though with far less scale (smaller clashing armies, nowhere near as many ships) and less convincing CGI effects. The scenes with that wooden horse, however, are the most spectacular, beautiful, and well shot of any of these three versions. So if it's the horse you want to see, you'll see it best here.
And, on balance, this Helen of Troy has the best cast of these three versions. The role of Achilles is much less prominent here than in Troy, though as played by Joe Montana (not that Joe Montana), he looks and sounds like he just stepped off the set of WWF Smackdown.
Universal's 1.85:1 anamorphic video (***) is brought down a half star by some fuzziness and edge enhancement in long shots, but the close-ups are often breathtaking. Shadow detail is fine, and colors are vivid. The sound (***) could be more dynamic, but in either Dolby or DTS (DTS is a very unusual feature for the DVD of a TV production), the dialog is natural-sounding, and composer Joel Goldsmith's effective score comes off reasonably well.
If the technical merits of USA's Helen of Troy don't inspire praises, neither do they detract from this surprisingly solid and interesting effort. Yes, it takes great liberties with the classics handed down from Homer and others, but remember that none of these stories are based on historically accepted facts. They're simply good yarns. And so is this one. If I were looking for just one version of the story Helen of Troy on DVD, this three-star production would be it.
<!- ----------------------- Tech Center Ads ----------------------------->

SPONSORED TECH CENTER
<!- ---------------------336x280 ADS------------------------------->
<!- ---------------------FIXED AD------------------------------->
<!- ---------------------336x80 ADS------------------------------->
<!- --------------------Sponsored Link Ads-------------------------------->
<!- ------------------------Bottom Ads---------------------------->