Dream Home Theater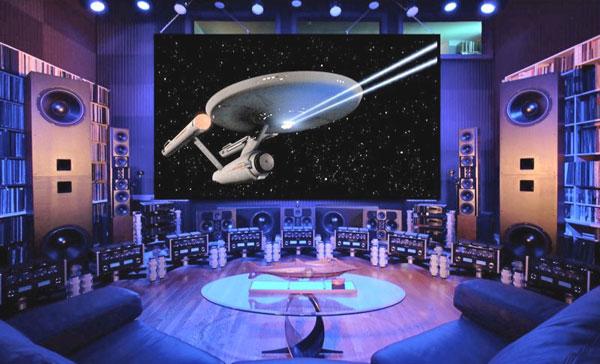 What gear would you get if you were building your dream home theater? Let's say you had an unlimited budget for video and $100,000 for audio. What speakers, amp, preamp, projector, and screen would you get? Also what would your surround configuration be? 7.1, 9.2, 11.4? Where would you put the speakers? Would you utilize the back surrounds or front height and width channels?
Spencer Torgan
Wow, an essentially unlimited budget! The equipment would depend on the size and configuration of the room, so if I really had an unlimited budget, I'd first design and build a dedicated room, which could easily run into hundreds of thousands of dollars all by itself.
But let's assume I already have a reasonably large room that I can dedicate to a home theater. I'd start by installing treatments to optimize the acoustics. Then I'd cover them with dark, neutral gray fabric and paint the untreated portions the same color. To do this right isn't cheap by any means, but we're just dreaming here, right?
On the video side, I'd probably get a 3D-capable projector, because I happen to enjoy 3D when it's done well. With an unlimited budget, I could get a digital-cinema projector, but it would probably be too much for a room in a normal house. I really like the Runco D-73d (see part 1, part 2, part 3, and part 4 of my impressions), which is essentially two Q-750i LED-illuminated DLP projectors (reviewed here) stacked on top of each other using linear-polarized glasses. With the anamorphic lens kit, that's about $80,000. Another option would be the SIM2 C3X Lumis 3D system (included in my CEDIA 2010 report), which stacks two C3X Lumis projectors using Infitec color filters for 3D. It's also about $80,000, but that's without anamorphic lenses.
The Runco requires a polarization-preserving silver screen for 3D, while the SIM2 does not. With the Runco, I might get a Stewart Filmscreen Director's Choice 4-way masking system (around $20,000) with 5D screen material (profiled here), which is designed for both 3D polarized and 2D content. Or I might get Stewart's Daily Dual system (around $15,000, included in my CEDIA 2010 report), which consists of a fixed silver screen and a retractable white screen that descends in front of the silver screen for 2D. If I went with the SIM2 projectors, I'd probably get a Director's Choice system with Stewart's StudioTek 100 material, which is suitable only for a black-hole room such as I would create.
When I mentioned this question to Tom Norton, he said he would get the Meridian 810 4K projector (profiled here). It's not 3D-capable, but it's ready for 4K material when that becomes available, and it upscales 1080p to 4K very well. I can see his point, and since you've specified an unlimited budget for video, its price tag of $225,000 is no problem, right?
In the audio department, I'd probably get a 7.4 system with side and rear surrounds, mostly because that's what multichannel sources are designed for today, and four subwoofers allow the most smoothing of room modes with proper placement. One system I'd seriously consider is the Revel Ultima2 speakers (reviewed here), with six Salon2s and a Voice2 center-channel along with four JBL Synthesis 1500 powered subs for a total system price of $82,000.
Each main speaker would be driven by its own monoblock power amp connected to the preamp/processor with balanced interconnects. There are many good monoblocks to choose from, so I'd probably wait to see what my budget could tolerate before choosing. Sticking with Harman high-performance products, the Mark Levinson No.53 monoblock is $25,000 each, or $175,000 for seven, but that would take the audio budget far above $100,000.
Another alternative would be self-powered speakers, also called active speakers, which have their own built-in power amp. I like this approach because it lets the manufacturer optimize the speaker and amp for each other. The Meridian DSP system (profiled here) is an excellent candidate, but a 7.0 system with six DSP7200s and a DSP7200HC center-channel (no need for a sub) would cost about $145,000, though that includes the preamp/processor and HDMI switcher.
Another exceptional active-speaker system would be a set of Genelec home-theater models—I love the sound of Genelec active pro monitors in recording studios. I'd probably get the HT315B for the front left and right, HT320BC center-channel, HT312B for the surrounds, and four HTS4B subwoofers. Total system cost—right around $100,000. For an extra $13,000, four AO312B on-wall surround speakers would take up less space.
For the pre/pro, I might go with the new Marantz AV7005 ($1500, reviewed here), which can deal with 3D and provides 7.2 balanced outputs and unbalanced outs for the front wide and height channels if I were to add them later. It currently includes Audyssey DSX processing, and I imagine it will probably add DTS Neo:X processing in a firmware update. I realize this is not an über-pre/pro, but ultra-high-end models are often behind the curve in terms of codecs and other capabilities. Besides, I've already blown the $100,000 audio budget you specified on active speakers.
I'm sure our readers have their own ideas about what they would put in their dream home theater, and we'd all love to read their thoughts on the subject. So please leave a comment here, and don't be afraid to dream big!
If you have an A/V question, please send it to askscottwilkinson@gmail.com.
<!- ----------------------- Tech Center Ads ----------------------------->

SPONSORED TECH CENTER
<!- ---------------------336x280 ADS------------------------------->
<!- ---------------------FIXED AD------------------------------->
<!- ---------------------336x80 ADS------------------------------->
<!- --------------------Sponsored Link Ads-------------------------------->
<!- ------------------------Bottom Ads---------------------------->