Don't Bend Light - Fold It!
After unwrapping the gifts, polishing off the last drops from near-empty bottles of champagne, and sweeping up the streamers and confetti left from SIM2 Multimedia's 10-year anniversary party, those still standing announced a trio of new high-definition displays being added to the
SIM2 USA
product line: the
HTL40 LINK
LCD flat-panel monitor, the
DOMINO 55M
rear-projection monitor, and the
C3X
front-projection monitor.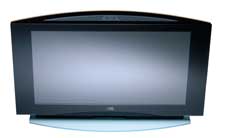 With the smallest screen diagonal of the three, the HTL40 LINK is a 40-inch LCD flat-screen display with an unusually fast 8-millisecond response time. The "LINK" in the model name refers to the external SIM2 DigiOptic Image Processor. The processor, a separate component equipped with a number of inputs including HDMI and DVI, transfers source and control signals to the display via a teeny-tiny, super-thin (0.14-inch) digital fiber optic cable and can be located up to 65 feet away from the display with the included cable or up to 131 feet away with an optional optical cable.
The 16:9 panel is said to have 1366 x 768 resolution, a 1000:1 contrast ratio, and an estimated 60,000-hour lamp life time. The unit's memory can store up to three image memory settings (including brightness, contrast, color temperature, and etc.) for each input, which SIM2 adds up for a grand total of 75 settings.
The four-inch deep HTL40 LINK is available in three finishes: matte silver, black rosewood, or whitened oak. The hypnotically suggested retail is $9,995. A separate 40-inch model without the external processor (HTL40) can be had for $6,995.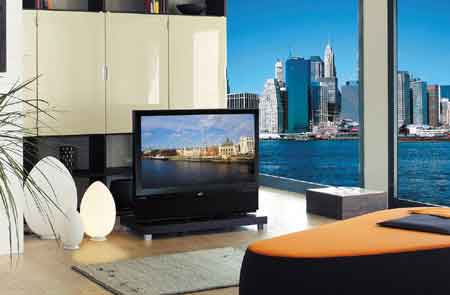 For home theater owners with a larger screen size in mind, SIM2 will be cranking up the production lines for the DOMINO 55M. The new 55-inch rear-projection HD display uses a single HD2+ TI DMD chip along with a new "silent" six-segment color wheel and the company's proprietary alpha-path light engine. In addition to SIM2's memory software, the set features a Faroudja DCDi de-interlacer and customizable inputs including progressive, PC, and HDMI-HDCP inputs. Built-in stereo loudspeakers can be used with an external amplifier as either a left/right pair or a center channel. SIM2 says the all-in-one unit offers 1280 x 720 pixel resolution along with a contrast ratio greater than 2100:1.
You'll drop just under $7,000 for the matte-black finish DOMINO 55M, but delivery might be extra.
Do you guffaw at the thought of a 40-inch HDTV? Giggle at the mention of a 55-inch screen? Don't appreciate the I-bought-this-at-Walmart cosmetics of most front-projection TVs? Have enough cash on hand (or access to enough credit) to pay for a new Scion TC (in black cherry with front and rear airbags but not including leather seats, the CD changer, and the XM-radio tuner)? Then you're just the type of person SIM2 was thinking of when they were sitting around the conference room table talking about new projector designs.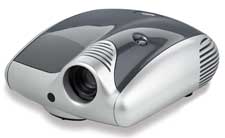 The newest front-projection model in the company's Grand Cinema Line, the C3X is said to achieve "a unique balance between innovation, functionality and style". The C3X incorporates a new SIM2 ALPHA Path 3-Chip Light Engine built around TI's "three HD2+ DarkChip3 DLP technology". The patented engine design uses a "folded" light path. (SIM2's engineers originally wanted to use a "bent" light path before realizing it would require the use of a small black hole in every projector - with the unfortunate side effect of bending time and space as well. Since the inclusion of even the smallest of black holes would have resulted in a near infinite increase in shipping costs - not to mention the astronomical difficulties involved in sourcing the necessary parts - they decided to follow the "folded" path instead.)
According to SIM2, light-path folding provides the benefit of compact size while retaining the proper length for the optical light path - allowing the new projector "to achieve exceptional picture quality from a significantly smaller space." The resulting 24-pound Grand Cinema C3X chassis measures 17.1 inches wide, 7.5 inches high, and 16.9 inches deep. A built-in "auto" function adapts and optimizes fan speed in order to reduce two annoying aspects of many high-end 3-chip projectors - high internal temperature and excessive fan noise.
Other features of the CX3 touted by SIM2 are a 6500:1 contrast ratio, multiple lens options, a Hi-Brite lamp, and "best picture management software" with customizable memory settings. The HD-compatible projector provides HDMI-HDCP inputs (among a whopping total of 10 inputs!), a jack for an external IR sensor, along with RS232 and USB inputs for control software updates.
The C3X will be available in September, 2005. Bring along the title to your Scion or $17,995 (more if you prefer to splurge on the "more better" external-processor controlled C3X LINK).
<!- ----------------------- Tech Center Ads ----------------------------->

SPONSORED TECH CENTER
<!- ---------------------336x280 ADS------------------------------->
<!- ---------------------FIXED AD------------------------------->
<!- ---------------------336x80 ADS------------------------------->
<!- --------------------Sponsored Link Ads-------------------------------->
<!- ------------------------Bottom Ads---------------------------->