Denon DVD-5900 universal disc player
"Universal" DVD players are the new hot item for audiophiles who want it all. They still serve a niche market, but even casual buyers are beginning to run into them in Wal-Mart. One manufacturer, Toshiba, has even broken the $200 price barrier with two new models that were expected to be on dealers' shelves as we went to print. I'd be surprised if other companies didn't soon follow suit.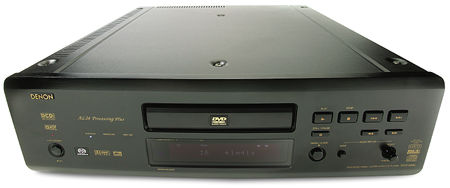 These new, cheaper models might well surprise us, but state-of-the-art performance almost never comes cheap. And the whole idea behind DVD-Audio and SACD—the new high-resolution, multichannel audio formats that are the driving force behind universal players—is state-of-the-art sound (see sidebar, "DVD-Audio & SACD").
At $2000, the Denon DVD-5900 is expensive compared to garden-variety DVD-Video players, but about average for the high end of the market. And it does just about anything you'll need from a one-size-fits-all machine.
Once Around the Block—Video
With its progressive-scan output courtesy Faroudja's latest DCDi chip, the FLI-2310, and a 12bit/216MHz video D/A converter, the DVD-5900 promises first-rate video playback. The onscreen menus provide a wide range of video adjustments (including a 10-step Gamma Correction control), plus multiple memories for storing them.
The Denon's DVI video link can be switched to 480p, 720p, or 1080i. Many players offer only 480p from their DVI outputs. But because the resolution of a DVD source can, at best, be no higher than 480p, and the DVI link is digital all the way to the display, it shouldn't matter, in theory, whether the conversion to 720p or 1080i (to match the native resolution of the display) is performed in the player or the display. With the Denon, you can at least try both and decide for yourself which is better in your system.
However, I found the Denon's DVI output frustrating to use. You have to turn it on from the front panel, and when I connected both the DVI and component outputs to the same display, and switched that display from DVI to component and back, the Denon's DVI output would turn off and have to be reset. But our first sample was an early unit. Our second sample did not have this problem, and a free firmware update is available to correct units already in the field.
If your display is one of those that locks the image into a stretched anamorphic mode whenever it sees a 480p input, the Denon's Resize control will "pre-squeeze" the image to make everything look right when you play back an ordinary letterbox (non-anamorphic) widescreen or 4:3 DVD. But the Resize control doesn't function with DVI. And many displays—even those that work fine with component 480p—still lock in to anamorphic mode with a DVI source. This makes it impossible to produce a properly proportioned image with an ordinary letterbox or 4:3 DVD from DVI.
Around Once Again—Audio
As in all universal players, the Denon's high-resolution audio formats, DVD-Audio and SACD, can be heard from its multichannel (6-jack) analog output. All of the analog output channels are equipped with Denon's AL24 Processing Plus, which is said to convert all sources to 24 bits if they're not already at that resolution. The D/A converters are also said to be fully compatible with 2-channel, 24-bit/192kHz DVD-A (a format available to DVD-A producers but rarely used). The DVD-5900 also decodes HDCD discs.
Many early SACD, DVD-A, and universal players lacked bass management for high-resolution sources. That is, you could not redirect DVD-A or SACD bass from the full-range, main-channel speakers to a subwoofer. Denon claims that the DVD-5900's bass management—which is unusually flexible, with five different crossover frequencies—will operate with both SACDs and DVD-As. But there's one qualifier: SACD's Direct Stream Digital (DSD) bitstream is converted to PCM when bass management is employed. If you want to keep the data in DSD form, you must go to the Audio Setup menu and turn the Source Direct mode On. You are then limited to full-range speakers all around, unless you add some form of outboard bass management, such as Outlaw Audio's ICBM.

You can also play back CD, Dolby Digital, or DTS sources through the Denon's analog multichannel outputs, the latter two sources using the player's onboard DD and DTS decoders and the former, obviously, playing in two channels only. But, as with all DVD players, the standard optical and coaxial digital outputs can also carry the audio from your DVD-Vs and CDs to your AV receiver or preamplifier-processor, which can then provide the bass management, decoding, and D/A conversion for these sources. I suspect most readers will handle these standard formats via such a digital link. In that case, most of you will still need to use those six analog leads from the player if you want to listen to a DVD-A or SACD disc.
But the DVD-5900 also provides two digital connections that in some circumstances may eliminate the need for those multiple analog interconnects. Denon Link, a balanced, CAT5 connection for a one-cable DVD-A digital feed, is designed to be used with selected Denon receivers. However, it will not carry SACD. For an SACD digital link, you'll need a receiver or pre-pro compatible with the player's IEEE 1394 connection. Only Denon products have Denon Link, but a number of AV receivers from other manufacturers have IEEE1394, also known by such names as FireWire or i.Link. In some circumstances, you may be able to use IEEE1394 for both DVD-A and SACD.
However, the compatibility of the DVD-5900's IEEE1394 output with different pre-pros or receivers is not guaranteed. If you plan to use this feature, you should check carefully for compatibility with your system. I did all of my DVD-A and SACD listening for this review from the DVD-5900's analog outputs because 95% of potential buyers will probably use this connection for one or both formats.
Denon's remote is not backlit, but I found it reasonably easy to operate. The only other ergonomic problem I encountered with the player was greater difficulty in navigating the Digital Video Essentials test DVD than I've experienced with other players. For example, the player's search function could be called up only during motion video, not when the disc was looping on a single frame, making it difficult to jump to any particular title. Only DVE caused such problems.
The DVD-5900's manual is very thorough but not well organized or indexed, so finding references to some of the finer points of the player's operation (such as the above-mentioned conversion of SACD to PCM when you employ bass management) left me pulling my hair out. And I found one error. The manual states on p.33 that Source Direct disables the individual channel-level controls for DVD-A and SACD. It doesn't. The controls work with both formats.
Start the Show, Already!
Whether I used the DVD-5900 in its interlaced or progressive mode, or hooked up to its DVI-HDCP jack, it gave me little reason to complain about its picture quality. About the only significant quirks I can think of were observed from its DVI output. First was the reset issue mentioned above. Second was occasional garbage on the perimeter of the DVI image. Specifically, there were solid or dotted white lines at the outer edges of the picture that varied in location and length with different projectors. With the Marantz, it was a white line about 3 inches long just below the bottom of the image in the far right corner.
Third, the DVI image was shifted to the left with a 720p output (about 2-inches on my 80-inch wide display, and about one inch to the right in 480p or 1080i. According to Denon, the horizontal and vertical raster control in the player (under SET in the PIC ADJ menu) can correct for this. But these controls did not provide enough range (only about 1/2 inch on my screen) to correct the problem. Fortunately, however, a second sample of the player was perfectly framed.
<!- ----------------------- Tech Center Ads ----------------------------->

SPONSORED TECH CENTER
<!- ---------------------336x280 ADS------------------------------->
<!- ---------------------FIXED AD------------------------------->
<!- ---------------------336x80 ADS------------------------------->
<!- --------------------Sponsored Link Ads-------------------------------->
<!- ------------------------Bottom Ads---------------------------->