Denon AVR-4308CI A/V Receiver Setup & Tests
Setup & Tests
One benefit of using HDMI connections is that setting up a new AVR is much easier than ever. Utilizing the four HDMI inputs, I connected a TiVo Series 3, Oppo DV-970HD DVD player, Sony PS3 for Blu-ray playback, and Toshiba HD-A35 HD DVD player. I also connected an Xbox 360 to one of the component-video inputs and one of the TosLink digital audio inputs. That's it. In the past, there would have been a rat's nest of wires to make these connections, but I was able to establish all the audio and video hook-ups with only seven cables, including a 15-meter PureLink HDC Series HDMI Fiber Optic Cable System feeding my JVC HD-RS1 projector.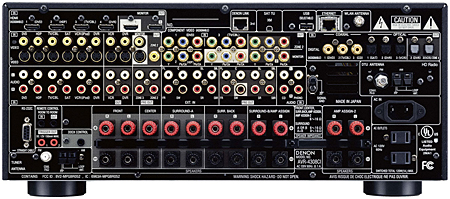 The speaker connections are well-positioned on the rear. I use banana-plug connectors for all my speaker connections, but for those who prefer spade lugs, the gaps between the connectors are wide enough to allow this type of connection. In addition to the usual suspects, there are extra four speaker connections. By default, the Surround Back speakers are not turned on; instead, the Amp Assign-2 output is enabled to power a pair of speakers in Zone 2. You can change the setup to power a 7.1-channel system, which I have in my home theater.
Different listening modes can enable or disable the Surround-B and Amp Assign-2 speaker terminals for exceptional flexibility. For example, you can bi-amp your front speakers for direct 2-channel listening and enjoy all seven speakers in a multichannel surround mode. Of course, this configuration prohibits any speaker-level signals from being sent to a second zone.
Configuring the AVR's WiFi capability was a snap, but wireless performance in my viewing room is poor at best because the signal must travel through multiple walls. I decided to go old school and just use an Ethernet cable. Once the AVR-4308CI is connected to your home network, you can configure it from a computer running any Web browser. Denon has used this approach on past AVRs, so I was familiar with the layout, but for first-time users, I recommend using the standard GUI until you familiarize yourself with the AVR.
Using Audyssey to optimize the unit's audio settings takes about 30 minutes after you plug the supplied microphone into its input and initiate the process. Once it was completed, I did some manual measurements with my RadioShack SPL meter and the internal pink-noise test, and I found that all the levels were pretty accurate, with the exception of the surround speakers, which were about 2dB lower than they should have been.
Audyssey offers three sets of options: on or off, Bypass L/R on or off, and Flat or Manual (or neither). Bypass L/R optimizes the frequency response of all speakers except the front left and right. Flat attempts to make the frequency response of the selected speakers as flat as possible, while Manual lets you make your own adjustments.
I preferred the sound with Audyssey simply turned on°no Bypass L/R, no Flat or Manual. The sound was slightly brighter, more forward, and richer in texture. The Flat setting really narrowed down the soundstage, collapsing toward the center speaker. With Audyssey turned off, the sound was very uninvolving, but the Bypass L/R mode sounded the worst of all of them. In the end, I proved to myself that Audyssey works very well and I recommend it if your AVR has the option.
For my first video tests, I sent 480i from the Oppo DV-970HD DVD player and set the receiver's output to 1080p. The AVR-4308CI didn't perform very well on the HQV Benchmark DVD. It nearly failed the first jaggies test and outright failed the second one. The flag sequence looked a bit better, though. The AVR's processing did better on real-world material, such as chapter 12 of Gladiator and chapter 1 of Star Trek: Insurrection. I noticed no jaggies in either of these clips, which have been known to trip up a processor or two in their time.
Next, I sent 1080i from the Toshiba HD-A35 HD DVD player and PS3 to the AVR-4308CI, whose output was set to 1080p. In chapter 8 of Mission Impossible: III, there was definite moir in the pan across the staircase, but the Gennum processing in my JVC projector actually looked slightly worse by comparison. I also popped in the Avia test DVD and checked out the TLV-200 pattern, specifically looking at the 6.75MHz circle in the lower-right corner. The stripes were not of consistent size or pattern, which indicates that the highest frequencies were being clipped slightly by the AVR. Looking at real-world material from the PS3, A35, and TiVo Series 3, I didn't notice these problems.
Overall, the AVR-4308CI's processing was quite good, but there was one problem that seems endemic with Faroudja°it is prone to macroblocking with noisy sources. Viewing The Tudors on DVD, I noticed lots of macroblocking in backgrounds that disappeared when the AVR's processing was turned off. Granted, I was specifically looking for this because of my past experience with Faroudja processors, and sure enough, it reared its ugly head. This is a relatively minor complaint, though, because it doesn't show up on every DVD, and some of the blame goes to the actual encoding of the DVD itself. But for some reason, this processor exacerbates noise in the form of macroblocking.
<!- ----------------------- Tech Center Ads ----------------------------->

SPONSORED TECH CENTER
<!- ---------------------336x280 ADS------------------------------->
<!- ---------------------FIXED AD------------------------------->
<!- ---------------------336x80 ADS------------------------------->
<!- --------------------Sponsored Link Ads-------------------------------->
<!- ------------------------Bottom Ads---------------------------->