Custom-made Home Theater Gear
Anyone who has ever shopped for A/V equipment knows the pain of having to choose between two (or more) pieces of gear. Although each one may be almost exactly what you wanted, neither is 100 percent perfect in terms of features and performance. A new web-based build-to-order product configuration tool from
Integra
and
Integra Research
aims to eliminate such buying dilemmas.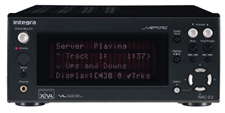 Currently available for Integra's DTR-10.5 A/V receiver and Integra Research's RDC-7.1 A/V controller, the new product configurator allows consumers to choose from a menu of optional features for their particular component. Features common to both models include an HDMI Module and/or a Net-Tune Module. (Net-Tune is a technology from Integra and Integra Research that provides access, via a broadband Internet connection, to Internet radio stations as well as the ability to "stream" stored MP3s to multiple Net-Tune equipped receivers and "clients" connected to your home network.)
In addition, each model allows the consumer to choose between a BNC Component Module, an RCA Component Module, or No Module. Similarly, the Multichannel Module choices consist of a Multichannel Input Module, a Multichannel & AES/EBU Module, or No Multichannel Module.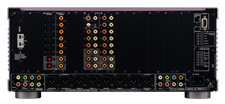 Not all configuration choices are common to both units. Unique to the Integra DTR-10.5 receiver is the choice of an iLink Module. (iLink comes standard in Integra Research's RDC-7.1 A/V controller.) The RDC-7.1, on the other hand, offers an AM/FM Module, as well as a Video Module, as options. (Those options are included in the base DTR-10.5 model.)
The configuration process is extremely simple and fast. After logging in with your e-mail address and zip code, you're taken to a configuration page with an interactive image of the unit's back panel. In each unit's basic form, the back panel shows several blank vertical "slots" - giving the component the appearance of the rear end of a desktop computer lying on its side. As the various feature choices are selected from the menu below the image, blank slots are filled with the appropriate connectors.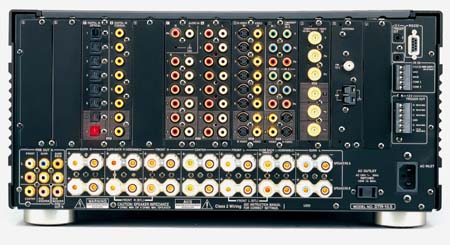 When you've completed "constructing" your unit, pressing the "submit" button immediately takes you to a summary page with your Build Number and a listing of the unit's standard and optionally selected features. An e-mail with your Build Number is then sent to the e-mail address used to log in to the configurator. Individual configurations may be accessed at any time for up to 90 days using the e-mail address and supplied Build Number.
Neither Integra nor Integra Research sells directly to consumers. The summary page includes a link to a pop-up window listing dealers in your area. After providing a local dealer with your Build Number, the dealer can quote pricing and expected delivery time. Fork over some cash or a shiny plastic credit card, and you'll soon own the receiver or A/V controller of your dreams. Each customized piece of gear is assembled and tested at the company's facility before it's shipped to the dealer.
The build-to-order configuration page for the Integra DTR-10.5 receiver can be found here.
Integra Research's RDC-7.1 A/V controller configuration page is located here.
<!- ----------------------- Tech Center Ads ----------------------------->

SPONSORED TECH CENTER
<!- ---------------------336x280 ADS------------------------------->
<!- ---------------------FIXED AD------------------------------->
<!- ---------------------336x80 ADS------------------------------->
<!- --------------------Sponsored Link Ads-------------------------------->
<!- ------------------------Bottom Ads---------------------------->