Cost Control Page 3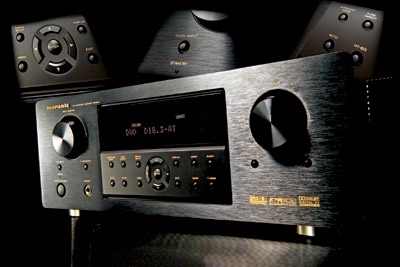 SR4500
---
RATED POWER

80 W x 7 into 8 ohms with maximum 0.08% THD

DIMENSIONS

17 3/8 x 6 1/2 x 15 3/8 inches

WEIGHT

33 1/8 pounds

PRICE $430

MANUFACTURER

Marantz America, www.marantz.com, 630-741-0300
---
PLUS

• Strong power reserves. • Good selection of surround-synthesis modes.
---
MINUS

• Remote control hard to navigate in the dark. • Simple Setup routine may not ideally match your speakers.
Marantz
Great all-around performer
Marantz's reputation attracts audio enthusiasts seeking top-grade performance, even at the lower price level inhabited by the company's SR4500 receiver. The SR4500 does, in fact, have a few deluxe features, like the ability - rare even in higher-price receivers - to balance channels individually when you use the multichannel analog audio input, which is important if you have a DVD-Audio or SACD player and want the best possible sound. And another rare but important feature: the menu for setting speaker-distance compensation includes a setting for subwoofer distance, which helps you get the bass just right.
While the Marantz offers the same primary surround decoding modes - Dolby Digital EX and DTS-ES - as the other receivers plus their multichannel-synthesis modes, DPL IIx and DTS Neo:6, it adds the Circle Surround II processing system for still another way of generating full-scale 7.1-channel surround playback from stereo sources.
In yet another unexpected nicety at this price level, some of the secondary surround modes can be tweaked to taste. For example, DPL IIx's Music mode (there are also Movie and Game variants) has adjustments for Panorama, Dimension, and Width that can greatly improve the surround effect you get from stereo programs. Similarly, DTS Neo:6 and Circle Surround II both have modes specifically for soundtrack or music playback that you can also modify.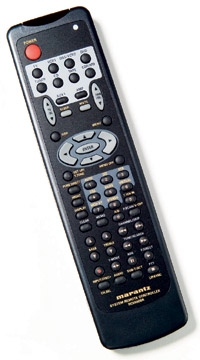 Both the front panel and remote are equipped with four-way cursor controls that move you between setup options in conjunction with the abbreviated 13-character front-panel display. The remote itself is not the easiest to use, being pretty much an all-dark-color, all-same-size-buttons affair, especially the area beneath the cursor controls. But the important input-selector buttons are grouped on top and surrounded by an area of medium gray, which helps a bit when you're trying to find one of them in the dark.
SETUP Marantz's solution to the no-screen setup problem is a Simple Setup procedure that, like Sony's, lets you select among a predetermined number of speakers, with or without a subwoofer or back surrounds. You also select your room size (large, medium, or small), which generates a preselected set of speaker-distance settings that estimate how far away the speakers are from the listener. Marantz prints the whole Simple Setup scheme in its manual - complete with flowcharts so you can clearly see all the setup-menu options and track your path as you proceed.
Unfortunately, the options given don't include a satellite/subwoofer system in which all the satellites, including the front left/right speakers, are small - probably the type of system most commonly used with a budget receiver. So to get the bass to come out right, you'll have to step through a full manual setup (fortunately, a one-time affair). Likewise for speaker distances: the Simple Setup presets assume about equal distances from the listener for both front and surround speakers, but in practice your surrounds are likely to be much closer to you. Finally, as with the Sony, you'll need to manually balance the speakers with the built-in test tone.
MOVIE AND MUSIC PERFORMANCE Once up and running, the SR4500 sounded great. Noise levels were low and output drive capability fairly high, leading to ample dynamic range for all but the very largest rooms. The surround effects made the crash scene from The Flight of the Phoenix hair-raising, clearly revealing the outstanding sound editing and putting me in the middle of the catastrophe.
It was also good to have an expanded choice of surround-synthesis modes for stereo music. I usually preferred either DPL IIx or Circle Surround II, depending on the type of music and how it was recorded. They can give radically different "remixes" of stereo material, providing welcome variety.
---
Marantz's SR4500 receiver performs well and offers some advanced features. Just be prepared to set it up manually to get it sounding its best.
<!- ----------------------- Tech Center Ads ----------------------------->

SPONSORED TECH CENTER
<!- ---------------------336x280 ADS------------------------------->
<!- ---------------------FIXED AD------------------------------->
<!- ---------------------336x80 ADS------------------------------->
<!- --------------------Sponsored Link Ads-------------------------------->
<!- ------------------------Bottom Ads---------------------------->