Cool, Cooler, and Coolest
After sitting on your butt for an entire day, it's good to be able to walk around the CEDIA EXPO 2005 floor…at least that's what you tell yourself the first two or three miles. But then you start running across the really cool stuff, and all that walking doesn't seem so bad after all.
Bad, subwoofer, bad!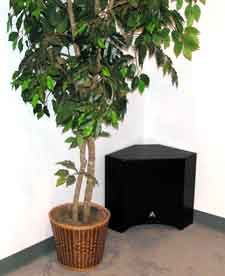 When a subwoofer does something bad like exposing itself in the middle of an otherwise perfect room decor, for example, it's important to teach it a lesson. At Atlantic Technology's booth, they'd showed what to do with naughty subwoofers - put them in permanent "time out" in the corner. Atlantic Technology's two ICS subwoofer systems are heard-but-not-seen (but not in-the-wall, either) combos each consisting of a standalone SA-225 amplifier and either one or two ICS subwoofer modules. The ICS modules are designed to slide right in to a corner in your room where they'll be out of sight and out of the way. Corner loading increases deep bass response and sound pressure level, so the subs can be made smaller than would typically be the case. The black exterior cabinets of the ICS-6 (6.5-inch woofer) and ICS-10 (10-inch woofer) can be left as is or painted to match the room decor. AT $500 and $700 each, they're not only great subwoofers, but they can double as plant stands or a cat perches. They sounded amazingly good in the Atlantic Tech demo room. (The ICS-10 certainly woke the woman sleeping on the reclining home theater seat next to mine.) The required SA-225 amplifier is $500. You should begin hearing these systems in December.
I want, I want, I want…

I've been waiting for this one for a while (at least since CES in January), and it's finally - almost - here. DISH Network's PocketDISH portable media players and recorders were on display once again, but this time the DISH folks tell me one or two of the models will be shipping possibly within the next few weeks. The three models - AV402E (2.2-inch LCD), AV500E (4-inch widescreen LCD), and AV700E (7-inch widescreen) - can be used to download recorded material from one of DISH Network's newer integrated-DVR satellite receivers (such as the DISH Player-DVR 942) via a USB 2.0 connection. Transfer time is fast (about 10 minutes for a two hour movie). You can then take your movies or TV shows with you whenever and wherever you go traveling (or maybe just to bed with you).

For me the 20 GB AV402E was a wee bit too small, while the 40 GB AV700E was a little too large. The AV500E, on the other hand, felt good in my hands and had the perfect combination of screen size and resolution. All three units are made by ARCHOS and work just like their other portable media centers, so you can store MP3, WMA, and WAV music files or plenty of JPEG digital images in addition to recorded DISH Network programming (about 4 hours per GB).
Now, this I really, really want!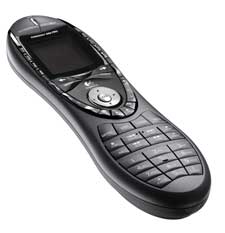 But the absolute stunner of the day had to be new Logitech Harmony 890 Pro. Did I say "stunner"? No, I meant stunnerestingly stunnerful. In addition to having all the cool features of the best of the Harmony remotes to date, the 890 Pro adds RF communication so the remote can be used with a base station that blasts the IR commands to equipment hidden behind doors in a cabinet or equipment closet. Multiple remotes and base stations can be used to provide control of many different entertainment zones within a home. The 890 Pro also includes support for the Z-Wave wireless technology standard, so as more and more Z-Wave enabled light switches and other home automation gear becomes available, you'll be able to exert total control over those components with the 890 Pro. The remote can also be set up to communicate wirelessly with your home PC so updates to the 890 Pro - including program guide information - can be communicated to the remote without having to physically connect it to your PC. The must-have 890 Pro should be available in November with a suggested retail of $449.99. The Harmony RF Base Station and the Harmony USB wireless PC transceiver will be available for around $99.99 each.
<!- ----------------------- Tech Center Ads ----------------------------->

SPONSORED TECH CENTER
<!- ---------------------336x280 ADS------------------------------->
<!- ---------------------FIXED AD------------------------------->
<!- ---------------------336x80 ADS------------------------------->
<!- --------------------Sponsored Link Ads-------------------------------->
<!- ------------------------Bottom Ads---------------------------->