CES 2006: There's No Business Like the Consumer Electronics Business Tom Norton
Wrapping it All Up

by Tom Norton


I pretty much had my say on hot new products in our on-the-scene CES Blogs. But there's always more to a CES than any single report can possibly convey, so here are some random additional photos from the show floors to put a cap on our CES coverage for 2006.


House of the Rising Sun or a new Thiel CS3.7 loudspeaker? It's the latter- this close-up shows the unique midrange-tweeter driver mentioned both in our show blog and in Steven Stone's CES report (above).


DNP showed this unique new ambient-light screen. Since it's designed to reject direct on-axis light, the random light of the convention center floor didn't do it justice. But what you can see here is the unique suspension system. Believe it or not, this version of the screen retracts into the case above it (in the photo, it's suspended by two small cables that may or may not be visible on your computer screen).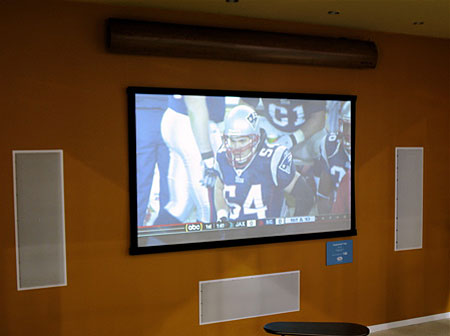 Focal's gorgeous new Electra range was seen but not heard.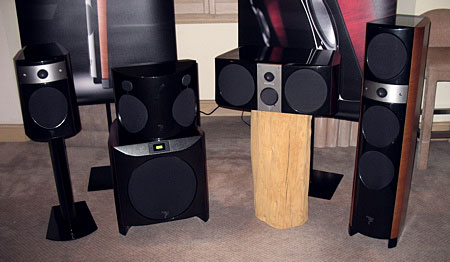 The Reference Millenia 200 held center stage in the Paradigm room. According to Paradigm, they put much of the design time into developing a slender column speaker that would avoid the sonic compromises common to such designs.


The Paradigm Reference Millenia 40 is thin enough to hang on the wall, but will also be at home on a stand. Its midrange and tweeter rotate 90 degrees for center channel use.


I couldn't find out much about these new Paradigm Signature C1s, but a properly designed, three-way center channel speaker always catches my eye, particularly when it's the smallest such design I've yet seen.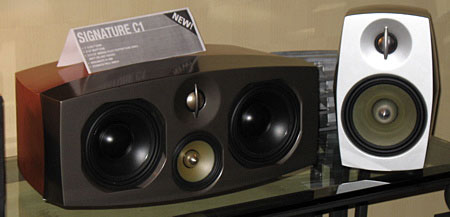 The Bolzano Villetri Campanile was also shown in my CES blogs, but here it's all dressed up with (BV hopes) somewhere to go.


Bolzano Viletri has other lines as well. No word yet as to whether they will import them all, but here is the Theater line (not shown in the flesh at CES), which is much less expensive than the Campanile. The large floorstanders are expected to sell for $1350/pair.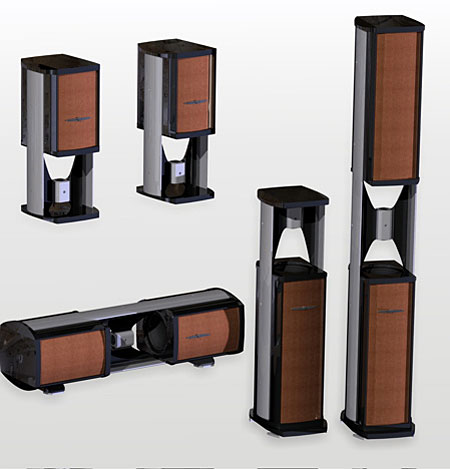 One of the biggest surprises at the show was this Sanyo camcorder. Camcorders are not our usual beat, but a projected price of $700 for a small, handheld device capable of 1280x720p high definition home videos (though only at 30fps) is a breakthrough. The imaging element is 5.36 megapixels, the compression mode MPEG-4, and the storage medium is an SD card. A 2GB card will hold about 42 minutes of 1280x720 video at 6 Mb/second, or just under 29 minutes at a maximum quality 9Mb/sec. The camera can also record 5.1-megapixel still images. This product will shake up the camcorder market, until buyers price 2GB cards and the gear they'll need to store those 29 minutes for a permanent record (a properly configured computer or some future HD recording device like Blu-ray).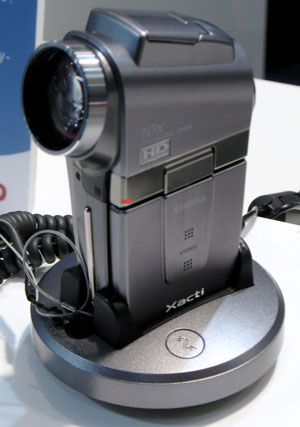 Samsung was using this home theater speaker package around its jumbo plasma display. It's called the HTS 2000B Premium Home Theater System. No plans were announced to bring it into the US, but you never know. A few years back, Samsung showed some super high-end audio gear at a Stereophile audio show (including speakers designed by Paul Hales, of the now defunct Hales Audio), but never exported any of it to the US.


The speakers in the HTS 2000B sounded abysmal, but that's inevitable in a setup on the open convention floor. They will certainly sound different, and probably much better, in a real room. And they sure looked pretty. The center channel is designed to sit on the floor below the screen and angle upwards slightly.


Screen shots taken at shows are notoriously variable. I didn't carry a tripod around so I got a lot of out-of-focus rejects from my hand-held camera. But this particular shot of the Samsung Blu-ray demo came out spectacularly good (at least as viewed on my computer screen). Even with all the hoops it has gone through before you see it (lens, focus, imaging element, in-camera compression, transfer to my computer, data compression to fit on the website) this still makes me salivate over the prospect of high definition on an optical disc format. (FYI, the camera used for this, and all the other images in my report here and in the CES show blogs, was a 7.1 megapixel Canon PowerShot A620).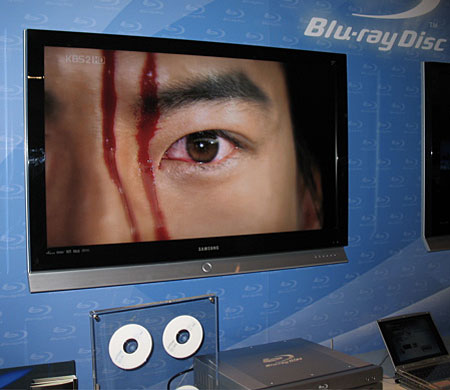 There were plenty of 1080p, single-chip DLP prototypes at the show, from Sharp, Marantz, Optoma, Projection Design, SIM2, and probably some I missed. Only a few were actually on demonstration, including this Model Three from Projection Design. It looked outstanding driven by a Crystalio II video processor, but at $25,000 with processor and lens, it may find that it's lonely at the top.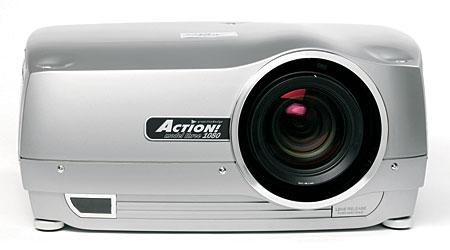 It's not sexy, but this shelf from Sanus Systems might be just what some of us need to locate our center channel speakers on top of all those new, thin-bezeled RPTVs.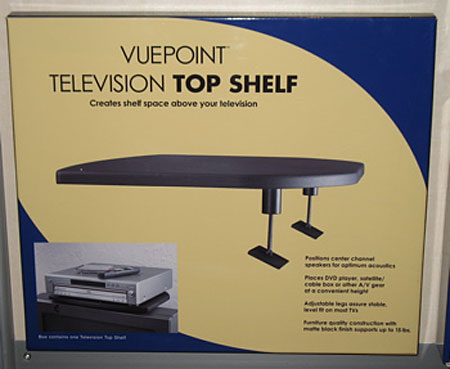 Finally, I've heard that regular UAV contributor Michael Fremer occasionally finds time to write about at analog for our sister publication Stereophile. He was seen at CES searching diligently for the latest in state-of-the-art turntables, and could hardly contain himself when he spotted this new, pulse-quickening design.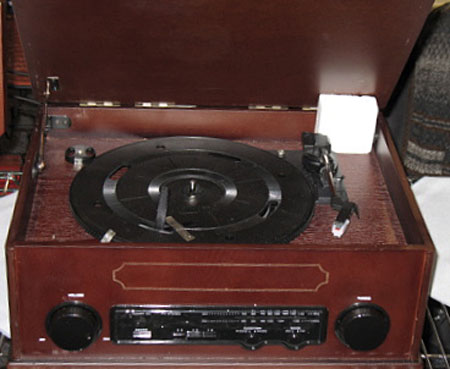 <!- ----------------------- Tech Center Ads ----------------------------->

SPONSORED TECH CENTER
<!- ---------------------336x280 ADS------------------------------->
<!- ---------------------FIXED AD------------------------------->
<!- ---------------------336x80 ADS------------------------------->
<!- --------------------Sponsored Link Ads-------------------------------->
<!- ------------------------Bottom Ads---------------------------->