CES 2006: There's No Business Like the Consumer Electronics Business Pete Putman
More Flat Panels Than You Can Shake A Remote At

By Pete Putman


From the flat panel TV perspective, CES wasn't all that unpredictable, nor were the flat panel technologies enigmatic. Yes, Panasonic showed a 103-inch plasma TV, billed as the world's largest. But it's simply an inch larger than the comparable offerings from Samsung (first seen at last year's CES) and LG.


In response to marketplace pressure from large LCD TVs and monitors, Panasonic, Hitachi, Pioneer, and Samsung also showed prototype 50-inch and 55-inch plasma TVs with 1920x1080 resolution. The question now is, can they be brought to market at a competitive price to 1920x1080 SXRD RPTVs?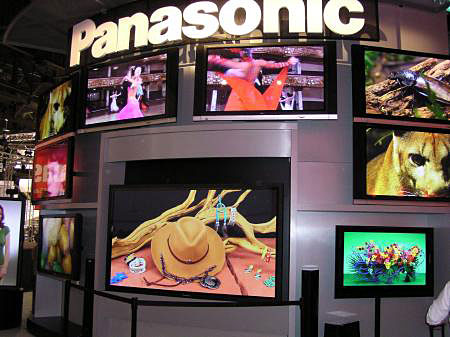 Panasonic wall of plasma - Panasonic wanted to show everyone they were #1 in the plasma business, and a 103-inch screen flanked by 50-inch and 65-inch models certainly did the trick!


Samsung has also been tinkering with plasma color, moving to a new "FilterBright" system. It's supposed to cut down on reflections but improve contrast, a tricky task for plasma anti-glare filters. A 13-bit color processing system has been added, and we'll likely see a 50-inch FilterBright model shortly for about $3,299 MSRP.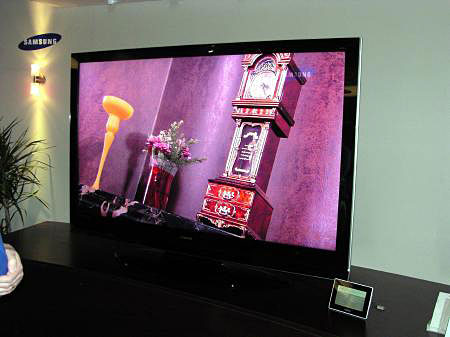 Samsung LED Demo - This 46-inch LCD TV from Samsung uses RGB light-emitting diodes as a backlight and had excellent color quality.


Most of the plasma news came in the form of bells and whistles. LG had the 50BP2DW 50-inch wireless plasma up and running using 802.11 wireless technology, and earned a CES Innovations award. LG also showed two new models with built-in DVRs: the 60BP2DR and 50BP2DR. Each has dual ATSC/QAM tuners for simultaneous viewing and time-shifting.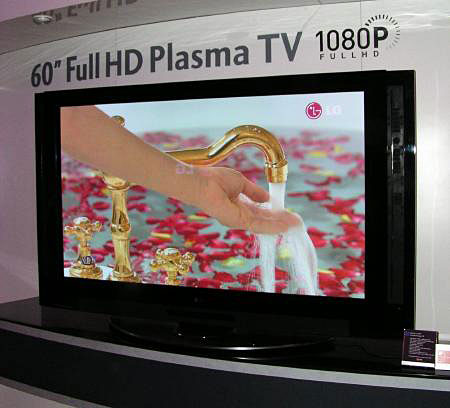 LG 60-inch 1080p Plasma - LG showed a 60-inch 1920x1080 plasma TV, but no model number or price was available.


In the LCD world, Sharp added another screen size to its expansive line of AQUOS LCD TVs, plugging the 57-inch LC-57D90U ($15,999) in between their 45-inch and yet-to-ship 65-inch AQUOS sets. 1080p LCD TVs were in abundance at BenQ, Westinghouse Digital, Sharp, Norcent, LG, Syntax Olevia, Philips, Samsung, Sony, and in the LG Philips LCD demo room upstairs.


Sony's 82-inch Bravia prototype LCD TV underwhelmed me in its demo. The Sony presentation claimed an impressive, wider color gamut for this product with its LED light engine, but the colors from the Sony Pictures demo clips were oversaturated and exhibited false contouring and posterization.


LG Philips LCD's demo of 1080p LCD showed that (a) you can get some really nice pictures out of LCD TVs with a little elbow grease, and (b) 768p LCD products may be on the endangered species list – at least, in sizes 37-inches and larger. LGP also showed a demo of a fast-refresh (120 Hz) system to improve motion sharpness on LCD TVs. Scanning backlights in the Samsung booth also showed promise in solving LCD motion "smear" problems.


The big news at CES was the widespread use of light-emitting diodes (LEDs) for backlights, a technology trend we saw on a more limited basis at CES 2005. There are good reasons to move to LED backlights, such as pending European Union bans on products that contain mercury, which would include the cold-cathode fluorescent (CCFL) backlights used in just about every LCD TV made to date. (And the lamps used in virtually all home theater projectors as well.—TJN).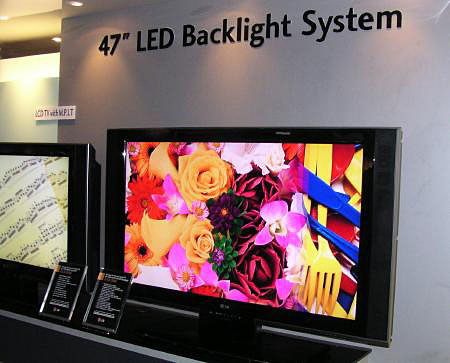 LG 47-inch LED Demo - LG is also showing different LED backlighting schemes for its new 37-inch and 47-inch 1080p LCD TVs.


LEDs also improve color quality. While CCFLs are bright and don't consume much electricity, their spectral output is quite lopsided in favor of greenish-blue color shades.
Wherever I saw LED backlights in use, I couldn't help but be impressed by the color quality. Reds actually looked like red, not orange. And greens appeared more realistic and not over-saturated.


The third reason to move to LED backlights is durability. The estimated life of an LED is 50,000 to 100,000 hours when operated normally. It can withstand quite a bit of mechanical shock without breaking, won't explode if run to the end of its life, and doesn't change color as it ages.


LED color for TVs can be achieved with separate red, green, and blue diodes, operated either in continuous mode or in switched mode with fast refresh rates, which helps energy efficiency. White LEDs can also be put to work with embedded color filters (such as Sony did in their Bravia demo), running continuously or in PWM mode. The pulsing technique has another advantage – it improves motion detail in LCDs.


The fifth and potentially best LED backlight demo came from Cree Inc., a manufacturer of LEDs in Durham, NC. At the Digital Experience ballroom show, Cree showed an efficient white LED chip with discrete red, green, and blue elements that could be tuned individually. Several of these chips were incorporated into a backlight that used no more power than a CCFL, but was considerably brighter.


Note to all Elvis fans: The elusive SED made an appearance in the Canon and Toshiba booths. For some odd reason, the lines were enormous at the Toshiba booth, while you could simply walk right in to the nearby Canon demo any time you wanted. Alas, the announced and long-awaited 55-inch, 1080p model failed to materialize – all we saw were multiple samples of the original 36-inch, 720p SED design. But it looked darned good and certainly inspired some drooling among videophiles.
<!- ----------------------- Tech Center Ads ----------------------------->

SPONSORED TECH CENTER
<!- ---------------------336x280 ADS------------------------------->
<!- ---------------------FIXED AD------------------------------->
<!- ---------------------336x80 ADS------------------------------->
<!- --------------------Sponsored Link Ads-------------------------------->
<!- ------------------------Bottom Ads---------------------------->