CES 2006: There's No Business Like the Consumer Electronics Business Fred Manteghian
Things That Go Click In The Dark

By Fred Manteghian


Amplifier Technology Incorporated, or ATI to their customers, was showing three preamp/processors, the 6700, 7700 and 8700, all of which offer a TFT (LCD) front-panel screen for set up, or monitoring S-Video and composite sources. I've always liked ATI's amplifiers, which offer outstanding performance for the price, but as yet have no experience with their processors.


The top of the line 8700 ($5995) has a 7" widescreen display, while the other two use retro 4x3 aspect ratio displays that are much smaller. All the processors are 7.1-channel designs, with the usual inputs, including a multichannel audio input for SACD or DVD-Audio players. The 7700 ($3995) and 8700 include AM/FM tuners, while the entry level 6700 ($2995) looks like a minimalist design until you turn it around and find out it's still reasonably well equipped in the rear. Missing, however, from all the ATI pre/pros is HDMI/DVI switching, or an i.LINK audio input. Availability is "soon." (The 8700 on display at the show did have 2-in, 1-out DVI connections. See the photo.—TJN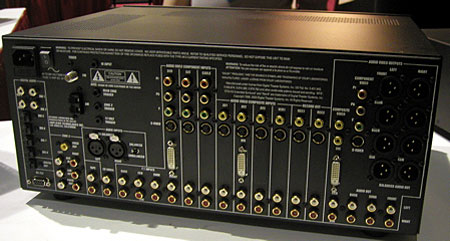 ATI 8700 Pre-Pro rear view


The heavies – Marantz, Denon and Yamaha – were at CES in force. Marantz showed a new flagship universal player, the DV9600 ($2,099), which features HDMI 1.1 (yes, there are levels of HDMI – though we will have to wait to see if that improves matters, or makes them worse). Built-in scaling allows you to upconvert 480i video from DVD to 480p, 720p, 1080i and even 1080p for output via HDMI. Using 14-bit/216MHz digital-to-analog converters, Marantz claims true 12-bit video processing. In addition to six-channel analog outputs for multichannel music, Marantz offers an i.LINK (IEEE 1394) connection that will let you carry the digital audio signal from the player to a suitably equipped pre-pro or receiver, providing a direct digital path for multichannel, music. If you don't want to spend quite that much (what with HD DVD and Blu-ray just around the corner), the DV6600 skips the i.LINK connection, but gives you most of the goodies of big brother, including an HDMI output (though without 1080p), for only $649.


Marantz also showed new AV receivers, including the THX Ultra2 certified flagship SR9600 ($4,199), and the more affordable, but hardly barren, THX Select certified SR7500 ($1,099). Both models include digital room correction, unheard of just a few years ago at the price of the SR7500. HDMI switching, however, is only available with the pricier SR9600. The flagship receiver also uses discrete amplification components to push out 140-watts x 7 channels, while the SF7500 uses integrated components to develop 105 watts x 7 channels. Curiously, the SR7500 also omits the AM/FM tuner found on the SR9600, but that's not necessarily a deal killer with the near ubiquitous presence of satellite, dish and cable radio (God forbid, there's no input for your iPod!)


The most interesting Marantz announcement, however, was word about its first PLAC (Power Line Audio Communications) product, which transmits audio signals over your home's AC circuits! The press release is a little ambiguous, or at least non-illuminating (no pun intended), but the possibilities are fascinating. Imagine not having to run wires from your receiver to your rear channel speakers while simultaneously not having to deal with the vagaries of 802.11g wireless. The cost of the ZC4001SP system, which includes the ZR6001 seven channel controller/receiver (90 watts per channel) and a ZC4001 "client" (and there's where it gets murky), is only $1299.


Denon showed an upgraded version of their flagship universal player, the DVD-5910. Now called the DVD-5910CI ($3,800), the new player offers upconverted 1080p resolution, courtesy of DVDO video scaling technology over its HDMI output. Both last year's DVD-5910 and the DVD-5910CI utilize the Realta/HQV image processing chip from Silicon Optix , which performs over one trillion video operations per second. The new player offers upconversion to 1080p where the DVD-5910 stopped at 1080i. Upgrades to the "CI" level are available to existing DVD-5910 customers for $300.


Those looking to buy a less expensive universal player from Denon should check out the previously announced DVD-1920 ($369). You'll have enough scratch left over to buy an entry-level, 50" plasma! While the DVD-1920 lacks the expensive Realta/HQV processing, it does provide Faroudja DCDi deinterlacing and motion processing, and upconverts 480i video to 480p, 720p or 1080i via its HDMI 1.1 output.


While we all know Denon makes some killer flagship receivers, like the AVR-5805 that Tom just reviewed this month, it also keeps pumping out much more accessible gear like the AVR-2807 ($1,099) on display in Vegas. Unheard of just a few years ago at the price, the AVR-2807 has room correction and calibration circuitry built in. The 2807 includes HDMI switching, as well as upconversion/transcoding of all video sources (be they composite, S-Video or component) to the HDMI output for a single convenient connection to your display device. Just don't think it's turning your VCR into a hi-def source! Both receivers are THX Select certified, my favorite quality assurance stamp of late.
Yamaha's flagship receivers, like the RX-Z9 that I reviewed in October 2004 , seem to get all the press. But Yamaha also knows how to trickle down their technology to more affordable but still relatively uncompromising levels. Referred to as "mid-class" receivers, Yamaha's reasonably priced RX-V2600 ($1,399) and RX-V1600 ($1,099) both include 2-in 1-out HDMI 1.1 switching, and transcoding and upconversion of composite, S-Video and component sources to the chosen HDMI output resolution (720p or 1080i). What? You say you have no HDMI or DVI inputs on your video display device? Yamaha claims these receivers can pull the same upconversion trick over the component output too. Just keep in mind that if it's similar to the V, Inc. Bravo D2, any DVDs that are Macromedia copy-protected won't upconvert over the component outputs by design. The receivers include Yamaha's own Parametric Room Acoustic Optimizer room equalization circuitry with the ability to store six room settings. I guess that's in case you move a lot. And then move back.


Anthem introduced the full-featured Anthem Statement D2 preamp/processor just shortly after CEDIA. It's the only pre/pro or receiver I've encountered that takes HDMI switching very seriously, offering four inputs. S-Video and component inputs can be upconverted as high as 1080p and redistributed to both the HDMI and component outputs. Anthem uses the Gennum video processing chip, same as Marantz uses in their highly regarded single-chip DLP projectors. The final price was not set.



Anthem Reference D-2


Krell introduced its luscious new EVO line, which includes home theater products that extend and complement the company's premium Evolution line of components. The three-channel EVO 403 amplifier ($20,000) is rated to put out 400-watts into each of your front channels. Also announced was a DVD-Video/SACD player, the EVO 525 ($13,500), with video upconversion as high as 1080p via its HDMI output. Finally, the EVO 707 surround processor ($18,500) seemed to have everything you'd expect in an outstanding design.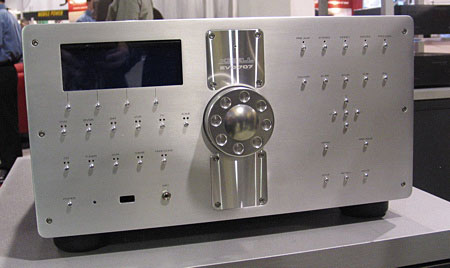 Krell EVO-707 Pre-Pro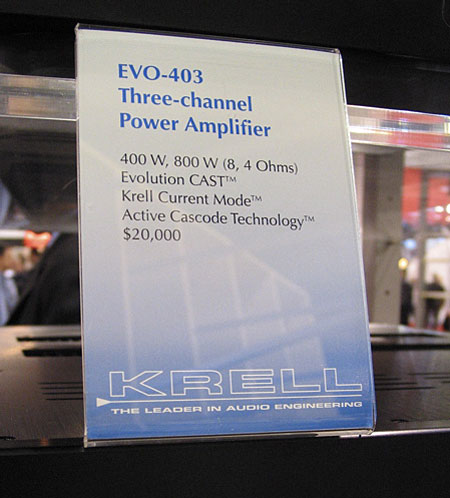 $20K - But it cooks


Meridian had an interesting addition to its G-Series. Bob Stuart himself was available to walk and talk me through their new G-91A "player" – and I put that in quotes because it is that and so much more. Besides playing DVDs, CDs, and DVD-Audio discs (no SACD sorry, there's a philosophical viewpoint backed up by a financial interest and an engineering conundrum to blame), the G-91A ($7,695) has a complete preamplification system built in. Digital audio outputs mean it is designed to work with Meridian's own line of speakers (which, incidentally, sounded even better at CES than at CEDIA in September, which is to say they were quite extraordinary). But the G-91A also has analog outputs, so you can hook it up to any multichannel amplifier and use your current speakers as well. While not as extensive in the video processing realm as the G68 preamp/processor from Meridian I reviewed last March, it provides standard Dolby Digital and DTS decoding, as well as Meridian's proprietary "TriField" surround mode, which very effectively synthesizes a center channel from a two-channel source. As for audio inputs, there are three stereo analog inputs, and four digital inputs (two coaxial and two optical, the latter of which would be sufficient for a cable or satellite set-top box), a DVR and your video game console of choice, with one digital audio input left to spare. Remember, you won't be hooking a DVD player up to this one. Video inputs (three S-Video, two composite, and a single component input) are all upconverted as high as 1080p resolution passing to the unit's HDMI output. Quite unexpected as well is the inclusion of an AM/FM tuner. Granted, the Meridian is not inexpensive (and it doesn't include an amp), but from what I discovered with my time with the G68, this space saving toaster-oven should offer the highest in audio and video pleasure for the true audiophile caught up in videophile lust.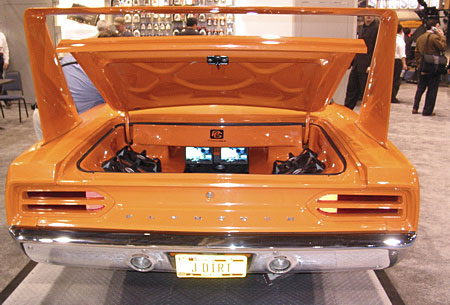 Just another Plymouth Duster with two LCD screens in the trunk.
<!- ----------------------- Tech Center Ads ----------------------------->

SPONSORED TECH CENTER
<!- ---------------------336x280 ADS------------------------------->
<!- ---------------------FIXED AD------------------------------->
<!- ---------------------336x80 ADS------------------------------->
<!- --------------------Sponsored Link Ads-------------------------------->
<!- ------------------------Bottom Ads---------------------------->