Cell Phones Add Features and Versatility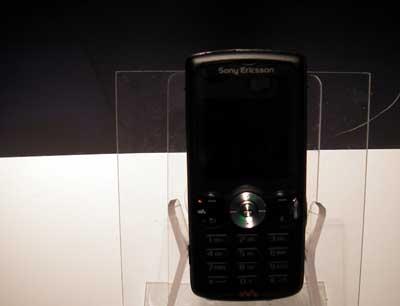 Sony Ericsson W810i quad-band Walkman phone
These days, those things commonly called cell phones are often much more. Sure, they makes calls, but they may also take pictures, download music, send text messages, connect to the Internet, tune in live TV, function as organizers, and so on. Since they evolved from simple phones, they will probably always be called that, but the phone part is a diminishing proportion of the technology onboard. At CES, demonstrations of that evolution were all around.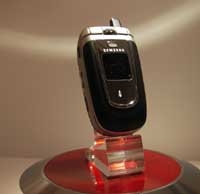 Samsung ZX-20 quad-band phone
The Sony Ericsson W810i (price not yet announced) is a quad-band phone. Taking on the honored legacy name of Walkman, this latest toy in the series comes with a 512-megabyte Memory Stick PRO Duo flash card for storage of MP3, AAC, and ATRAC3plus audio files (approximately 150 music tracks). It can be upgraded with an optional 2-gigabyte Memory Stick. The included Disc2Phone music management software makes it easy to download tunes to the phone; best of all, a dedicated Walkman button pulls up the music menu regardless of other applications in use. There is also a built-in speaker for more public listening. Music automatically pauses when an incoming call is received and begins playing again when the call ends. Of course, the W810i also has an autofocus camera (2-megapixel). And it can connect to other devices via USB or Bluetooth. The latter is actually kind of nice. For example, if you're lucky enough to have a Sony XPlod receiver with Bluetooth in your car's dash and the phone rings, it tells the receiver to mute and routes the call through the car's speakers. This is important because it frees up precious extra seconds to make vital hand gestures to other drivers. You can also access the Internet to download games and streaming video and to use IM and email. TheW810i will be available this spring in black satin with orange trim.
Samsung's ZX20 (price not yet announced) is another good example of why your current phone just doesn't cut it anymore. It is a W-CDMA (wideband) HSDPA (High Speed Downlink Packet Access) phone; what that means is that it is blazing fast and thus able to handle more sophisticated data tasks. This clamshell pretty much has and does it all: music and video downloading and streaming, MP3 and AAC playback, MPEG-4 video recording and playback, microSD slot, 1.3-megapixel camera, IM client for AOL, ICQ, Yahoo, and MSN. It's also quad-band, so feel free to carry it worldwide. The ZX20 will be available in June.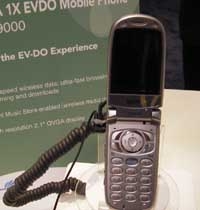 Sanyo MM-9000 phone
Also very cool is the Sanyo MM-9000 ($380, or $230 after rebate). This clamshell phone has all the usual stuff: 1.3-megapixel digital camera, MP3/AAC/AAC+ player, and microSD slot, and it also throws in video shooting and multimedia streaming. The MM-9000 also supports a number of Sprint perks, such as Sprint Music Store, On Demand, and Sprint TV. In other words, you can preview and buy music, get live Sprint TV and fast web browsing, and enjoy on-demand news, weather, and sports. These features are supported by speedy downloads (said to average 400 to 700 kilobytes per second) over the Sprint Power Vision Network. Interestingly, when you buy a song from the Sprint Music Store, you get two versions: one low-res for the phone and another higher-res for PC playback. The MM-9000 is available now.
Check out more CES news. Back to Homepage What's New on S&V
<!- ----------------------- Tech Center Ads ----------------------------->

SPONSORED TECH CENTER
<!- ---------------------336x280 ADS------------------------------->
<!- ---------------------FIXED AD------------------------------->
<!- ---------------------336x80 ADS------------------------------->
<!- --------------------Sponsored Link Ads-------------------------------->
<!- ------------------------Bottom Ads---------------------------->