CEATEC Japan 2004
CEATEC stands for Combined Exhibition of Advanced Technologies, and is the largest Asian exhibition for the communications, information, and imaging fields—roughly equivalent to a Japanese CES. I recently had the opportunity to visit CEATEC Japan 2004 courtesy of Panasonic, which flew journalists from all over the world to Japan not only to visit the show, but also to attend a kickoff meeting for the Blu-ray Disc Association (see the
accompanying story
), find out more about Panasonic's products and future plans, and tour some of their Japanese facilities.
CEATEC isn't nearly as large at CES, and much of it is devoted to various parts and subcomponents from the myriad small manufacturers that support the major manufacturers. Unlike CES, which can barely be covered in four days, I was able to check out most of the CEATEC exhibits of likely interest to UAV readers in about 4 hours, including repeat visits to the most interesting displays.
The fact that many of the products were shown at the 2004 CES and CEDIA Expo certainly sped things up, as did the language barrier that kept most of us from ferreting-out those hidden scoops that lurk at every major show. Nevertheless, a number of items stood out. Our host, Panasonic, had one of the largest booths, but although they featured a huge display of plasmas that clearly demonstrated the company's leading position in the field, and a slew of attractive young ladies to decorate them (a staple at big trade and public shows in Japan), there was little there that we hadn't seen before.
Panasonic did show its Blu-ray recorder, as did Sony. And there were prototypes of Blu-ray machines from several other manufacturers, including Sharp and Mitsubishi. The latter looked like some strange Mayan temple.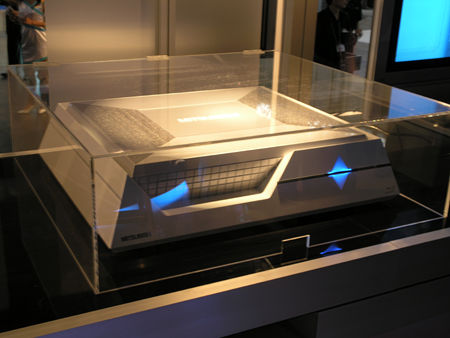 But BD (Blu-ray Disc) did not have the field to itself. HD-DVD arguably made an even bigger splash, not only at Toshiba's booth (Toshiba and NEC are that format's major consumer electronics company sponsors), but in a dedicated HD-DVD booth as well, where several machines and displays were showing clips from Matrix Revolutions, Chicago, Kangaroo Jack, Cradle 2 Grave, and Ghost Ship.
Four other exhibits caught my eye. The best picture by far was from JVC's 4K2K D-ILA projector. Designed for professional venues (but likely to find its way into the homes of a few lucky enthusiasts), this projector has a resolution of 4096x2160 pixels! The program material was shot with a new JVC 4K2K camera to take full advantage of this resolution. The picture, on a screen I estimate to be over 20-feet wide–was a knockout. If I'm reading the diagrams in my Japanese brochure correctly, both the camera and projector use four imaging/projector D-ILA chips–red, blue, and two green. The number 4000 hidden in a string of Japanese characters may be either a lumens light output spec (likely) or a contrast ratio (unlikely–that seems too high for a D-ILA device).
Sharp showed a prototype of a 65-inch, 1920x1080, 130-pound flat panel LCD. A Sharp representative claimed a launch goal of early 2005 in Japan. No price was suggested, however. The set produced an outstanding image, and in the four or five times I passed by there was always an enthusiastic crowd gathered around.
Sony demonstrated the Qualia 005. No, it's not the hoped for, less expensive SXRD front projector (the 70-inch rear projection SXRD shown at CEDIA, and scheduled for release in the US in early 2005, is now called the Qualia 006). It is, instead, a 46-inch LCD flat panel display–with a twist. Instead of the usual fluorescent backlight, this LCD uses an assortment of LEDs behind a light diffusing screen. The colored LEDs provide a better color balance than fluorescents, the diffusor distributes the light evenly. The Qualia 006 produced the deepest, richest colors I saw on any display at the show. We'll probably see it again at CES, for a U.S. introduction sometime in 2006 (appropriately enough). The price posted was just over 1.1 million yen, or just under $11,000, but that won't necessarily be the price here.
Though all of these displays floored me with their images, they all stayed carefully within the usual practice of showing only brightly-lit images and limited motion in public demonstrations of digital displays (the Sony material, as I recall now, was mostly still shots) . This plays to the strengths of these displays while downplaying their weaknesses: black levels, shadow detail, and image lag–the latter a particular concern with LCDs.
But another display showed a new flat panel technology that may well prove to be revolutionary. It's called SED, for Surface-conduction Electron-emitter Display. SED as demonstrated at CEATEC is a joint development of Toshiba and Canon, though judging from what I saw I have little doubt that other manufacturers are looking at similar concepts in their R&D labs. If not, they'd better be. We don't have a lot of details on how it operates yet, but the short of it is that the technology involves the collision of a beam of electrons with phosphors coated on a screen. Sound familiar? It should; that's how a CRT works. The big difference here is that there is a separate beam emitter for each pixel in the display, each of them fired as required by the source. An SED display is therefore a digital display, unlike analog CRT technology.
The advantage here, of course, is that like a CRT, the emitter beam in an SED display may be shut off when reproducing black. In fact, a contrast ratio of 8600:1 is claimed for the 36-inch prototype shown at CEATEC. And it's not just hype. The prototype was shown in a darkened room, side-by-side with an equivalently-sized plasma and LCD. While there was no way to determine if the plasma and LCD were properly set up, or if they were among the best examples of their respective technologies (they were masked off so you could see only the screen) the SED was dramatically better than important ways. It had no visible image lag, and blacks and shadow detail were, as close as could be determined without a CRT at hand (an unfortunate omission), as good as from a CRT. I saw no false contouring. And those who saw this demonstration didn't have to draw these conclusions by extrapolating from bright scenes; much of the demonstration material had dim lighting and deep shadows.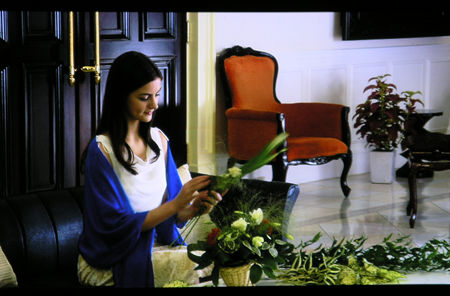 The photo above is a screen shot taken directly from the SED display in available light by an 8 megapixel digital camera. It's presented here to show the type of program material used in the demo (some of which was darker than this and thus impossible to photograph on-the-fly) and a very rough idea of the quality of the black levels and shadow detail presented by the SED display. Keep in mind the obvious fact that there are several generations of processing—hand-held photography, jpeg compression, internet transmission, display on your monitor—between what you see here and the original display.
SED also appears to be easy on the electric bill. Individual power monitors for the three displays indicated that it was far less power hungry than either the plasma or LCD. The technology appears to be roughly 2 years away from the market, and of course we don't know if there are major obstacles yet to be overcome in its development (such as panel life). But both Canon and Toshiba are apparently pouring big bucks into making it happen. They hope to make the price competitive with equivalently-sized plasmas, and hints were dropped that the first commercially available model for the U.S. would be 50-inches. While SED is an incorporated company whose ownership is roughly divided between Canon and Toshiba, we'd be surprised if products were marketed under an SED brand. Instead, Toshiba and Canon could separately market similar SED-based designs
<!- ----------------------- Tech Center Ads ----------------------------->

SPONSORED TECH CENTER
<!- ---------------------336x280 ADS------------------------------->
<!- ---------------------FIXED AD------------------------------->
<!- ---------------------336x80 ADS------------------------------->
<!- --------------------Sponsored Link Ads-------------------------------->
<!- ------------------------Bottom Ads---------------------------->