Boston Acoustics Reflection RS 260 Speaker System Page 2
The Extended Wide Bandwidth (EWB) tweeter is made of impregnated woven fiber, which is shaped to increase the high-frequency extension. Its dimpled central diaphragm termination and rear-chamber venting allow for a laundry list of desirable attributes. I can summarize most of these attributes by saying the tweeter behaves well under stress. In practice, I heard an unusual and desirable smoothness that was about as far from a ringy metal driver as you can get.
FCCM reappears in the RPS 1000 subwoofer. It has a 10-inch driver in the front with two 8-inch passive radiators (one on each side). Driving them is a 500-watt (RMS) amp. Boston uses what it calls Bass Trac technology to dynamically match the amp's bass extension to the combined characteristics of the amp and woofer.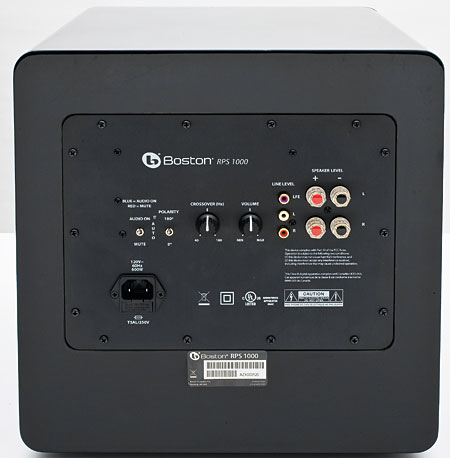 Despite all this firepower, and the sub's commendable discipline, I found its bass output to be a little reticent at first. My usual placement—near the front center speaker—may have been inappropriate for this particular sub. The manual recommends corner placement, which would provide an inherent bass boost, often at the expense of smoothness. However, to maintain a stable frame of reference, I keep all subs in the same place.
My usual default settings were wrong for this sub, and here I made some necessary concessions. I raised the low-frequency effects level in the surround processor from the customary –4 decibels to +4 dB and goosed the sub's volume dial from one-third of its range to more than half.
I know that will raise doubts. Banish them. With adjustments, the sub was a monster. I spent a long Sunday rewatching the second season of Mad Men on Blu-ray. Each episode begins with a DTS-HD Master Audio logo that's accompanied by a ridiculously loud synthesized whoosh-and-tinkle that sweeps from the lowest frequencies to the highest. As such, it's pretty good audio demo material. It demonstrated the sub's ability to play loud and deep, and it showed off its confident crossover to the speakers at 80 hertz. It scared the pants off me every time.
Setup was easy, thanks to the RS 260's use of standard five-way binding posts (a double set for biwiring or biamping, with plastic hex nuts).
Associated gear included the Rotel RSX-1550 A/V receiver, Panasonic DMP-BD35 Blu-ray player, Luxman PD-289 turntable, Shure V97xE phono cartridge, and Bellari VP530 tubed phono preamp.
Knowing, Shooting, Singing
Knowing, in DTS-HD Master Audio, stars Nicolas Cage as a scientist following the trail of a psychic child who has foreknowledge of a series of deadly catas- trophes. I can't describe them in much detail without depriving the story of its succession of violent surprises. Suffice it to say the all- channel surround mayhem breaks out repeatedly to complement the scary visuals. The speakers and sub stood up well to the onslaught of high-volume effects, with excellent discipline, avoidance of brightness, and avoidance of bass bloat. They made an excellent first impression and achieved a high comfort level that never dimin- ished in the remainder of the listening sessions.
Wanted, also in DTS-HD Master Audio, harrows charismatic James McAvoy (the beleaguered doctor in The Last King of Scotland) with one of the most preposterous plots in movie history. It involves a thousand-year-old gang of assassins whose day jobs are to work the looms in a linen factory. Standard loud effects include all the ballistics you'd expect in a gun-crazy assassin movie along with a standard car chase. Again, the speakers stood up well to the blitz and required only modest volume adjustments to balance the dialogue and effects. The most interesting bits were the swirling melanges of sound that depict the young assassin's high adrenaline level, which gives him preternatural powers to fire bullets around people and objects.
Soul Men was my lone Dolby TrueHD selection. Samuel L. Jackson and the late Bernie Mac team up as a pair of washed-up background singers who make a classic road trip across the U.S. to appear at the memorial celebration of an ex-colleague at New York's Apollo Theater. Unfortunately, this soundtrack is dynam- ically wishy-washy, even by the modest standards of movie comedy. Thus, the interesting musical numbers failed to pop out of the mix. This underplayed the emotional high points promised by the live-music-venue scenes and the general quality of musicianship (which includes, behind the scenes, Stanley Clarke on bass and George Duke on keyboards). The speakers weren't responsible for this shortcoming in the demo material. However, the performances carried this movie. Mac, in his final film appearance, was at his best, and the always-compelling Jackson can actually sing. This was also the last film appearance of Isaac Hayes, who is in a brief cameo toward the end.
<!- ----------------------- Tech Center Ads ----------------------------->

SPONSORED TECH CENTER
<!- ---------------------336x280 ADS------------------------------->
<!- ---------------------FIXED AD------------------------------->
<!- ---------------------336x80 ADS------------------------------->
<!- --------------------Sponsored Link Ads-------------------------------->
<!- ------------------------Bottom Ads---------------------------->