Behind The Numbers Page 3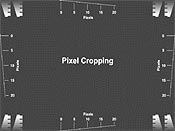 Pixel cropping, measured using a test pattern from Avia , is important only if your TV can show a full video image without "overscan," since it indicates where and by how many pixels a player cuts off the edges of the image data as it is converted into a video signal. Not many TVs meet this criterion - mainly some projection sets and some widescreen TVs that show standard 4:3 aspect ratio fare with letterboxing bars on the sides (DVD playback even over a computer monitor can introduce pixel cropping). If you have that kind of a set and want to see the entire recorded frame, the less pixel cropping in the player, the better. The losses are almost always trivial, but hard-core videophiles get quite worked up about them.
In-player letterboxing indicates the visible quality of a player's conversion of an anamorphic or "enhanced for widescreen" DVD for display on a standard 4:3 screen, so it's relevant only if you watch on a 4:3 screen. This is the single most subjective "measurement" we make of a DVD player, but also the one where differences between players are most easily visible.
Letterboxing is a mathematical transformation of the video data, similar in principle to an audio sampling-rate conversion. Depending on what equations are used, various artifacts can be generated on images that contain closely spaced horizontally oriented patterns, like thin Venetian blinds, or tight patterns that move through the horizontal plane, as in the "test pattern" we use - the polka-dot shirt Mike Meyers wears in Chapter 8 of Austin Powers, International Man of Mystery. With players that have "poor" letterboxing, the shirt will appear both dotted and striped as Meyers moves around because the letterboxing artifacts distort the dots so they run together. "Good" in-player letterboxing will consistently produce dots only. "Fair" players fall somewhere in between, with faint striping visible at times. Most players have clearly poor performance in this test, the tough call being between the few that merit a good or fair rating.
Component-output level error indicates mistracking between color and brightness, though with component video these are conveyed as three distinct signals (luminance and two color-difference signals). Large errors here can result in color and brightness shifts that may not be correctable using a screen's picture controls. A ballpark figure for "good" performance is any value within ±5%.
High values of component-output timing error (greater than ±10 nanoseconds) can lead to color-fringing effects on hard-edged objects in an image. Smaller error values are not generally visible.
Audio Performance We measure the same basic parameters for DVD-Audio and CD playback. For space reasons, CD measurements are often omitted in our published reports, but if there's anything unusual about them, whether positive or negative, it'll be mentioned in the notes following the measurements. Keep in mind that if you use a player's digital audio output only, feeding its signals (including Dolby Digital and DTS soundtracks) to a digital surround receiver or preamplifier/ processor, measurements of its CD and (if applicable) Dolby Digital or DTS performance become irrelevant to a purchase decision, with the sole exception of CD defect tracking.
---
<!- ----------------------- Tech Center Ads ----------------------------->

SPONSORED TECH CENTER
<!- ---------------------336x280 ADS------------------------------->
<!- ---------------------FIXED AD------------------------------->
<!- ---------------------336x80 ADS------------------------------->
<!- --------------------Sponsored Link Ads-------------------------------->
<!- ------------------------Bottom Ads---------------------------->