Battlestar Galactica - The Plan (Blu-ray)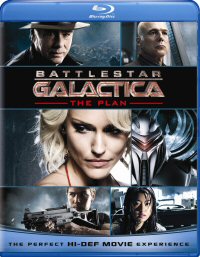 Throughout the terrific four-season run of
Battlestar Galactica
on the Sci-Fi Channel (now SyFy), we witnessed humanity's fight for survival through the eyes of the humans. In
The Plan
, viewers revisit events of the first two seasons from the perspective of the skinjobs (Cylons made to look like humans) and why they're hell-bent on genocide.
If you're unfamiliar with the series, this companion movie isn't for you. The frenetic pacing jumps from one situation to the next without a lot of emphasis on back-story—director Edward James Olmos expects the fans to know the timeline from the series. Most of the story concentrates on Cavil (Dean Stockwell), the number-one skinjob, as he wreaks havoc on the Galactica while another copy of the same model infiltrates a band of survivors on Caprica. It's interesting to see how their different experiences change their perspectives of humanity. While their DNA—or whatever makes up the innards of a skinjob—is the same, they come to very different conclusions about the choices their race has made.
The inconsistent video quality from the TV series finds its way over to this standalone feature, but as I explained in my review of the complete series, this was intentional. As before, exterior daylight shots are sharp and detailed with ample color saturation. But interior shots on Galactica exhibit variable lighting, heavy grain, and elevated blacks. The CGI is well integrated, especially the menacing Cylon Centurions.
With its sci-fi roots, one would expect the DTS-HD MA 5.1 soundtrack to be impressive, and it is. Dynamics are exceptional, and the frequency response demonstrates crisp highs and rumbling bass, especially when Caprica is attacked by the Cylons. The surround speakers provide suitable ambience, and the dialog is always intelligible.
The supplements include an audio commentary from director/actor Edward James Olmos and writer/executive producer Jane Espenson that provides valuable information about the central plot themes in the series, particularly regarding the Cylons. Other features include a couple of short featurettes (HD), a 20-minute featurette on the visual effects used throughout the series (HD), and 14 minutes of deleted scenes (SD). BD-Live equipped players can access the Internet to play the Battlestar Galactica trivia challenge to test the viewers knowledge and evaluate your performance against other fans.
It's not exactly what I expected, but as a fan of the show, it does answer a few of the lingering questions from the first two seasons. Dean Stockwell does an amazing job playing the two different versions of Cavil, providing a new perspective on the motivations of the Cylon race. Recommended for fans.
Release Date: October 27, 2009
Studio: Universal
Movie: 7/10
Picture: 8/10
Sound: 9/10

Review System
Source
Oppo BDP-83 Blu-ray player

Display
JVC DLA-RS1 projector
Stewart FireHawk screen (76.5" wide, 16:9)
Electronics
Onkyo Pro PR-SC885 pre/pro
Anthem PVA-7 power amplifier
Belkin PF60 power conditioner
Speakers
M&K S-150s (L, C, R)
M&K SS-150s (LS, RS, SBL, SBR)
SVS PC-Ultra subwoofer
Cables
Monoprice HDMI cables (source to pre/pro)
Best Deal analog-audio cables
PureLink HDC Fiber Optic HDMI Cable System (15 meters) from pre/pro to projector

Acoustical treatments from GIK Acoustics
<!- ----------------------- Tech Center Ads ----------------------------->

SPONSORED TECH CENTER
<!- ---------------------336x280 ADS------------------------------->
<!- ---------------------FIXED AD------------------------------->
<!- ---------------------336x80 ADS------------------------------->
<!- --------------------Sponsored Link Ads-------------------------------->
<!- ------------------------Bottom Ads---------------------------->