Arcam AVP700 Controller and P1000 Multichannel Amp Page 2
Delays can be set to adjust automatically by entering the distances from the listening position to each speaker, or by manually entering the delay time in milliseconds. I chose the latter method as distance-based delays typically put in one millisecond of delay for every foot that a given speaker is closer to the listening position than the left and right speakers. So, in my room for example, the surrounds are only one foot closer than my main speakers. Even if the surrounds have a base 10 millisecond delay, that distance would only add a millisecond for 11 total milliseconds of delay. But I prefer the spaciousness I hear in my setup with 20 milliseconds of delay on the surrounds, so it's easier to enter that figure than to manipulate the distances and essentially "lie" to the controller about them (in other words, enter one foot as the distance to the surrounds so that the controller automatically compensates with more delay time).
One last note on the Basic menu is that levels are set in full, 1dB increments, not 0.5dB increments as I prefer. This is common at all price points so consider this more of an observation than an outright criticism. But since every one of these newfangled controllers has more computing power than the first several computers I owned combined, it's still surprising how few allow the more precise half dB adjustments.
The Advanced menu is where you engage the aforementioned speaker specific EQ curves, and assign the digital audio and video inputs, including the HDMI inputs. The Zone 2 settings are here also, as is an Analogue Settings parameter that adjusts the input sensitivity to match the source. The default here is the more or less standard 2V setting, here called Reference.
The remote is a very familiar universal rig that's sold with a lot of products I've used and reviewed. A perfect example of what makes it confusing is the fact that there is a button that is labeled THX, but has the word LAST written above it. The AVP700 has no THX processing of any kind- this button actually configures Zone 2 to "follow Zone 1". Below that is a button labeled FX with the word SLEEP written above it. This button toggles between DSP effects modes. And some button functions have nothing to do with what's written on or above the button (the 1/Status button at the bottom of the remote for example, toggles between stereo mute and mono for the integral AM/FM tuner). I think you smell what I'm cookin' here—this remote tries to be all things for all systems and components and is mediocre and obtuse on all accounts.
P1000 Power Amp
Arcam's P1000 packs a lot into its modestly sized (for a seven-channel amp!), and unassuming chassis. Although my review sample came in silver, you can have a black box too. The P1000 is pretty appropriately named since it is a 7x135 amp that nearly totals a full 1000-watts (945 total to be exact). And really, P1000 sounds snazzier than P945 don't you think?
Apart from its power button, the P1000's monolithic faceplate is broken only by a row of seven LEDs that glow amber during a brief startup routine and green when all channels are ready for duty. Hopefully you won't see any of them go into the red, because any channel doing so has gone belly-up.
The back panel has an AC inlet for a removable power cord and seven rows of inputs (single-ended and balanced) and outputs. My only issue here is that each set of five-way speaker posts is vertically oriented, which is a bitch when you're trying to cram five (or heaven help you, seven) sets of spade lugs in there. I use spades and stiff, solid-core speaker wire and I wasn't entirely comfortable with the bends I had to make in my (expensive) wire to get the spades locked down sideways.
The only other thing worth noticing on the back panel are the little switches with settings for gain settings A, B, or C. The default setting is A, which is 31.5dB from the balanced outputs. B sets gain at THX spec 29dB, while C sets gain at 26dB. I couldn't think of a reason to deviate from the default setting.
Design
The P1000's has three separate power supplies relying on a single toroidal transformer, and as the amp's robust power output implies, it's a big 'un, rated at an overkillish 2.2kVA. The overall topology is referred to as Class H, which is a rail switching technology. The P1000 uses three rails, switching to higher voltage rails only when signal levels demands higher output. The result is a highly efficient amp that runs extremely cool without a fan or massive heat sinks. A potential downside is whether the rail switching is fast enough and seamless enough to avoid dynamic compression or other audible artifacts.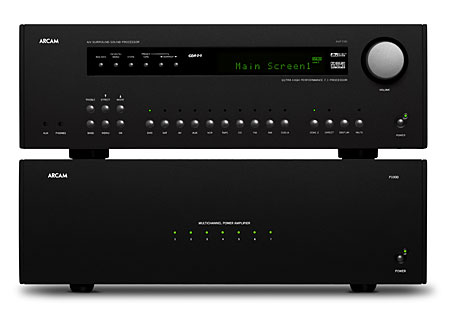 While the P1000 has balanced inputs, it is not fully balanced from input to output. Op-amps at the XLR inputs of the amplifier convert the signal to single-ended. The outputs devices are two matched pairs of bipolar devices per channel.
Performance
In day-to-day operation the HDMI switching provided immediate dividends in simplifying my system, even without being able to decode HDMI audio. I connected Arcam's own (and superlative) FMJ DV29 DVD player and my DirecTV HD TiVo via HDMI (and coaxial and Toslink digital audio) to the AVP700 and ran a single HDMI out to the two or three digital projectors that came through my system during the Arcam's tenure and I was off to the races. It might not seem like a big deal, but turning on the projector and then doing all the switching through the controller is much more straightforward than switching inputs twice every time out.
One question I had coming into this review was the HDMI switching. It's there, but is it transparent? Connecting my HDMI sources revealed no visible loss in resolution that I could see with my best DVDs, or with HD sources. Being a well-equipped ISFer I didn't take my eyes' word for it though. Connecting my Accupel HD signal generator via DVI/HDMI breakout, I was astonished that 480-line DVD signals were being passed without loss, and I could see no discernible rolloff in the highest frequency information on 720p and 1080i signals. There might have been a hint of noise, and with the static patterns I saw some artifacts that never showed with program material, but I've seen projectors that cost five times as much as the AVP700 that aren't as transparent to the incoming signal as this modestly priced Arcam controller. I never felt the need circumvent the AVP700's formidable switching. Overall, while HDMI is not yet single cable heaven it is, in the AVP700, simpler and visually invisible.
<!- ----------------------- Tech Center Ads ----------------------------->

SPONSORED TECH CENTER
<!- ---------------------336x280 ADS------------------------------->
<!- ---------------------FIXED AD------------------------------->
<!- ---------------------336x80 ADS------------------------------->
<!- --------------------Sponsored Link Ads-------------------------------->
<!- ------------------------Bottom Ads---------------------------->