Anthem MRX 300 A/V Receiver Page 3
Lottery Ticket is an inner-city comedy. Although R&B and hip-hop occasionally enlivened the soundtrack, both music and voices were at an even level. So there was no need for Dolby Volume. The leading man's realization that he'd got a winning ticket was punctuated by a brief but agreeably potent synthetic effect. It navigated the sub's crossover point briefly but effectively. In general, ARC's low bass treatment did a good job of avoiding bloat. Compared with most room correction schemes I've used, it seemed to prefer a less aggressive approach to bass.
A/B-ing AnthemLogic and ARC
Eldar Djangirov's Three Stories is one of the most impressive solo piano albums by a living artist I've heard in years. The 24-year-old, ethnic Russian, Kyrgyzstan-born, American-raised pianist covers jazz standards and originals, dares to embroider Bach, and offers a gorgeous performance of Gershwin's Rhapsody in Blue. The beautifully recorded Sony Masterworks CD became the test subject for my comparisons between the AnthemLogic-Music and Dolby Pro Logic II Music modes.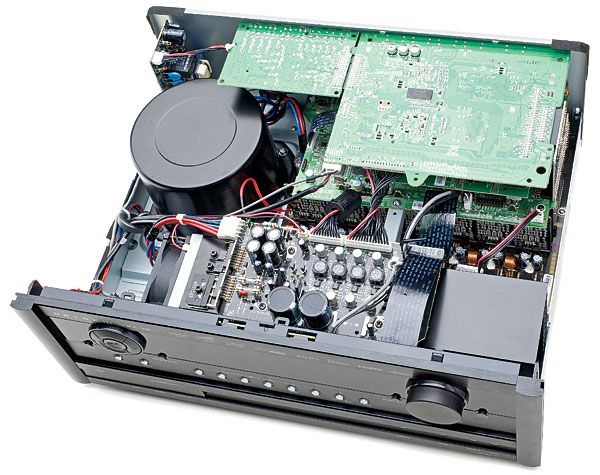 Both modes activated the surround channels without changing the basic feel of the original stereo mix. The main difference was in their treatment of the center channel. AnthemLogic-Music eschewed the use of the center channel to preserve "the purity of the stereo music soundstage" during sweet-spot listening. I consider this a missed opportunity: DPLII Music works beautifully in a system with three timbre-matched speakers in front and even lets you weight the image toward or away from the center speaker. And unlike Anthem's mode, Dolby's doesn't confine the listener to a single listening position. Still, as long as I remained rooted in the sweet spot, I had to admit that the Anthem mode was the first one I've ever compared to DPLII and not found wanting.
In yet another injustice to a sterling musical work, I used Wretches & Jabberers as the test subject for turning Anthem Room Correction on and off. This gatefold double LP is the soundtrack of a movie about two men with autism who work to increase awareness of the condition. A collection of songs by songwriting prodigy J. Ralph, it is arranged with appropriate sparseness and features the voices of Antony, Devendra Banhart, Paul Brady, Bonnie Bramlett, Vashti Bunyan, Martin Carthy, Judy Collins, Lila Downs, Vincent Gallo, David Garza, Ben Harper, Scarlett Johansson, Norah Jones, Nic Jones, Leah Siegel, Carly Simon, Stephen Stills, Ben Taylor, and Bob Weir—with not a weak performance in the bunch. The recording is ungimmicky and focuses, both sonically and emotionally, on the extraordinary voices.To my surprise, switching ARC on and off made little difference. It followed the old medical maxim of "do no harm" to what I regard as a good-sounding listening room. There were no major tonal shifts. ARC made mild improvements in imaging.
The last music demo was PentaTone's 2003 SACD release of Rachmaninov's Vespers with the St. Petersburg Chamber Choir conducted by Nikolai Korniev. The AVR didn't turn the choir to mush, nor did it yank individual voices out of the mix. Instead, it offered a fine-grained and fully formed account of a group of voices acting as a single instrument.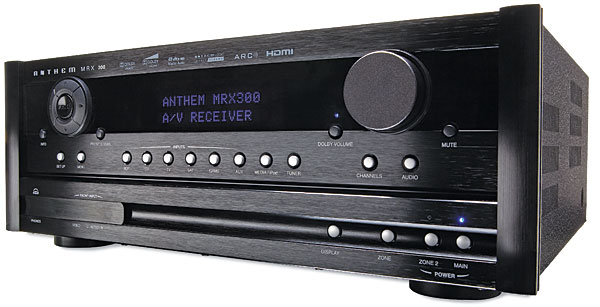 Taken together, all the demos demonstrated the Anthem A/V receiver's shape-shifting abilities. What I'd stereotyped as a crisp top end in the first movie demo evolved into a feel-good golden midrange in the LP. Even allowing for the Bellari phono preamp's usual tube-smoothed midrange alchemy, I was amazed that I'd heard these things from the same amp.
The Anthem MRX 300 is the first A/V receiver to bring Anthem Room Correction below the psychologically potent $1,000 price point. It would be noteworthy for that alone. But there's more. The AnthemLogic-Music mode is remarkably fine and may be especially well suited for systems whose center speakers are less than perfectly timbrematched. Dolby Volume is a superb addition for any system that you'll use for movies. Altogether, this is a very impressive AVR and a must-hear.
<!- ----------------------- Tech Center Ads ----------------------------->

SPONSORED TECH CENTER
<!- ---------------------336x280 ADS------------------------------->
<!- ---------------------FIXED AD------------------------------->
<!- ---------------------336x80 ADS------------------------------->
<!- --------------------Sponsored Link Ads-------------------------------->
<!- ------------------------Bottom Ads---------------------------->