2005 CES: Day Three, The Year of the Big Screen
Thomas J. Norton
Time was when CES meant small, unexciting televisions lining the back isles of the convention center. Those times are well past, as manufacturers both large and small vie for the sexiest video presentation. The winner this year was clearly Samsung, with their 102-inch plasma (as before, all screen sizes here are diagonal unless stated otherwise). How they got this monster to Las Vegas and into the convention center free of damage and fully functional remains one of the seven mysteries of the show (another was who distributed all of those pornographic calling cards around the men's restrooms—but let's not go there).
It was hard to get a good look at the big Samsung with the crowds pressing to within three feet, but it did appear a little softer, not surprisingly, than the other, much smaller plasmas in the booth. It's specified resolution was 1920 x 1080, and it utilizes Samsung's newest 12-bit color processing. That processing produced a clearly superior image in a side-by-side comparison of two 50-inch plasmas, one with it, the other without.
This jumbo plasma is not a product now, but rather appeared to be the CES equivalent of a show car. It may or may not ever see actual production. For that reason, no pricing was even suggested.
Joe Kane was on hand demonstrating the newest version of Samsung's DLP front projector, this generation using Texas Instruments' Dark Chip 3. The projector is being delivered with two different color decoder settings, one for standard definition sources, the other for high definition. According to Joe, many television manufacturers ignore this difference, resulting in incorrect decoding of one of the sources. The new Digital Video Essentials Pro, a 6-disc set of test discs to be made available soon ($125), with discs for both standard and high definition material (the latter encoded in Windows Media 9 and playable for now only on a properly equipped computer), includes test patterns to check for proper color decoding with either type of source—the first such test patterns known to us.
Several manufacturers, including, Panasonic, Samsung, and LG, showed prototypes of rear projection DLP sets using TI's new 1080 chip. When I asked a TI rep if this chip was full time 1920 x 1080, or if it used the new wobulation technology (the latter apparently developed by Hewlett Packard) to present a 1920 x 1080 image, his reply was that it puts 1920 x 1080 pixels on the screen. I took this to mean that it is, indeed, a wobulator. Wobulation reportedly uses what is, in the substrate, a 960 x 1080 DMD. The chip flashes all the even 960 rows in the first 1/120th of a second and, following a minute shift of the "wobulation mirror" (my words) flashes the odd rows in the second 1/120th of a second. This produces a single 1920 x 1080 image every 1/60th of a second. But the rep did not go into these details. TI apparently has a new policy to just talk resolution and get away from dwelling on specific chip designations like HD2+, HD3, and so on. The 1920 x 1080 wobulated chip appears to be the same one previously referred to as the xHD3, and still is in some quarters. In any event the 1920 x 1080 prototypes I saw at the show looked very good. Commercial sets should start showing up in stores in the summer, though front projectors using this chip will likely make their debut at next September's CEDIA show, with shipment several months after that.
The best of the higher resolution DLP rear-pros on display was an in-house prototype from TI. Apart from some visible rainbows (color fringing), this 72-inch design was one of the most striking displays at the show.
A new generation of flat screen CRT televisions was shown by both LG and Samsung. Available (initially) only in a single tube size (30-inch widescreen), its claim to fame is a very shallow picture tube, resulting in sets that reduce the overall depth by about 30% compared to older models. LG's 30FS1D is about 15.5-inches deep. When these sets arrive in mid year, the price should be within shouting distance of $1000.
If you need any further proof that the price of plasmas is coming down, the next generation of Panasonic Viera plasmas, due in shops next summer, will sell for as little as $5500 for a 50-inch model. A more upscale design, using the same 1366 x 786 glass, will raise that to $6000 for some added features, including CableCARD capability (both models do, however, have terrestrial tuners).
Also keep your eyes out also for a new DLP projector from Yamaha. The DPX-1200 should be shipping by February at a retail price of $12,000. The primary difference between this and the current DPX-1100 is the use of TI's Dark Chip 3 in the newer model.
Exciting audio news wasn't common in the parts of the show I've visited so far, but Samsung does have a new high-end AV receiver—in fact, their first AV receiver in memory. The AV-R3000 will sell for $4999 when it debuts in July. It claims 7-channels of 250 wpc of digital amplification, THX Ultra 2 certification, HDMI and DVI switching, video conversion and up-scaling, a sophisticated, easy-to-use on-screen display, and room equalization. It drove a set of B&W 800-series loudspeakers without complaint and with some of the smoothest, least irritating sound I've yet heard in the convention center (clearly outmatched only by the JBL/Halcro/Ayre system in the DTS room). Of course, I still have to visit the high-end audio systems at the Alexis Park hotel, but this system would not embarrass itself in their company.—Thomas J. Norton
Scott Wilkinson
LG's 60PY2DR integrates a DVR with 160GB hard disk and TV Guide EPG into a 60-inch plasma screen, allowing you to record standard and high-def material without a separate set-top box. The price? $16,000 ($9000 for a 50-inch version); both should be shipping by April 2005.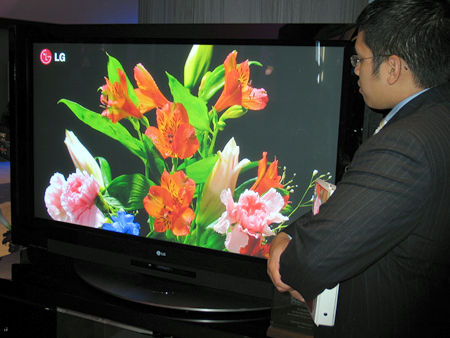 At 71 inches with 1920x1080 resolution, LG is claiming their mammoth MW-71PY10 to be the largest plasma screen available today—:and it actually is available today (finally!) for only $75,000.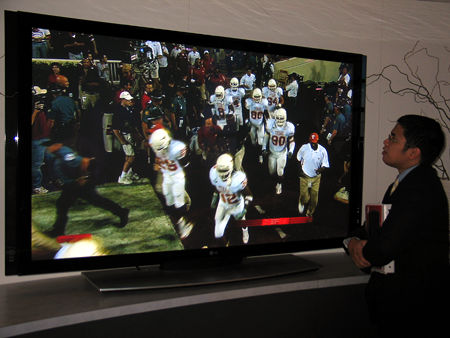 Yamaha's latest plasma panel, the PDM-5520, measures 55 inches (as if you couldn't tell from the model number). You can buy it now for $11,000.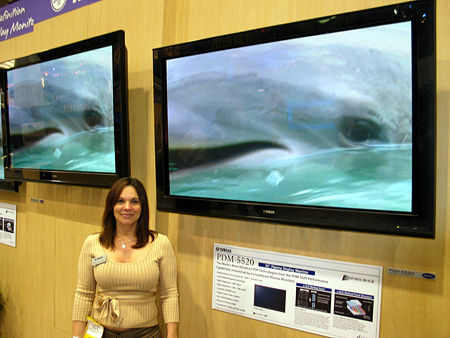 After years of showing prototypes at CES and CEDIA, Yamaha has finally announced a ship date for the YSP-1 Digital Sound Projector, which generates a surprisingly convincing surround soundfield with a single line array of drivers placed near the screen. It should be available in March for $1300.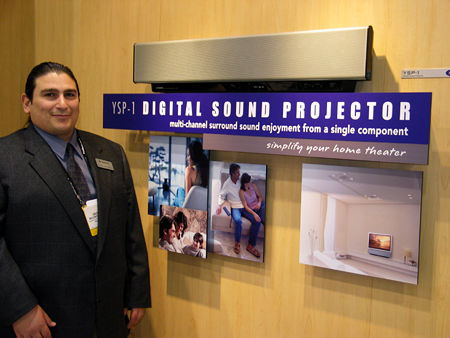 Sony's Qualia 005 LCD flat panel (46" 1920x1080) uses red, green, and blue LEDs for the backlighting instead of the usual flourescent. The picture looked outstanding—which it damn well better for $12,000.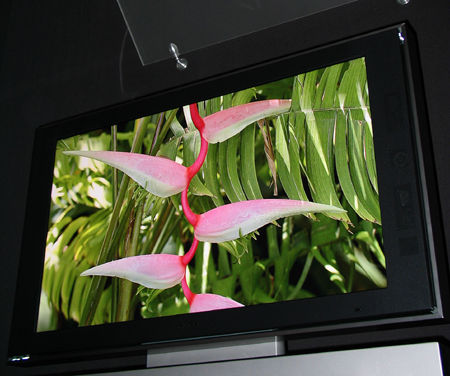 The Qualia 007 SACD player/digital amp wins my award (at least today) for the coolest industrial design, with a clear semi-cylindrical cover that glides silently over the disc turntable. It comes with a pair of speakers designed especially for the integrated 32-bit S-Master digital amp. Two-channel bliss can be yours for $12,500 (heavy-duty speaker stands are an extra $1600/pair).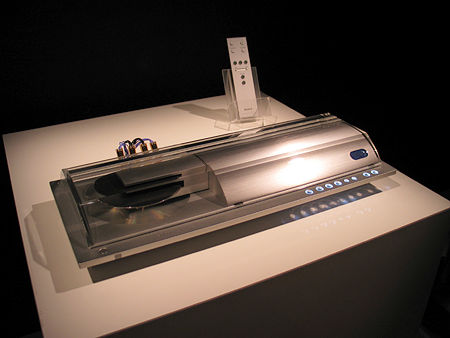 <!- ----------------------- Tech Center Ads ----------------------------->

SPONSORED TECH CENTER
<!- ---------------------336x280 ADS------------------------------->
<!- ---------------------FIXED AD------------------------------->
<!- ---------------------336x80 ADS------------------------------->
<!- --------------------Sponsored Link Ads-------------------------------->
<!- ------------------------Bottom Ads---------------------------->