Sony STR-DN1040 AV Receiver Page 2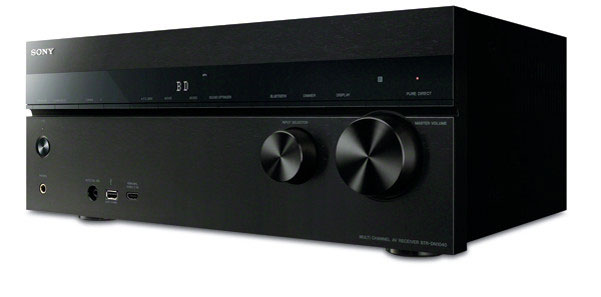 Associated equipment included five Paradigm Reference Studio 20 v.4 speakers, Oppo BDP-83SE universal disc player, iPad 2, Micro Seiki BL-51 turntable, Shure M97xE cartridge, and Onix OA 21s integrated amp serving as phono preamp. All movie demos were on Blu-ray Discs with DTS-HD Master Audio soundtracks.
Have A Smoothie
The STR-DN1040 has a personality, but it's a subtle one. Its most noticeable trait is a smoothness in the top end that remains consistent at all but the most ear-splitting volumes. I wouldn't call it gauzy, reticent, or even polite, but it is impressively clean and usually non-fatiguing. The receiver needed only one-third to just under half of its volume range (25 to 33 increments out of 75) to play moderately loud with my speakers of average efficiency—versus more than half of the volume range for an average $599 product—so it had gain to spare, was dynamically generous, and managed to avoid obvious clipping. Incidentally, for most demos I used the A.F.D. (Auto Format Direct) Auto mode, which presented surround soundtracks without embellishment and stereo content with two channels and sub. Sony also offers an HD-D.C.S. (Digital Cinema Sound) mode, which manipulates reverb in various ways. In the past I've found it benign and even enjoyable, but for this review I preferred to contemplate the quality of unenhanced amplification.
The Hobbit: An Unexpected Journey gave the receiver a chance to do what it does best: pump out loads of clean power. The movie's dragon attack and mock-medieval battles pushed the receiver's retooled amp section to its outer limits, but when I resorted to the occasional volume cut, it was my neighbors, not my ears, that I was sparing. Voices were also clean, with no coloration or false outlining, and remained intelligible even at low volumes and with street noise coming through the window.
4.3.2.1 is a brilliant comic thriller that skillfully weaves together four story lines, one for each of its young female leads. The score was nothing special, but when deep synthesized tones leaped out of it, the receiver's bass resolution and pitch precision above the sub crossover were satisfying. The distinctly un-edgy midrange allowed for both satisfying volumes and a capacious, eventful soundfield.
Velvet Goldmine spins a glam-rock tale with characters loosely based on the iconography of Ziggy (David Bowie) and Iggy (Pop), as fervently re-created by Jonathan Rhys Meyers and Ewan McGregor. The receiver easily fulfilled the film's play-it-loud imperative, making the most of a soundtrack featuring classic tunes by Brian Eno, Roxy Music, T. Rex, Slade, and Lou Reed along with newer contributions from Thom Yorke and Thurston Moore. Both speaking and singing voices were rich and unetched, and the slightly warm tonal balance complemented the movie's '70s vibe.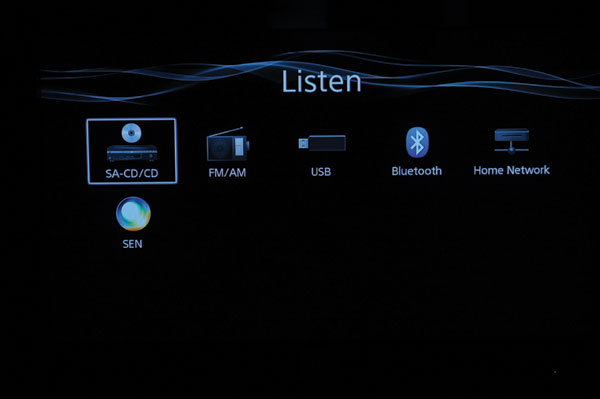 Orchestral Maneuvers
Nothing routs a mediocre receiver like high-res orchestral music. I challenged the Sony with the Brahms Symphony No. 2, as performed by Hans Vonk and the Netherlands Radio Symphony Orchestra in a 5.1-channel DSD recording from 2003. At its best, the SACD release offers a big soundfield filled with vibrant tone color. The receiver greeted it like an old friend, layering precisely drawn images in a relatively low-reverb space. Another SACD demo brought together Beethoven's Symphony No. 5 and Mendelssohn's Italian Symphony as performed by Colin Davis with the BBC and Boston symphony orchestras. These 4.0-channel recordings from 1974 and '76 fill more reverberant spaces with darker, softer-edged, and more voluptuous textures. Without letting go of its essentially smooth personality, the receiver nimbly shifted to suit the acoustic feel of each recording.
Martin Carthy's Waiting for Angels CD hinges on the voice and acoustic guitar of an English traditional music legend. Both are as distinctive as fingerprints, and both are recorded clean and flat, with very little reverb and sometimes just a touch of 21st century instrumentation. The Sony gave me the sensation that nothing was standing between me and the voice, that the drivers of my speakers and sub had exited the room and left me with a flesh-and-blood human being. Even more interesting was my reaction to the guitar. Carthy has a unique relationship with rhythm, with so many hesitations and ellipses that it's easy to lose track of the beat altogether. But something about the solidity and pitch control of the lower guitar strings made me start keeping time, slapping my thigh, and to my astonishment, I discovered a rock-solid pulse beneath all those rhythmic idiosyncrasies. It has taken me 30 years as a Carthy fan to realize this, and I couldn't have done it without the woofer-dominating momentum of this receiver. That was my musical insight of the month.
Untethered listening involved an iPad 2 in concert with the receiver's AirPlay and Wi-Fi capabilities (because AirPlay requires a network connection). Even with the Digital Legato Linear enhancer turned off, the receiver made MP3s sound better than expected. In Bert Jansch Live at McCabe's Guitar Shop, it delivered the voice with warmth and fullness and did the best it could with the undermixed guitar. In Led Zeppelin's Celebration Day, the hot electric guitar sound got some much-needed smoothing over. AirPlay picks up anything that plays audio on an iOS device, so I wasn't limited to iTunes. The Amazon Cloud Player offered access to much of the music I've bought over the past 10 years. Steve Winwood's Nine Lives benefited from the Sony treatment with fine intonation on his delicate acoustic guitar playing and full texture for his Hammond organ. Thelonious Monk and John Coltrane's Live at the Five Spot was as low-fi as I'd expect from the grungy recording, but by then, to be honest, I was flicking through Facebook, The New York Times, and other iPad-enabled distractions.
When I was ready to return to high-res material and foreground listening, the receiver stepped it up a notch. A double LP set of Igor Zhukov playing Scriabin's 24 Preludes and other works (Melodiya/Europadisc) was as physically present, rhythmically taut, and harmonically rich as I could have wished. The iPad was set aside and forgotten, for a while.
"New and improved" may be a cliché, but that's what this product is. I've reviewed both of its predecessors—the STR-DN1020 and STR-DN1030—and the STR-DN1040 one-ups them both. They got three and four stars respectively; the new guy wins 4.5, and without the room correction snafu, it might have been five. Please note that this performance rating is in relation to same-priced receivers: There are still good reasons why you might spend four figures, especially if your speakers are of below-average efficiency. But this lovingly refined product made my speakers sing, and I've not yet tried a better choice for your six hundred bucks.
* Audio editor Mark Fleischmann is also the author of the annually updated book Practical Home Theater (quietriverpress.com).
<!- ----------------------- Tech Center Ads ----------------------------->

SPONSORED TECH CENTER
<!- ---------------------336x280 ADS------------------------------->
<!- ---------------------FIXED AD------------------------------->
<!- ---------------------336x80 ADS------------------------------->
<!- --------------------Sponsored Link Ads-------------------------------->
<!- ------------------------Bottom Ads---------------------------->