Why Do We Have to Wait to Start the Friggin' Movie?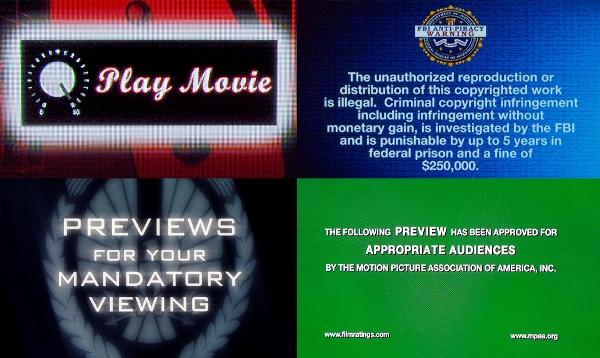 Why do we have to traverse an endless string of trailers, FBI warnings, promos, and menus before we can start watching a DVD or Blu-ray? You don't have to slog through any of that to play an iTune or CD, the music starts immediately, and that sort of instant gratification was true for every music format I've ever used. For some reason home video has always been riddled with various forms of advertising and warnings, though there weren't that many with VHS and Beta tapes, and you could always fast forward to the movie. DVDs were loaded up with a lot more crap, but you could click ahead to the final hurdle, the menu. I've never quite understood why we needed to see a menu, again, why can't the movie just start? Sure, menus are handy if you're looking for special features or commentaries, but the menu is usually just another time waster. I should never see a menu, unless I want to see a menu. I want to hit "play" and see the movie.
Movie companies are free to program discs any way they want, but the sheer bulk of material they pile on sometimes borders on abuse. Hey, we're paying customers, we either bought or rented the disc, why can't we just see the movie? It could take two or three minutes to get through all the clutter. I'd grant commercials on "free" TV, advertisers pay to support the programming, but it's unfair to burden paying customers with mandatory commercials on discs.
The problem has only been getting worse over the years, some Blu-rays won't let you skip the opening bits at all, and some won't allow you to skip quickly from one trailer to the next and jump to the menu. When you can't skip the trailers you can usually fast forward through them, and then get to the animated menu, which might take another 30 seconds to play out. Jumping through all those hoops could still take three or four minutes to get to the movie! Why do we have to put up with that?
I suppose the movie companies see programming discs with all this flotsam as an extension of their policy of showing trailers in movie theaters all these years, and we just sit there and take it. Now sure, some folks enjoy watching trailers and ads, and if they want them, the trailers should be on the disc for their viewing pleasure, but I don't want to be forced to endure them! Wouldn't it be a pleasure to just pop in a Blu-ray, hit "play," and start watching the movie? I own exactly one disc that starts immediately, there's no menu, company logos, trailers, FBI warnings, no nothing, It's the 2003 Led Zeppelin double DVD set that never came out on Blu-ray. It starts with the band's live Royal Albert Hall shows from 1970, and continues with different concerts for 5 hours and 20 minutes over the two discs. You can bring up the menus and find what you want, or never see the menus. All discs should work that way.
C'mon people, let's kick off a Movie Start letter writing campaign to make sure Blu-rays and DVDs get the film going right away!
<!- ----------------------- Tech Center Ads ----------------------------->
<!- ---------------------336x280 ADS------------------------------->
<!- ---------------------FIXED AD------------------------------->
<!- ---------------------336x80 ADS------------------------------->
<!- --------------------Sponsored Link Ads-------------------------------->
<!- ------------------------Bottom Ads---------------------------->